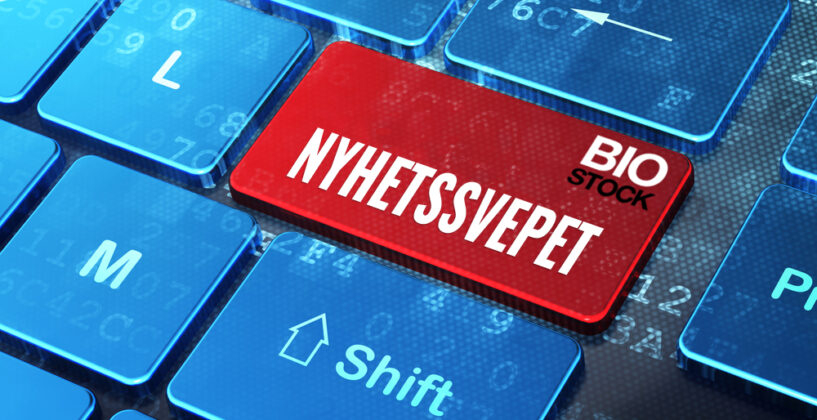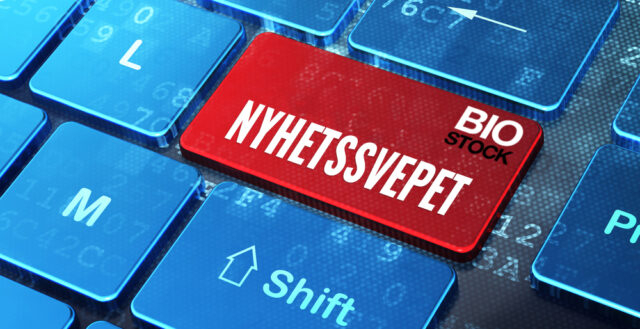 Nyhetssvepet torsdag 9 januari
Ett redaktionellt urval av dagens Life Science-nyheter
De senaste artiklarna från BioStock
»  Alligator Bioscience – en pionjär inom cancerimmunterapi
»  Saniona ska lansera sitt första läkemedel i år
»  PHI har lagt grunden för 2020
»  Iconovo siktar på fler inhalationsinnovationer
»  Ökad takt i patientrekrytering är fokus för WntResearch
»  Stadigt avancemang för 2cureX under 2019
Spago Nanomedical har utsett "lead compound" i Tumorad-projektet. Läs mer.
FluoGuide har inlett en säkerhetsstudie med FG001. Läs mer.
LIDDS har erhållit ett nytt patent i USA som breddar skyddet för läkemedel med NanoZolid. Läs mer.
Dignitana kallar till extra bolagsstämma. Läs mer.
Sista dag för handel med BTA i European Institute of Science är den 13 januari. Läs mer.
Sista dag för handel i BTU i SynAct är den 14 januari. Läs mer.
Forskare vid Karolinska Institutet och Tammerfors Universitet har utvecklat ett AI-system som kan användas för att diagnostisera och gradera prostatacancer. Läs mer.
Nyheter inkomna sedan igår eftermiddag:
BrainCool och The R Adams Cowley Shock Trauma Center ("Shock Trauma") vid University of Maryland har fått ett bidrag på 100 000 USD för projektet "IQool Fever Prevention in Neuro-ICU. Läs mer.
USA:s patentverk har beviljat Brighters patent för att säkert kombinera MDD och IVDD i en enhet. Läs mer.
GASPOROX har erhållit en order om cirka 850 000 SEK från sin japanska samarbetspartner. Läs mer.
SyntheticMRs mjukvara SyMRI befinner sig nu i klinisk rutin för kvantifiering av myelinvolymer inom pediatrik. Läs mer.
Första dag för handel med teckningsoptioner av serie TO 1 i Fluicell kommer att vara den 15 januari 2020. Läs mer.
Episurf Medical har erhållit CE-godkännande för Episealer Talus och Talus Osteotomiguide. Läs mer.
Corfind har intervjuat Inhalation Sciences vd Manoush Masarrat om ett händelserikt 2020. Läs mer.

Förmiddagens vinnare: Eurocine Vaccines 19%, Implementa Sol 16%, Raytelligence 11,1%, Episurf Medical 8%, LifeAssays 7,4%
Förmiddagens förlorare: Camanio Care -10,7%, SensoDetect -5,6%, Quia PEG -5,3%, Nanologica -5%, Integrum -4,9%
Index: OMXS30 +0,28% Hälsovård 1,04%
Fler artiklar från BioStock
Prenumerera på BioStocks nyhetsbrev