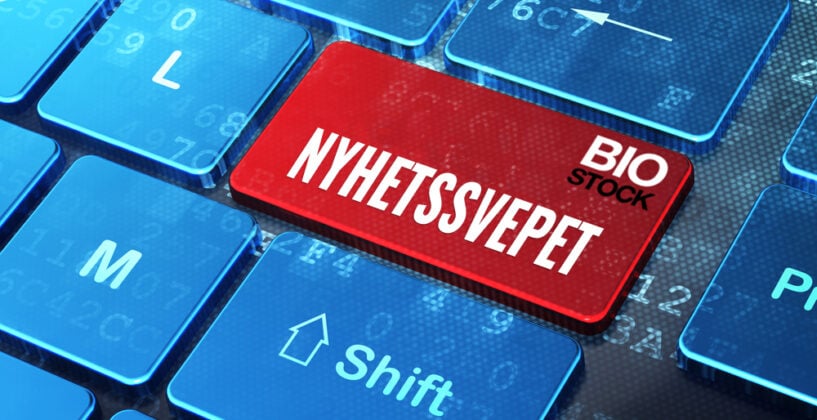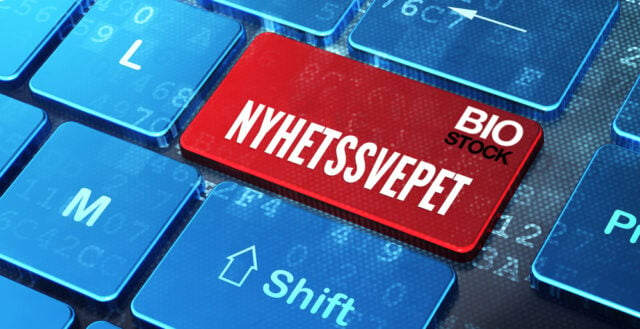 Nyhetssvepet fredag 10 januari
Ett redaktionellt urval av dagens Life Science-nyheter
De senaste artiklarna från BioStock
»  Positiva vindar följer Enzymatica in i 2020
»  Sanionas nya vd öppnar dörren till USA
»  Alligator Bioscience – en pionjär inom cancerimmunterapi
»  Saniona ska lansera sitt första läkemedel i år
»  PHI har lagt grunden för 2020
»  Iconovo siktar på fler inhalationsinnovationer
Orest Lastow övergår till att bli bolagets CTO och Johan Wäborg anställs som ny vd för Iconovo. Wäborg kommer närmast från Actelion Pharmaceuticals och tillträder senast den 14 april. Läs mer.
Saniona har genomfört en private placement om 25 Mkr och föreslår finansiering om upp till 158 Mkr. Läs mer. Bolaget har av den anledningen kallat till extra bolagsstämma den 7 februari i Malmö. Läs mer.
Lifco har förvärvat Rönvig Dental Manufacturing. Läs mer.
Recipharm har förlängt acceptperioden för erbjudandet att förvärva Consort Medical och offentliggör acceptnivå. Läs mer.
Flaggningsmeddelande i European Institute of Science i samband med att nyemissionen har registrerats. Läs mer.
Första dag för handel med teckningsoptioner av serie TO 2 i Synact Pharma blir den 20 januari. Läs mer.
Forskare vid Karolinska Institutet har funnit att det föreligger ökad cancerrisk trots modern behandling av ulcerös kolit. Läs mer.
DNB har publicerat en analytikerkommentar om Episurf Medical: "Talus implant improved in the EU". Läs mer.
Rapporter/Kommunikéer:
Bavarian Nordic
Nyheter inkomna sedan igår eftermiddag:
Eli Lilly och Strateos har startat ett molnbaserat och helautomatiserat robotlab för utveckling av läkemedel. Läs mer.
Calliditas Therapeutics har lämnat in ett utkast till registreringsdokument för notering av amerikanska depåbevis i USA. Läs mer. Industrifonden och Investinor har sålt Calliditas-aktier motsvarande 6 procent av kapitalet till Sofinnova Partners och Vivo Capital. Investmentbanken Jefferies mäklade posterna. Läs mer.
CELLINK har genomfört en split av aktier (4:1), första dag med handel med det nya antalet är idag, 10 januari. Läs mer.
Obducat har erhållit sin första order avseende testproduktion av optisk komponent från en europeisk kund – värdet uppgår till cirka 500 Tkr. Läs mer.
Sista teckningsdagen i Brighters emission är idag, den 10 januari. Läs mer.

Förmiddagens vinnare: Ortivus 19,1%, Episurf Medical 18,6%, Raytelligence 13,2%, Implementa Sol 12,8%, NextCell Pharma 10,2%
Förmiddagens förlorare: PolarCool -9,7%, Idogen -9,5%, Initiator Pharma -6,7%, AlphaHelix -6%, S2Medical -5,3%
Index: OMXS30 -0,40% Hälsovård +0,22%
Fler artiklar från BioStock
Prenumerera på BioStocks nyhetsbrev