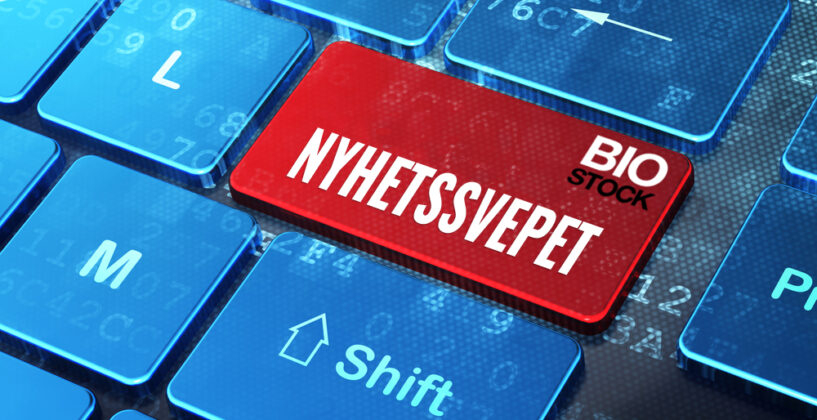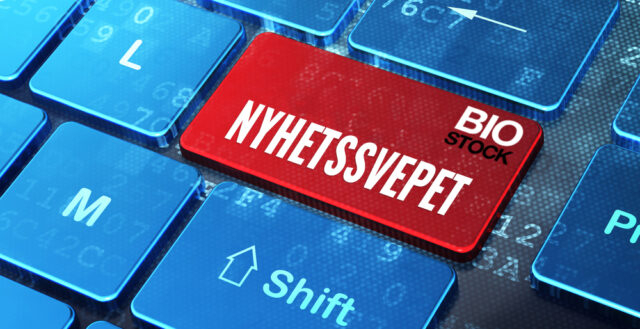 Nyhetssvepet onsdag 18 januari
Det senaste från BioStock
» BioStock Investor Pitch: Dicot
» Lipums kliniska utvecklingsresa fortsätter under 2023
» Spermosens om emissionen och utvecklingsplanen
» Iconovo inleder 2023 med förhandlingar för ICOpre
» BioStock Investor Pitch: Spermosens
Läs BioStocks nyhetsbrev för v.2 här.
---
BioStock Investor Pitch: Se Dicots vd Elin Trampe presentera bolaget här eller i bannern nedan.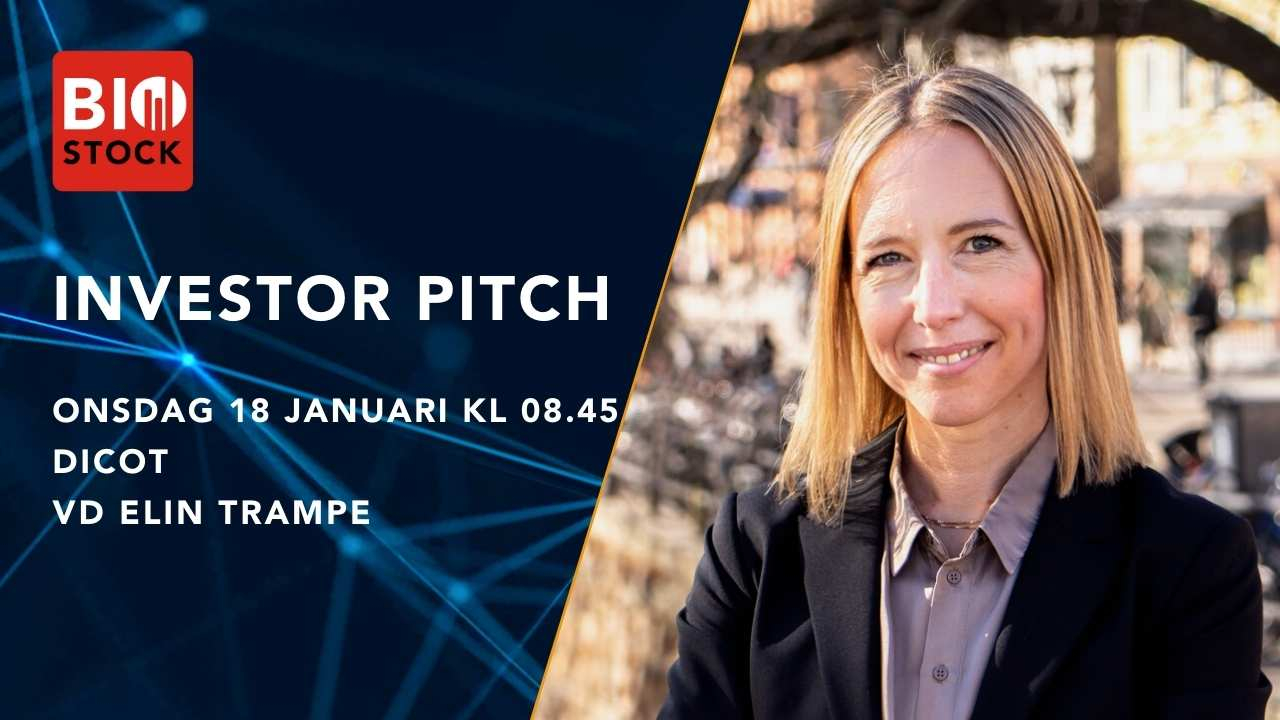 ---
Förmiddagens nyheter

Pharmacolog rapporterar WasteLog-order i USA om ca 5 Mkr. Läs mer.
Annexin utser dr Alain Thibault till Therapeutic Area Head Oncology. Läs mer.
Oncopeptides CFO Holger Lembrer tillträder idag. Läs mer.
RhoVac har slutfört förvärvet av Chosa och en ny styrelse och verkställande direktör har tillträtt. Läs mer.
Ledande experter inom lungfarmakologi och lungmedicin har engagerats som rådgivare till Arcede Pharma. Läs mer.
Scandinavian ChemoTech presenterar på Redeye Fight Cancer Day. Läs mer.
Ortivus förvärvar andelar i bolaget H&E Solutions. Läs mer.
David Dahlgren tillträder som konsult inom klinisk farmakologi och DMPK på SDS Life Science. Läs mer.
---
Förändringar i eget kapital:
Kommunikéer:
Rapportpresentationer:
---
Nyheter sedan tisdag lunch
WntResearch har meddelat utfall i företrädesemission samt information om teckningsoptioner TO 5. Läs mer.
Idogen har offentliggjort utfall i företrädesemission. Läs mer.
LIDDS har publicerat prospekt med anledning av förestående företrädesemission. Läs mer.
Amniotics har ställt in planerad extra bolagsstämma och presenterar ny tidsplan för planerad företrädesemission. Läs mer.
BioInvent har utvalts till The Leukemia & Lymphoma Society's Therapy Acceleration Program och erhåller strategisk investering om 3 MUSD. Läs mer.
AegirBio offentliggör utfallet av utnyttjande av teckningsoptioner TO2. Läs mer.
Cessatech har beslutat om optionsprogram till anställda, till vd och styrelse. Läs mer.
IRLAB har rapporterat top-line resultat från fas IIb-studien med mesdopetam (IRL790) i Parkinsons sjukdom. Läs mer.
Eurocine Vaccines har beslutat att utveckla en mRNA-baserad vaccinkandidat mot klamydia. Läs mer.
Scandinavian ChemoTech har uppdaterat om studie av bukspottkörtelcancerpatienter i Ukraina som behandlats med TSE. Läs mer.
Analyst Group har publicerat en analysartikel om Coegin Pharma. Läs mer.
---
Förmiddagens kursutveckling
Vinnare:  Pharmacolog 25,3%,  Xintela 11,1%,  QuiaPEG 10,8%,  Herantis 10,6%,  Lipigon 9,5%
Förlorare:  IRLAB Therapeutics -59,6%,  Cline Scientific -15,6%,  Idogen -13,4%,  Learning 2 Sleep -11,6%,  PolarCool -9,7 %
Index: OMXS30%  2224 0,51%, Hälsovård  0,02%
---
Mer från BioStock
» VILDA – nytt nätverk för kvinnliga ledare inom life science
» Peptonic Medicals vd om expansionsplanerna
» Evaxion får klartecken för fas IIb-studie från FDA
» Läkemedelsutveckling del V – Framgången med särläkemedel 
» Dicots vd om förberedelser inför klinik och emission 
Prenumerera på BioStocks nyhetsbrev