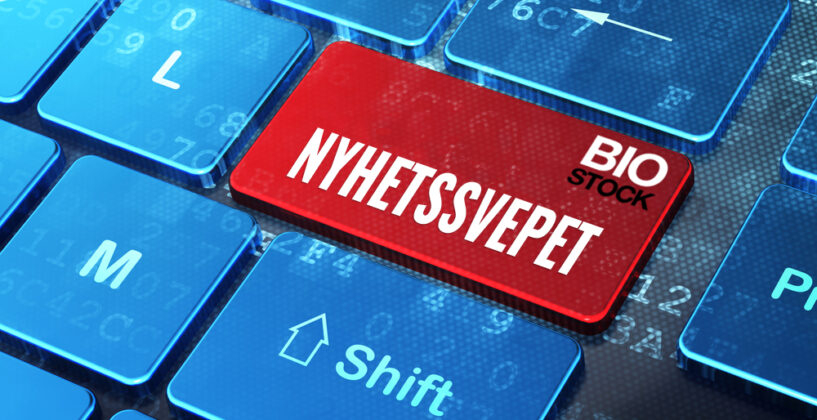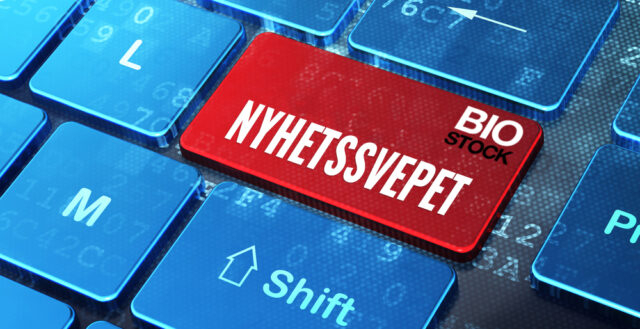 Nyhetssvepet onsdag 1 juni

---
Förmiddagens nyheter
Abliva har beslutat om en kapitalanskaffning om 200 Mkr genom en riktad emission samt en företrädesemission. Läs mer. Bolaget publicerade även sin Q1-rapport. Läs mer.
Uppdaterade långsiktiga finansiella mål har meddelats av Iconovo. Läs mer.
Spago Nanomedical genomför en företrädesemission om upp till 61,8 Mkr. Läs mer.
Ingela Hallberg utsedd till Aptahems nya CMO. Läs mer.
Immunicum ska delta på kommande konferenser. Läs mer.
FDA tilldelar Breakthrough Therapy Designation för SOBIs efanesoctocog alfa. Läs mer.
Utnyttjandeperioden för Dicots teckningsoptioner TO 3 inleds idag. Läs mer.
RLS Global introducerar ChloraSolv inom djursjukvård i Skandinavien. Läs mer.
Sista dagen för utnyttjande av Medimis teckningsoptioner TO 5 är 2 juni. Läs mer.
Aqilion stärker sitt team inom klinisk utveckling inför planerad fas I-studie. Läs mer.
Ökade geografiska skillnader i risken att drabbas av stroke visar Hjärt-Lungfonden. Läs mer.
AlzeCure får abstract om smärtprojektet TrkA-NAM accepterad för presentation vid IASP 2022. Läs mer.
Nykode Therapeutics ska presentera på Jefferies Health Care Conference. Läs mer.
---
Delårsrapporter:
PharmaLundensis
Kallelser till årsstämma:
Kiwok  Ortoma
Kommunikéer:
Glycorex Transplantation  Karo Pharma
Meddelanden om aktietransaktioner och förändring av eget kapital:
Bonesupport  Camurus  Egetis  Fluicell  Lifecare  Navamedic  Targovax  Zealand Pharma
---
Nyheter inkomna sedan tisdag lunch
BrainCools inriktning nu klargjord efter strategisk översyn. Läs mer. Delårsrapporten för Q1 är publicerad. Läs mer.
Utfallet i Moberg Pharmas företrädesemission har offentliggjorts. Läs mer.
Orphazyme har slutfört försäljningen av så gott som alla tillgångar och affärsaktiviteter till KemPharm. Läs mer.
CS Medica har säkrat ett lån om 6 MDKK. Läs mer.
Dicot har inlett samarbete med Uppsala universitet och W. Szafer Institute of Botany. Läs mer.
Teckningskursen för Brighters teckningsoptioner av serie TO 7 fastställd. Läs mer.
Zealand Pharma ska presentera på Annual American Diabetes Association Scientific Sessions 2022. Läs mer.
Utfall av utnyttjande av Fluicells teckningsoptioner av serie TO 2 och TO 3. Läs mer.
Intervju med Abera Bioscience vd om bolagets pipeline och strategi har publicerats. Läs mer.
Calmark har fått en grekisk order för Neo-Bilirubin. Läs mer.
---
Förmiddagens kursutveckling
Vinnare: SyntheticMR 14,4%, Alzinova 11,3%, RhoVac 8,6%, ODI Pharma 7,4%, Enzymatica 5,2%
Förlorare: Spago Nanomedical -51,6%, iZafe Group -12,5%, BiBBInstruments -10,6%, QuiaPEG -7,5%, AlzeCure Pharma -7,3%
Prenumerera på BioStocks nyhetsbrev