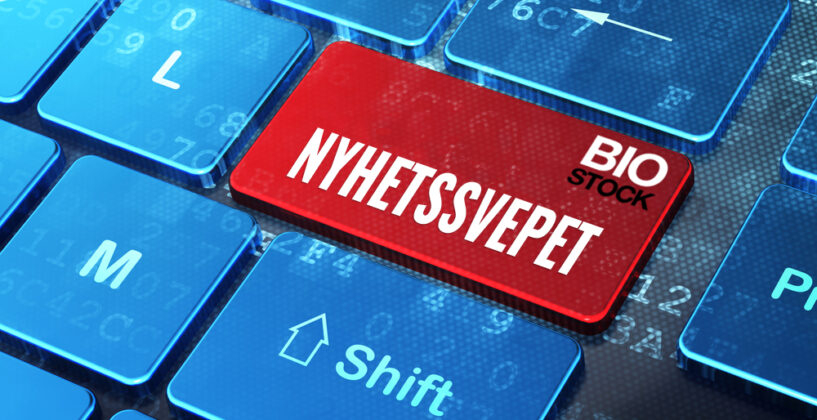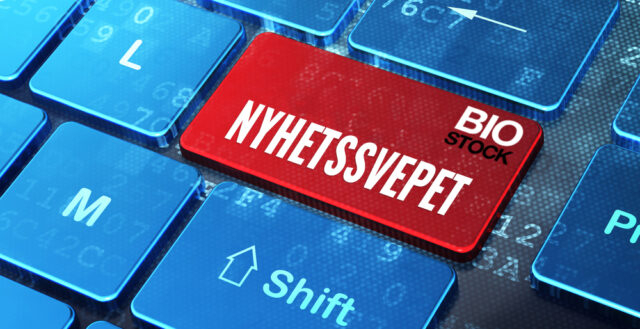 Nyhetssvepet tisdag 31 maj

---
Förmiddagens nyheter
Den tyska ishockeyklubben Adler Mannheim förnyar avtalet med PolarCool. Läs mer.
Alligator Bioscience presenterar resultat från ATOR-1017-studien vid ASCO 2022. Läs mer.
Doseringsstart i fas I-studie för Lipigons läkemedelskandidat Lipisense. Läs mer.
Bavarian Nordic ingår ytterligare vaccinkontrakt för apkoppor. Läs mer.
Medicinteknikföretaget Capitainer har tagit in 34 Mkr efter nyemission. Läs mer.
Immedica och OrphanPacific ingår avtal i Japan. Läs mer.
2cureX förändrar distributionen i Norden. Läs mer.
Patentskyddet för Ascelia Pharmas Oncoral förstärks i USA. Läs mer.
Calmark tecknar distributörsavtal med Prime Biosciences i Grekland. Läs mer.
Hologic erhåller CE-märkning för två molekylära analyser. Läs mer.
EPO ämnar bevilja NextCell Pharmas patent för Selektionsalgoritmen. Läs mer.
Nanologica återkallar förslag om optionsprogram. Läs mer.
Danska bolaget STipe Therapeutics utser dr Richard Sainson till CSO. Läs mer.
Orphazymes omstruktureringsförslag har antagits av borgenärer. Läs mer.
Novocure och MSD ingår samarbete för att utvärdera Keytruda. Läs mer.
Sectra tecknar ramavtal i Frankrike för bildhanteringslösning för digital patologi. Läs mer.
MedCaps dotterbolag Abilia förvärvar norska bolaget Cognita. Läs mer.
---
Årsredovisning:
Delårsrapporter:
Biosergen  EURIS  ExpreS2ion Biotechnologies  Promimic
Kallelser till årsstämma:
AegirBio  Hansa Biopharma  OncoZenge
Kommunikéer:
Meddelanden om aktietransaktioner och förändring av eget kapital:
---
Nyheter inkomna sedan måndag lunch
Chordate Medical uppdaterar om pågående och planerade kliniska studier. Läs mer.
Startdag för handel i PHI:s teckningsoptioner PHI TO 3 och PHI TO 4 är 3 juni. Läs mer.
Fluicell har såt BioPen-system till Institute of Basic Medicine and Cancer, Chinese Academy of Sciences. Läs mer.
Genvariant påverkar risken för blodproppar hos covidpatienter, visar ny studie vid Uppsala universitet och Karolinska Institutet. Läs mer.
Kiwok Nordic har meddelat att bolaget genomför företrädesemission. Läs mer.
Raytelligence presenterar Radsenz på Hannovermässsan. Läs mer.
Immunologisk analys av preventionsstudie med Diamyd publicerad i Journal of Immunology Research. Läs mer.
Hansa Biopharma har nominerat Peter Nicklin till ny styrelseordförande. Läs mer.
Information om Medfield Diagnostics nyemission har publicerats. Läs mer.
Ribocure Pharmaceuticals öppnar klinisk prövningsenhet i GoCo Clinic. Läs mer.
---
Förmiddagens kursutveckling
Vinnare: RhoVac 22,4%, Calmark 18,4%, PolarCool 13,3%, BBS 10,4%, Vicore Pharma 10,2%
Förlorare: Lipigon -11,8%, Monivent -9,8%, Alzinova -9,6%, S2Medical -8,8%, Lumito -7,7%
Prenumerera på BioStocks nyhetsbrev