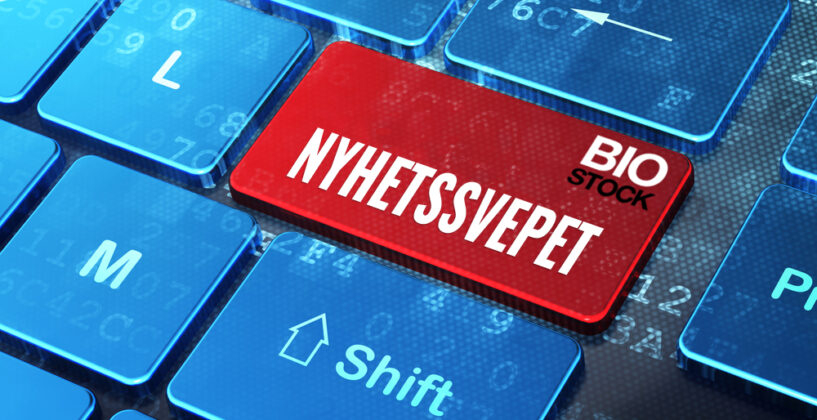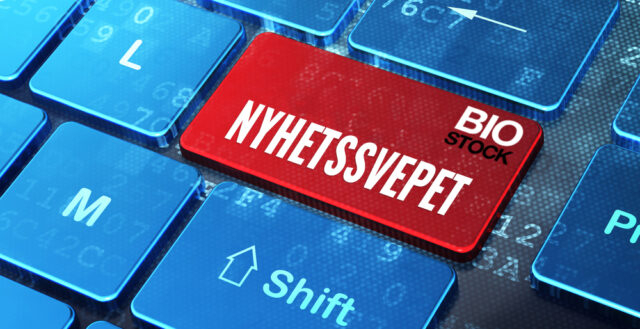 Nyhetssvepet torsdag 24 februari
Lipum rapporterar att GMP-tillverkningen av SOL-116 har varit framgångsrik och att formuleringen är nu redo för aseptisk fyllning inför användning i kliniska studier. Läs mer.
Cereno Scientific tillkännager rekryteringen av Fredrik Frick till positionen som Head of Clinical Operations. Läs mer.
Orexos ledande produkt ZUBSOLV återfinns nu på Medicaids lista för subventionerade läkemedel i delstaten New York. Läs mer.
Xspray Pharma ger en uppdatering avseende den senaste utvecklingen för bolagets första produkt Dasynoc. Läs mer.
Uttalande från LIDDS om konvertibellåneavtalet. Läs mer.
Christer Norström har utsetts till tillförordnad ordförande i styrelsen för Realheart, där han varit ordinarie ledamot sedan 2021. Läs mer.
Rehman Adil ansluter sig till Cardo Health som medgrundare och CTO. Läs mer.
Idogen presenterar på Erik Penser Banks Temadag Health Care 24 februari. Läs mer.
Polymer Factory meddelar att inlösenperiod av serie TO1 inleds idag. Läs mer.
Pharmivas vd intervjuas i samband med rapporten för de fjärde kvartalet. Läs mer.
Modus Therapeutics presenterar vid Erik Penser Banks Temadag- Health Care. Läs mer.
Rapporter:
AcouSort  AcuCort  ADDvise Group  Alzinova  Asarina Pharma  Calliditas Therapeutics  Cantargia  Cessatech  CLS  Curasight  Devyser Diagnostics  Elekta  Elos Medtech  ExpreS2ion Biotechnologies  Isofol Medical  LIDDS  Lipigon  PExA  Prostatype Genomics  Realheart  Saniona  SelectImmune Pharma  Stenocare
Inbjudningar till rapportpresentationer:
Nyheter inkomna sedan igår lunch: 
Realheart och Berlin Heart har tillsammans beviljats cirka 10 Mkr i bidrag från EU-programmet "Eurostars 3" för ett gemensamt projekt som ska ta fram en automatiserad tillverkningsprocess för tillverkning av membran. Läs mer.
BICO meddelade att man har nått en förlikning med Organovo avseende de tvister rörande Organovos patent som bolagen har varit involverade i. Läs mer.
Senzime har lämnat in en ansökan till det amerikanska läkemedelsverket FDA för godkännande av bolagets nya engångssensor för barn. Läs mer.
Peptonic Medical upplyste om detaljerad tidsplan för beslutad företrädesemission av aktier och teckningsoptioner. Läs mer.
Maria Edlund har rekryterats till positionen som Drug Product Manufacturing Specialist på Scandinavian Biopharma. Läs mer.
ISR publicerade rättelse p.g.a. feletikettering av 2021 bokslutskommuniké. Läs mer.
Idogen meddelade sista dag för handel i BTU samt första dag för handel i teckningsoptioner serie TO 5. Läs mer.
Orphazyme uppdaterade gällande arimoclomol. Läs mer.
Prostatype Genomics meddelade utfall i optionsinlösen. Läs mer.
CombiGene publicerade nyhetsbrev. Läs mer.
Förmiddagens vinnare: Wnt 5,15% QuiaPEG 5% AdderaCare 3,33% Lipum 1,59%, BICO Group 1,27%
Förmiddagens förlorare: Prostatype Genomics -18,85% ObsteCare -18,05% Aino Health -16,67% ExpreS2ion Biotech -15,89% Fluicell -15,3%
Index: OMXS30 2056 -3,93%, Hälsovård -3,34%
Prenumerera på BioStocks nyhetsbrev