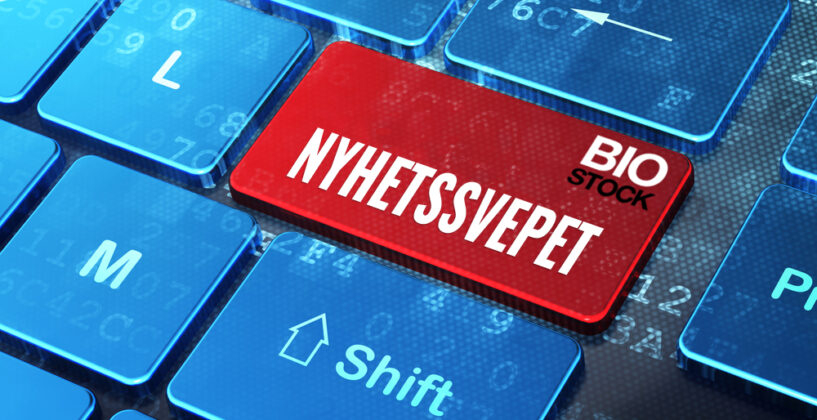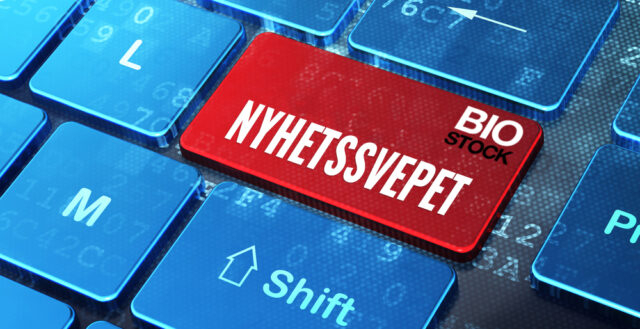 Nyhetssvepet tisdag 3 augusti
De senaste artiklarna från BioStock
» Sanionas CMO om FDAs särläkemedelsklassning för Tesomet i HO
» Iconovo erhåller order för utveckling av nasalt covid-19-vaccin
» Redsense Medicals vd sammanfattar första halvåret och blickar framåt
» Ablivas CMO om bolagets avancemang under H1
» Cyxone utforskar nya behandlingsalternativ för T20K

Nanoform och Boehringer Ingelheim tecknar avtal för att bedöma mervärdet av Nanoforms prisbelönta CESS-teknik. Läs mer.
Spago Nanomedical utser Paul Hargreaves till Chief Development Officer. Läs mer.
Nyheter inkomna sedan igår lunch:
Corline Biomedical har ingått term sheet avseende ytterligare en medicinteknisk applikation i USA. Läs mer.
Brighter erhåller förtydligande från Ministry of Health and Prevention avseende datalagring och hantering i Actiste Diabetes Management Solution. Läs mer.
Raytelligence tar emot en order om cirka 23 000 USD från Careteq. Läs mer.
Coloplast meddelade att bolaget mellan nu och december 2022 beviljar 150 000 USD i bidrag till ideella organisationer. Läs mer.
Medistim meddelade om utförda aktietransaktioner. Läs mer.
Den 2 augusti 2021 var sista dagen för handel med Nanexa BTA. Läs mer.
Förmiddagens vinnare: Curando Nordic +16,7%, Follicum +14,0%, Stille +9,3%, FluoGuide +7,0%, ISR Holding +6,0%, Initiator Pharma +5,7%
Förmiddagens förlorare: PharmaLundensis -6,9%, CombiGene -5,8%, Herantis Pharma -5,8%, Calmark -5,1%, Oncopeptides -4,7%, Raytelligence -4,7%
Index: OMXS30 2380,61 -0,04%, Hälsovård +0,85%
Fler artiklar från BioStock
» Lyckad kapitalrunda i KD-bolaget Umecrine Cognition
» CLS återupptar klinisk studie på prostatacancer
» Enzymatica utser Claus Egstrand till ny vd
» Stayble Therapeutics förbereder för partnerskap
» Pharmacologs vd om bolagets genombrottsår

Prenumerera på BioStocks nyhetsbrev