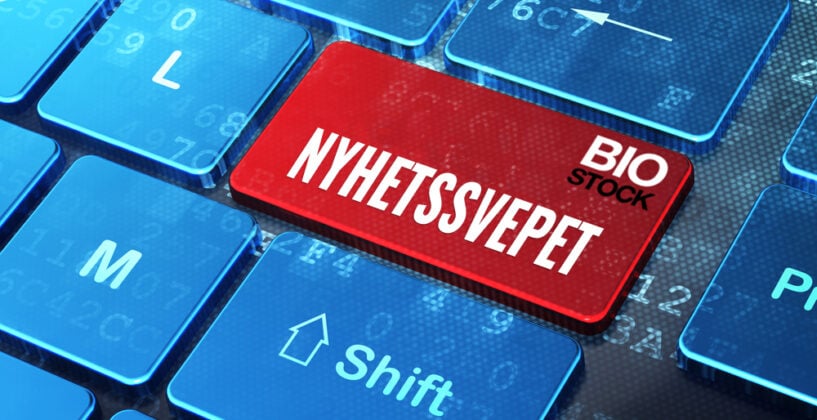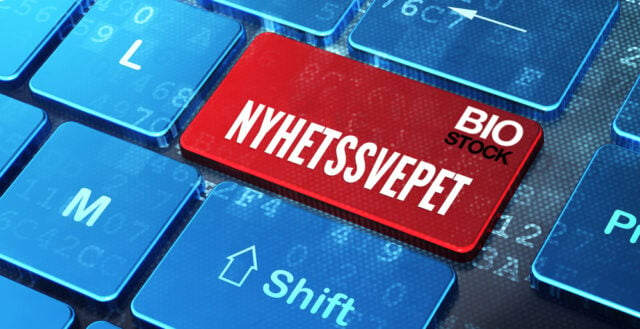 Nyhetssvepet tisdag 24 augusti
De senaste artiklarna från BioStock
» KDs halvårsrapport ger en positiv bild
» Avtal och emission stärker Sprint Biosciences position
» Stayble Therapeutics vd sammanfattar Q2 
»Cereno Scientific i samarbete med Abbott
» BioStock Live med Sprint Bioscience
Dicots rapporterar bevisad långtidseffekt för sin läkemedelskandidat LIB-01. Läs mer.
Teckningsoptioner av serie TO1 tecknades till cirka 94,1 procent i Pharmacolog som tillförs cirka 21,4 Mkr. Läs mer.
Lumito har fått grundpatentet för vävnadsdiagnostik godkänt i Europa. Läs mer.
Ortivus erhåller order om 11,1 Mkr gällande ytterligare användarlicenser till Singapore. Läs mer.
SenzaGen tar order värd 0,7 Mkr på Gardskin från ett av världen största läkemedelsbolag. Läs mer.
Martin Olin har blivit utsedd till vd för norska BerGenBio och blir kvar som ordförande i AcouSort. Läs mer.
InDex Pharmaceuticals får FDA-godkännande att starta fas III-studien Conclude med cobitolimod. Läs mer.
ProstatypeGenomics informerar om att ProstatypeP-score och prognostisk utvärdering av prostatacancer presenteras vid världens största urologimöte. Läs mer.
Biosergen har fått godkänt för att starta kliniska försök med BSG005 i Australien. Läs mer.
Aktieägarna i Masify Capital kallas till årsstämma torsdagen den 28 september 2021. Läs mer.
ObsteCare presenterar halvårsrapport med fortsatt expansion i Europa. Läs mer.
Magnus Nylén lämnar Karo Pharma och Matt Roberts utses till ny CCO. Läs mer.
Rapporter:
Aegirbio  Alteco Medical  Clinical Laserthermia Systems  Curasight  Iconovo  Idogen  Implantica  Isofol Medical  Lipidor  Miris  Redsense Medical  Spago Nanomedical
Nyheter inkomna sedan igår lunch:
BrainCool informerar om att inlösenperioden för bolagets optioner är 24 augusti-7 september 2021. Läs mer.
Indical Bioscience som är en del av part of the Vimian group har ingått strategiskt partnerskap. Läs mer.
Orphazyme har publicerat resultat från fas II/III försök med arimoclomol i Journal of Inherited Metabolic Disease. Läs mer.
GPX Medical har blivit antagna till Business Swedens tillväxtprogram för internationalisering och uppskalning av Sveriges främsta tech-bolag. Läs mer.
Bavarian Nordic får finansiering från danska staten för utveckling av covid-19 booster vaccin. Läs mer.
Intervacc informerade om att Strangvac, ett vaccin mot kvarka, har beviljats marknadsföringstillstånd i Norge. Läs mer.
ExpreS2ion Biotechnologies vaccinprogram har fått finansiering på upp till 800 dkk från danska hälsodepartmentet. Läs mer.
Prostatype Genomics  har utsett Eligen Diagnostica och BioPortugal till distributörer för bolagets prognostiska gentest Prostatype i Spanien och Portugal. Läs mer.
Acarix meddelade att bolagets resultat presenteras på ESC. Läs mer.
Raytelligence presenterar kommuniké från extra bolagsstämma.  Läs mer.
Novozymes har redovisat aktieåterköpsprogram. Läs mer.
Curasight presenterar vid HC Andersen Capital. Läs mer.
Lipigon deltar med investerarpresentation på ProHearings den 26 augusti. Läs mer.
XVIVOs har informerat om kapitalmarknadsdag 2021. Läs mer.
BerGenBio har rapporterat om ökat aktiekapital och inlösning av teckningsoptioner. . Läs mer.
Novo Nordisk har informerat om aktieåterköpsprogram. Läs mer.
Photocure har informerat om aktieoptioner. Läs mer.
Chordate Medical har presenterat delårsrapport för andra kvartalet 2021. Läs mer.
Förmiddagens vinnare: Dicot +17,3%, EXACT Therapeutics +15,0%, Oncopeptides +12,2%, Phase Holographic +11,3%, AegirBio +9,7%, InDex Pharmaceuticals +9,2%
Förmiddagens förlorare: Curando Nordic -8,4%, Medimi -7,3%, Redsense Medical -6,9%, AcuCort -5,7%, Karolinska Development -5,6%, Ultimovacs -5,6%
Index: OMXS30 2365,37 -0,26%, Hälsovård -0,62%
Fler artiklar från BioStock
» CS MEDICA ska expandera i Europa med emission
» KD-bolaget OssDsign lanserar OssDsign Catalyst i USA
» PolarCool siktar mot fler toppligor
» CS MEDICAs vd om bolagets marknadsexpansion
» Italiensk läkare ser stor potential för Chordate Medicals behandling

Prenumerera på BioStocks nyhetsbrev