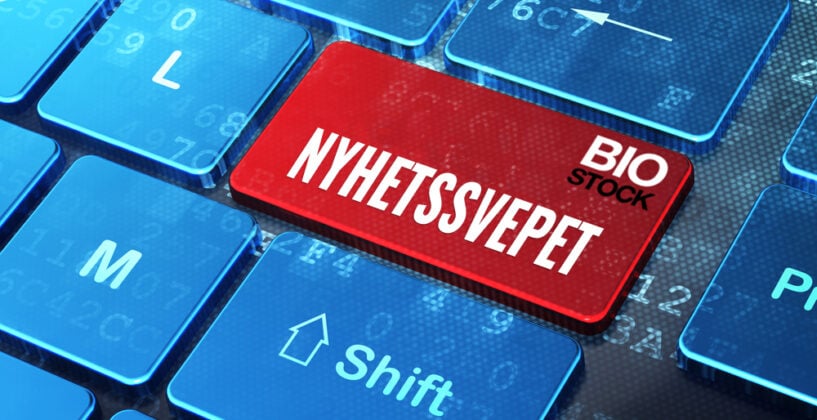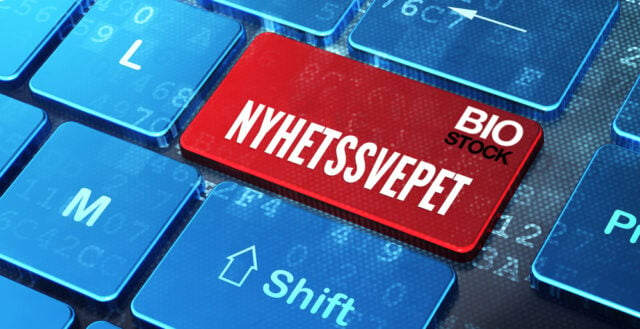 Nyhetssvepet tisdag 1 juni
De senaste artiklarna från BioStock
» BrainCool om ordern från University of California
» BioStock Live med Biosergen
» Elicera Therapeutics tar sin immunonkologiska teknik till börsen
» Förlängt cannabisprogram i Danmark ger DanCann Pharma medvind
» BioStock Studio: Odinwells vd om bolagets teknik och vägen till marknad
Läs BioStocks nyhetsbrev för vecka 21 här.
I eftermiddag 1 juni kl 13:00 sänder vi BioStock Live med Biosergen. Följ sändningen här.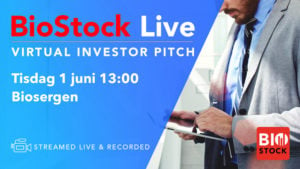 BrainCool inleder samarbete med universitetssjukhuset i Basel för klinisk studie avseende oral mukosit. Läs mer.
Ultimovacs meddelar att man publicerat en artikel om Malignt Mesoteliom i The Journal of Translational Medicine. Läs mer.
SynAct Pharma slutför rekrytering och dosering i en klinisk fas II-studie med AP1189 på covid-19-infekterade patienter. Läs mer.
Elekta meddelar att den 100:e enheten av Unity MR-Linac beställts av St George's Hospital i Nya Zeeland. Läs mer.
Inhalation Sciences förstärker fjärrinstallation och digital utbildning . Läs mer.
Prostatype Genomics byter till kontraktstillverkaren Minerva Biolabs. Läs mer.
Navamedic lanserar nya produkter i kategorin Medical Nutrition. Läs mer.
Lumito meddelar att de fått processer på plats för kvalificering för ISO 13485. Läs mer.
Scandinavian Real Heart har intervjuat professor Robert D Dowling, om varför så få behandlas med artificiella hjärtan. Läs mer.
LIDDS meddelar att bolaget utsett Jenni Björnulfson till ny CFO . Läs mer.
Lipigon utser Jessica Martinsson till ny styrelseledamot. Läs mer.
Sobi kommer att presentera data vid EHA:s virtuella kongress den 9–17 juni 2021. Läs mer.
Medivir presenterar vid Redeye Growth Day. Läs mer.
Rapporter:
Kommunikéer:
Kallelser till bolagsstämmor:
Förändring av antalet aktier och röster:
Episurf Medical  Zealand Pharma
Transaktioner i samband med återköpsprogram:
Coloplast  Genmab  Novo Nordisk  Novozymes
Nyheter inkomna sedan igår lunch:
RhoVac bekräftade att tidigare prognos-rekrytering till fas IIb studien BRaVac beräknas avslutas i Q3 2021. Läs mer.
PCI Biotech har beviljats patent i USA för vaccintekniken fimaVacc. Läs mer.
Improved inleder ett probiotiskt forskningssamarbete med fokus på vaginal hälsa. Läs mer.
Nanexa har meddelat att de inkluderat första patienten i sin första kliniska studie med PharmaShell. Läs mer.
Scandinavian ChemoTech växlar upp efter en framgångsrik CE-märkning. Läs mer.
CELLINK slutför förvärvet av Nanoscribe. Läs mer.
InDex Pharmaceuticals kommer att inleda patientrekryteringen till fas III-studien CONCLUDE efter sommaren. Läs mer.
Guard Therapeutics har etablerat en vetenskaplig kommitté med framstående internationella läkare och forskare inom thoraxkirurgi, intensivvård och njurmedicin. Läs mer.
Asarina Pharma får konvertibelt lån för fortsatt forskning inom neurologiska tillstånd inklusive tvångssyndrom. Läs mer.
AQUA BIO TECHNOLOGY har genomfört en emission på cirka 15 miljoner NOK. Läs mer.
Vaccibody kommer att presentera på Jefferies Virtual Healthcare Conference 2021. Läs mer.
Brighters revisor förordar speciella rekommendationer i revisionsberättelsen för räkenskapsåret 2020. Läs mer.
Förmiddagens vinnare: Lumito +25,1%, Hansa Biopharma +12,2%, PCI Biotech +9,6%, Follicum +8,1%, Gabather +7,7%, Chordate Medical +7,4%
Förmiddagens förlorare: Clinical Laserthermia -7,9%, ProstaLund -6,0%, Herantis Pharma -5,7%, Dicot -5,6%, Integrum -5,0%, BerGenBio -4,5%
Index: OMXS30 2263,74 +0,98%, Hälsovård +0,12%
Fler artiklar från BioStock
» BioStock Live med Elicera Therapeutics
» MS i strålkastarljuset
» Biosergen vill optimera behandling av dödliga svampinfektioner
» Odinwell vill effektivisera sårvården med optiska sensorer
» Xintelas vd om studieframgångar och godkänd GMP-anläggning

Prenumerera på BioStocks nyhetsbrev