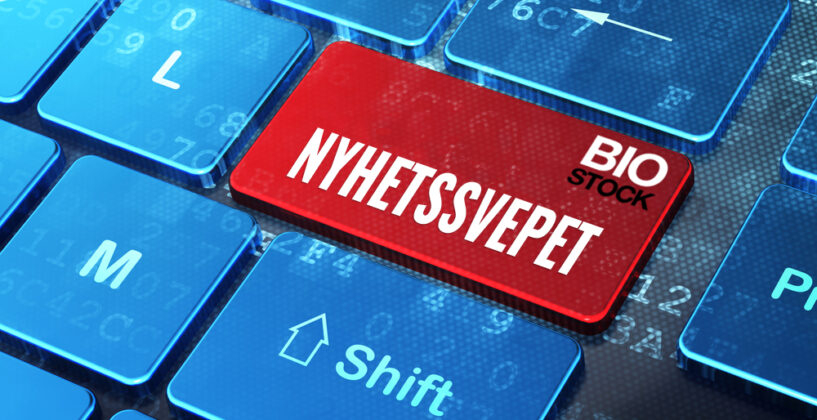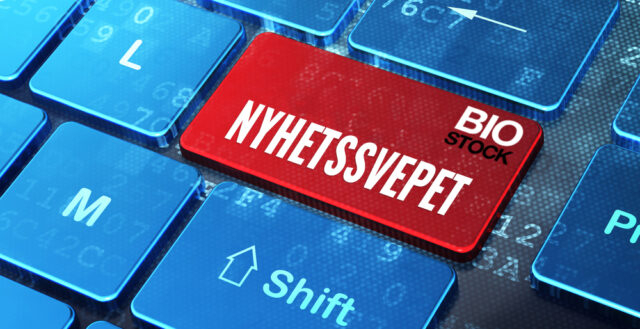 Nyhetssvepet onsdag 9 juni
De senaste artiklarna från BioStock
» Kontroversiellt och historiskt godkännande av Biogens Alzheimer-kandidat
» Enzymaticas förkylningsspray lanseras på e-handelsjätten Amazon
» Ultimovacs presenterade kliniska data på ASCO
» Dicot-teamet förstärks med styrelseledamot och COO
» Idogens vd om World Transplant Day och IDO T mot organavstötning

Idag inleds handeln i Odinwell, Redsense Medicals tidigare dotterbolag, på Spotlight Stock Market. Läs mer. Man meddelar också att företrädesemission i Odinwell övertecknades. Läs mer.
Emotra tecknar avtal med National Institute of Mental Health i USA. Läs mer.
Oasmia ger en uppdatering om utvecklingsarbetet med bolagets teknologiplattformar. Läs mer.
Pharmiva erhåller förhandsbesked om godkännande av patent i USA. Läs mer.
Abera Bioscience har publicerat en verksamhetsuppdatering. Läs mer.
Photocure meddelar förvärv av egna aktier under återköpsprogram. Läs mer.
NattoPharma informerar om Lesaffres förvärv av aktier. Läs mer.
Idogen ger en bolagsuppdatering på Småbolagsdagen idag den 9 juni kl. 12:00. Läs mer.
Kommunikéer:
Glycorex Transplantation  Inhalation Sciences Sweden  Lipidor
Nyheter inkomna sedan igår lunch:
Saniona kommer att presentera prekliniska data för SAN711 vid European Academy of Neurologys sjunde kongress. Läs mer.
Chordate Medical har fått de första kommersiella beställningarna för migränbehandlingssystemet från Italien. Läs mer.
NextCell Pharmas CMO Edvard Smith har publicerat en artikel i Läkartidningen om gen– och cellterapi. Läs mer.
Raytelligence har erhållit CE-märkning enligt MDR. Läs mer.
AroCell har offentliggjort ett prospekt. Läs mer. Bolaget har även offentliggjort erbjudandehandling avseende erbjudandet till aktieägarna i IDL Biotech. Läs mer.
Scandinavian Real Heart meddelade att styrelsen har beslutat om att genomföra en företrädesemission om högst 67,7 Mkr. Läs mer.
Företrädesemission av units i Bioextrax övertecknades. Läs mer.
Styrelseledamot i Scandinavian ChemoTech köper ytterligare aktier. Läs mer. Bolaget ökar också värdet på sin orderbok. Läs mer. Scandinavian ChemoTech kommer även att presentera på Småbolagsdagarna. Läs mer.
Micropos Medical har fastställt optionspriser för 2021. Läs mer.
Demant rapporterade transaktioner av ledande befattningshavare. Läs mer.
Mangold Insight har släppt uppdaterad analys av Emotra samt en vd-intervju med Daniel Poté. Läs mer.
Förmiddagens vinnare: Emotra +21,0%, BerGenBio +19,6%, Zenicor Medical +10,5%, Double Bond Pharma +9,0%, ODI Pharma +6,5%, Gentian Diagnostics +5,8%
Förmiddagens förlorare: Real Heart -26,6%, Chordate Medical -10,8%, AcuCort -9,4%, Karolinska Development -7,5%, Isofol Medical -6,5%, BBS-Bioactive Bone -5,9%
Index: OMXS30 2276,59 +0,08%, Hälsovård +0,83%
Fler artiklar från BioStock
» AlphaHelix vd om förvärvet av CyberGene
» BrainCools vd om trippelsatsningen inom onkologi
» Italiensk distributör uttrycker förtroende för Chordate Medicals migränbehandling
» Hoppfull kursrusning i Follicum efter misstänkt analysfel i håravfallsprojekt
» BioStock studio: Biosergens vd om vägen till marknad

Prenumerera på BioStocks nyhetsbrev