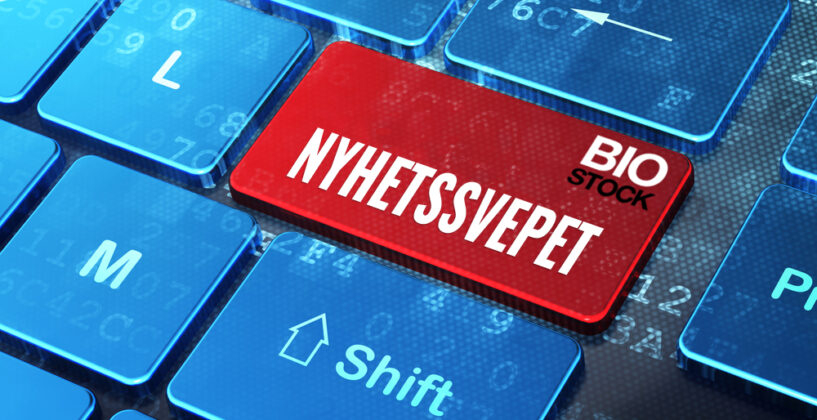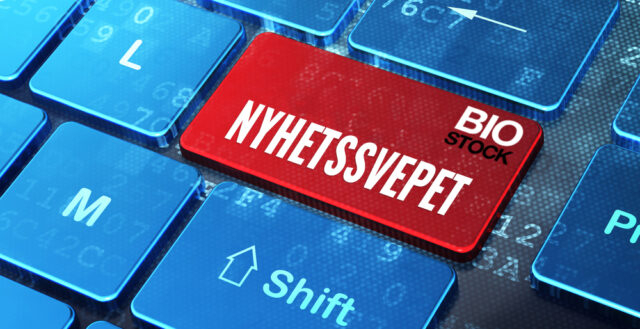 Nyhetssvepet torsdag 11 februari
De senaste artiklarna från BioStock
» Dicots nya styrelseordförande tar bolaget in i nästa fas
» BrainCool får genombrottsorder i Sydkorea
» BioStock Studio: Idogen har händelserikt år framför sig
» Emission ska ta Stayble Therapeutics till nästa steg
» CombiGene om Världsepilepsidagen och läkemedelsmyndigheternas positiva svar
Läs BioStocks nyhetsbrev för vecka 5 här.

SynAct Pharma utser James Knight till CBO. Läs mer.
Targovax publicerar en agenda för kapitalmarknadsdagen den 18 februari. Läs mer.
Idag inleds nyttjandeperioden för Monivents teckningsoptioner av serie TO 1. Läs mer.
Corline Biomedical förlänger distributionsavtal med JNT Technologies i USA. Läs mer.
Första dag för handel med teckningsoptioner av serie TO5 i MedicPen kommer äga rum den 22 februari. Läs mer. Sista dag för handel med BTU i MedicPen är den 15 februari. Läs mer.
Novozymes bjuder in till årsstämma. Läs mer.
Rapporter:
Active Biotech  AstraZeneca  Camurus  Cassatech  Genovis  Gentian Diagnostics  Invent Medic Sweden Karolinska Development  OssDsign  Revenio Group  Surgical Science Sweden  Ziccum
Nyheter inkomna sedan igår lunch:
DBP International har förlängt samarbetsavtalet med Unitechprom och forskningsinstitutet av fysiska och kemiska avdelningen i Minsk. Läs mer.
Cantargia meddelade att första patienten med bukspottkörtelcancer (PDAC) påbörjat behandling i en fas IIa extensionsdel av CANFOUR-studien. Läs mer.
NattoPharma bjuder in till presentation av Q4-resultat den 17 februari . Läs mer.
Den 15 februari är sista dag för handel med BTA i Peptonic Medical. Läs mer.
Elektas ProKnow hjälper till att standardisera radioterapi. Läs mer.
Moberg Pharma
 meddelade att
OncoZenge
har godkänts för listning på
Nasdaq First North Growth Market
.
Läs mer
.
Aegirbio meddelar att inlösen av TO1 i januari har tillfört bolaget 831 924 kr före emissionskostnader. Läs mer.
Medivir tecknar licensavtal med Ubiquigent för det prekliniska forskningsprogrammet USP7. Läs mer.
AstraZeneca och IDT Biologika undertecknar LOI om att öka Covid-19-vaccintillverkningen i Europa och säkra långsiktig leveranskapacitet. Läs mer.
Genmab and Seagen har lämnat in ansökan om biologisk licens till FDA för tisotumab vedotin för behandling av patienter med livmoderhalscancer. Läs mer.
Infant Bacterial Therapeutics meddelade att rekryteringen till den första delen av fas III-studien är klar – en uppdatering om den kliniska utvecklingen av IBP-9414. Läs mer.
BRIGHTER offentliggjorde tilläggsprospekt. Läs mer.
Novo Nordisk rapporterade aktietransaktioner för ledande befattningshavare. Läs mer.
BioPorto har utfärdat teckingsoptioner till anställda. Läs mer.
Cline Scientific har utsett Pareto Securities till likviditetsgarant. Läs mer.
Stille informerade om Tillväxtverkets beslut att avslå bolagets ansökan om stöd vid korttidsarbete – Stille överklagar till Förvaltningsrätten. Läs mer.
Förmiddagens vinnare: Euris +35,0%, Genovis +13,1%, Integrum +11,3%, Stenocare +10,4%, Gabather +9,5%, Lifecare +9,1%
Förmiddagens förlorare: PolarCool -15,0%, Real Heart -7,0%, BerGenBio -6,3%, PCI Biotech -6,3%, Alteco Medical -5,4%, Chordate Medical -5,4%
Index: OMXS30 2000,71 +0,13%, Hälsovård +0,84%
Fler artiklar från BioStock
» BioStock Studio: Intervju med Stayble Therapeutics vd
» Stora framsteg för Iconovos storsatsning ICOpre
» Säkerställd emission och listbyte för Spago Nanomedical
» 2cureX erhåller EU-bidrag för sitt projekt inom äggstockscancer
» CLS förstärker med nya medarbetare inför global etablering

Prenumerera på BioStocks nyhetsbrev