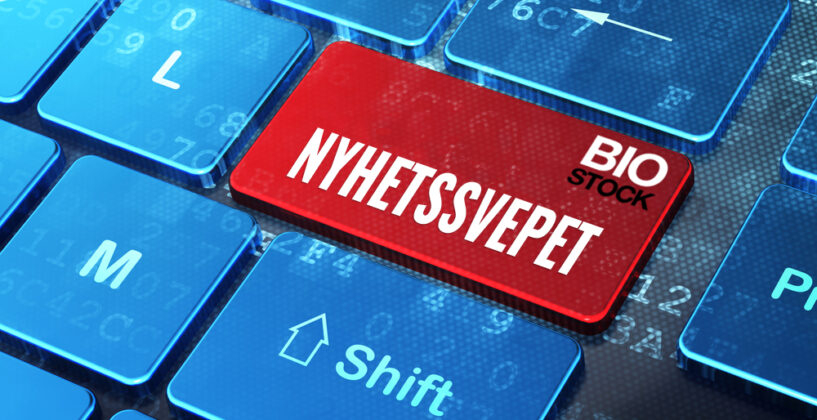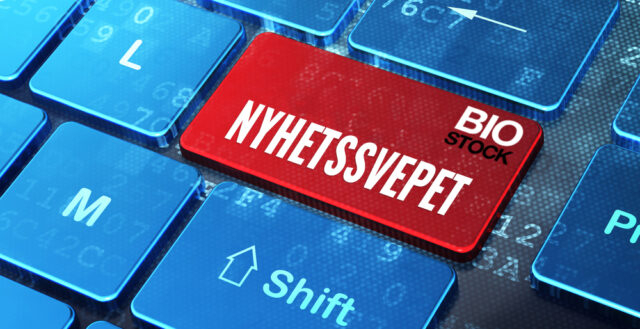 Nyhetssvepet onsdag 23 januari
Ett redaktionellt urval av dagens Life Science-nyheter
De senaste artiklarna från BioStock
» VD-intervju Idogen: »Vi har bara tappat några månader«
» Klaria tecknar ett andra avtal med Purdue Pharma värt 55 miljoner USD plus royalties
» VD-intervju Cereno Scientific: Viktiga framsteg under 2018 följs av fler under 2019
» Se presentationerna från BioStock Live Startup pitch & Dealmaker Summit
» Oncology Venture positionerar sig inom precisionsmedicin

Läs BioStocks senaste nyhetsbrev för vecka 3 här
Saniona 
meddelar idag att
University of Pennsylvania Treatment Research Center
avser att fortsätta den pågående fas IIa-studien med en högre dosering av
NS2359
mot kokainberoende. Bolaget framhåller att det finns en god vetenskaplig grund för att NS2359 ska kunna motverka kokainberoende och alkoholmissbruk. 
Läs mer
.
Sista dag för handel med
Nanexas
teckningsoption är den 30 januari.
Läs mer
.
ObsteCare
ger en uppdatering om bolagets deltagande på
ECIC-kongressen
.
Läs mer
.
En ny publikation beskriver hur
Attanas
teknik användes vid utvecklingen av antikroppsfragment som blockerar cellsignalering och därmed har potential att användas för framtida målsökning av cancertumörer.
Läs mer
.
Biovica
presenterar på Stora aktiedagen med tema Life Science i Lund den 29 januari.
Läs mer
.
WntResearch 
publicerar ett nyhetsbrev för januari månad.
Läs mer
.
Diamyd Medical
publicerar rapport för perioden september 2018 – november 2018.
Läs mer
.
Nyheter inkomna igår eftermiddag:
Klaria
och
Purdue Pharma
 har tecknat ett exklusivt utvecklingsavtal för
KL-01401
(oromukosal adrenalinfilm). Det totala värdet för Klaria av samtliga delmålsättningar som definieras i avtalet är 55,2 MUSD.
Läs mer
.
Cereno Scientific
meddelade att
European High Growth Opportunities Securitization Fund
 begärt konvertering av konvertibler motsvarande 4 Mkr av konvertibellånet. Konverteringen avser trancherna som Cereno påkallade under 2018, för vilka EGHO-avtalet fortfarande är giltigt. Efter den aktuella konverteringen kvarstår ytterligare 5,2 Mkr för utestående konvertibellånet som EGHO kar möjlighet att konvertera. Det nyliga beskedet att Cereno pausat avtalet framgent gäller fortfarande. 
Läs mer
.
S2Medical 
meddelade att första patienten behandlats vid bolagets klinik för sårläkning. Den första patienten som påbörjade en behandling hos S2Clinic led av ett kroniskt bensår som orsakat stora problem med bland annat stark smärta. Såret som har varit öppet i mer 2 år är nu helt läkt. 
Läs mer
.
MedicPen
har undertecknat ett Letter of Intent med
Telenta
. Avsikten är att senast utgången av Q1 2019 ingå ett långsiktigt avtal mellan parterna.
Läs mer
.
Genmab 
offentliggjorde försäljningssiffror för 
darzalex. 
Läs mer
. Bolaget gav även information om bolagets ansökan till
FDA
gällande 
daratumumab
i kombination med
lenalidomide
 och
dexamethasone
.
Läs mer
.
AddLife
 bjöd in till kapitalmarknadsdag den 18 februari.
Läs mer
.
Karo Pharma 
kallade till extra bolagsstämma den 14 februari.
Läs mer
.
Sensori 
har kallat till bolagsstämma den 22 februari.
Läs mer
.
Nanologica
har rekryterat
Kia Bengtsson
som director of clinical management. Bengtsson kommer närmast från en tjänst som ansvarig för den kliniska forskningen på
Eurocine Vaccines
.
Läs mer
.
Calmark
har utsett 
Emma Lif
till clinical director. Lif har en bakgrund som sjuksköterska och barnmorska med en magisterexamen från
Karolinska Institutet
.
Läs mer
.
Oasmia Pharmaceutical
har beslutat att ställa in den extra bolagsstämman den 25 januari.
Läs mer
.
Vinnare i lunchhandeln: 
Real Heart +9,58%, ADDvise Group +6,38%, Integrum +6,38%, Double Bond Pharmaceutical +6,25%, BiBBInstruments +5,90%, MedicPen +5,17%
Förlorare i lunchhandeln: 
Cereno Scientific -23,91%, AlphaHelix -23,03%, Klaria -13,53%, WntResearch -11,21%, Enzymatica -6,94%, Aptahem -6,80%
Index:
OMXS30 -0,29% , Hälsovård +0,26%
Fler artiklar från BioStockC
» De 10 högst värderade läkemedelskandidaterna i slutet av 2018
» Positiva resultat från RhoVacs prostatacancerstudie
» Idogen är redo att ta upp kampen mot de allt vanligare autoimmuna sjukdomarna
» Roche betalar 300 MUSD för cancerbehandling
» Forskningsnätverk utlyser anslag för fas II-studie i TBI – lockar NeuroVive

[et_bloom_inline optin_id="optin_4″]
Prenumerera på BioStocks nyhetsbrev