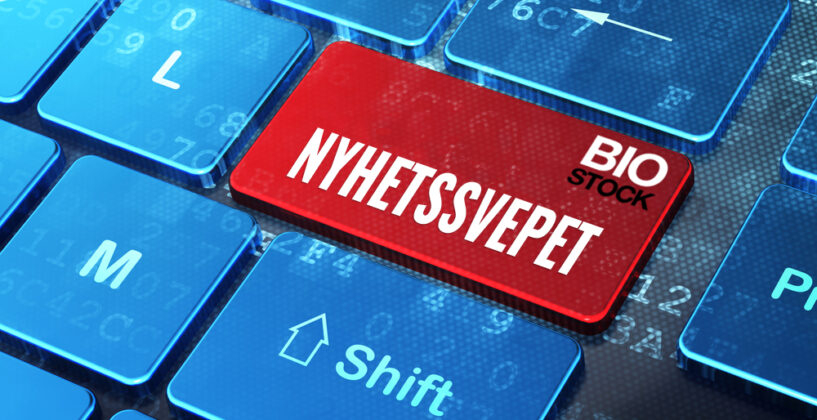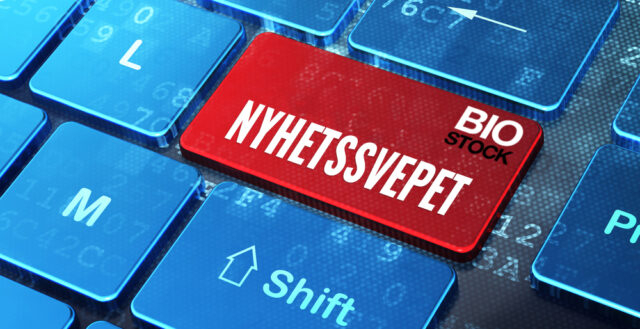 Nyhetssvepet onsdag 28 juni
Det senaste från BioStock
Läs BioStocks nyhetsbrev för v.25 här.
---
Se det senaste avsnittet av BörsRonden!

---
Förmiddagens nyheter
Abliva meddelar att första patienten doserats i FALCON-studien. Läs mer.
Spago Nanomedical uppdaterar om den kliniska fas IIa-studien SPAGOPIX-02. Läs mer.
Pharmacolog ingår LOI med Knoware i Belgien. Läs mer.
Lipigon får Vinnova-anslag för större EU-ansökan för Lipisense mot svår hypertriglyceridemi. Läs mer.
Realheart får klartecken för internationellt varumärkesskydd. Läs mer.
Idag inleds nyttjandeperioden för teckningsoptioner av serie TO 1 i Carbiotix. Läs mer.
AstraZeneca investerar 400 MUSD i återplantering av skog och biologisk mångfald. Läs mer. Läs mer.
Orion investerar 30 MEUR för att öka produktionskapaciteten i Finland. Läs mer.
---
Rapporter:
Kallelser:
Kommunikéer:
Förändring av aktiekapital:
---
Nyheter sedan tisdag lunch
Expres2ion Biotech har meddelat topline-data från fas III-studien med vaccinkandidaten för covid-19. Läs mer. Även Bavarian Nordic har rapporterat om nyheten. Läs mer.
Chordate Medicals migränstudie presenteras på huvudvärkskongress i Berlin. Läs mer.
LIDDS har tillkännagivit kostnadsminskningar för att förlänga tillgänglig tid till att säkra licensavtal. Läs mer.
Genmab and AbbVie har presenterat positiva topline-data från fas I/II-studien EPCORE med Epcoritamab. Läs mer.
SpectraCure har fått ytterligare EU-bidrag för industrialisering av företagets behandlingssystem Q-PRO. Läs mer.
Umeå Biotech Incubator har beviljats 14 Mkr till projektet "Life science city". Läs mer.
aXichem stärker sin position på den europeiska marknaden genom avtal med Uriach, med ett årligt värde av 400 000 euro, inom melatoninformuleringar för bättre sömn. Läs mer.
PharmaLundensis överväger omnotering av aktie från Spotlight till onoterad lista. Läs mer.
Diamyd Medical har offentliggjort preliminärt utfall i bolagets företrädesemission. Läs mer.
Allarity Therapeutics har meddelat datum för omvänd split. Läs mer.
AcuCort har lanserat ett nyhetsbrev. Läs mer.
Nordic Nanovector har meddelat innehav och fullmakter inför årsstämman. Läs mer.
---
Förmiddagens kursutveckling
Vinnare: Pila Pharma 16,9%, PolarCool 15,2%, Inhalation Sciences 10,4%, Redwood Pharma 8,3%, Spermosens 8,2%
Förlorare: PharmaLundensis -54,3%, Calmark -15,0%, Spago Nanomedical -10,5%, Lipidor -10,0%, Odinwell -9,6%
Index: OMSX30 2262 +0,77%, Hälsovård +0,56%
Prenumerera på BioStocks nyhetsbrev