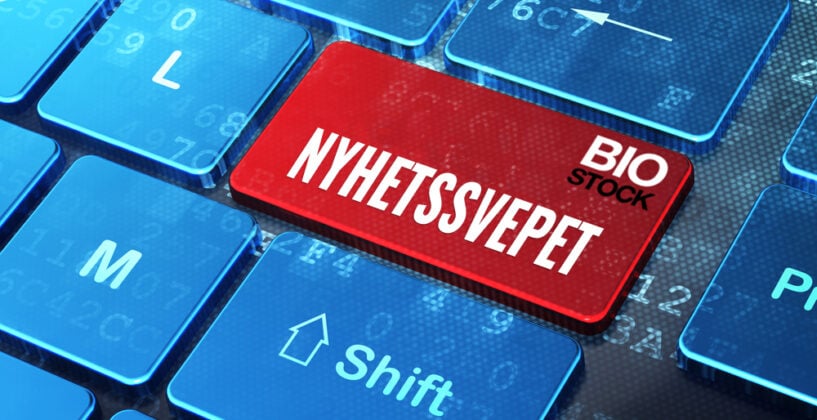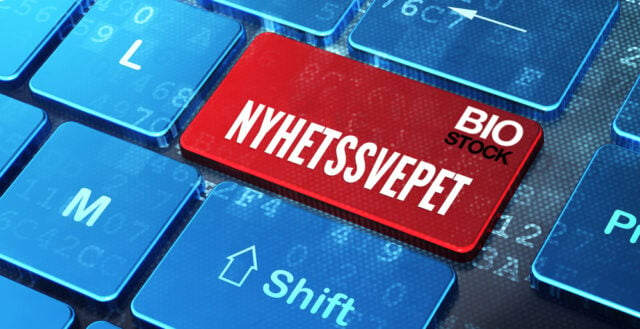 Nyhetssvepet torsdag 10 juni
De senaste artiklarna från BioStock
» Coegin Pharmas resa från koncept till klinik
» Diagonal Bios vd om bolagets diagnostikplattform
» Emplicures vd om bolagets missbrukshämmande läkemedelsplattformar
» Enzymatica presenterar emissionsutfall
» Kontroversiellt och historiskt godkännande av Biogens Alzheimer-kandidat
Läs BioStocks nyhetsbrev för vecka 22 här.
Xspray Pharma startar studie med förbättrad version av dasatinib. Läs mer.
AlzeCure Pharma meddelar att presentationen och posterna gällande positiv klinisk data för ACD440 som presenterades på IASP 2021 World Congress on Pain finns tillgängliga bolagets hemsida. Läs mer.
Vaccibody kommer att presentera på Goldman Sachs 42nd Annual Global Healthcare Conference. Läs mer.
Bergenbio tillkännager att en analys av bolagets kliniska fas II prövning av bemcentinib har valts ut vid ECCMID. Läs mer.
Scandinavian Real Heart presentation från Småbolagsdagarna finns på Youtube. Läs mer.
Qlife utökar testkapaciten för covid-19 under EM i fotboll i Köpenhamn. Läs mer.
Oslo Børs har beslutat att avbryta och dra tillbaka alla obligatoriska förvärv av NattoPharmas aktier. Läs mer.
Aqua Bio Technology har publicerat en bolagspresentation för juni. Läs mer.
Hamlet Pharma meddelar att resultaten från en placebokontrollerad klinisk studie publicerats i Nature Communications. Läs mer.
Arcoma får första order på nya produkten OMNERA 500A. Läs mer.
Kommunikéer:
Abera Bioscience  Aqua Bio Technology  Cereno Scientific  Intervacc  Respiratorius
Nyheter inkomna sedan igår lunch:
Elicera Therapeutics emission inför noteringen på Nasdaq First North Growth Market blev kraftigt övertecknad. Läs mer.
Toleranzia genomför patentansökan för att stärka det kommersiella skyddet av TOL2. Läs mer.
BrainCool har publicerat vetenskapliga resultat om Rhino Chill System. Läs mer.
RhoVac får godkännande för att initiera långtidsuppföljning av patienterna som deltog i bolagets kliniska fas I/II-studie. Läs mer.
Cyxone har utsett Henrik Hang till ny CFO från och med den 1 augusti 2021. Läs mer.
Lipum deltog på Aktiespararnas Småbolagsdagar. Läs mer.
2cureX har publicerat ett nyhetsbrev. Läs mer.
Episurf Medical har erhållit beviljande för ytterligare ett patent i Kina. Läs mer.
Orions kliniska försök visar betydande förbättringar för patienter med kronisk smärta vid användning virtual reality therapy. Läs mer.
Allarity Therapeutics publicerar en e-poster som beskriver metabolismen hos Dovitinib-DRP Companion Diagnostic. Läs mer.
SyntheticMR ingår i gemensamt utvecklingsprojekt med Juntendo University Hospital och Canon Medical Systems. Läs mer.
Thomas Jefferson University Hospitals och Mentice ska etablera ett Simulation Center of Excellence for Interventional Radiology. Läs mer.
Onxeo har fått Notice of Allowance för ett nytt patent som utvidgar skyddet av AsiDNATM i kombination med en PARP-hämmare i USA. Läs mer.
Cline Scientific har godkänts för listning på Nasdaq First North Growth Market. Läs mer.
AQUA Bio Technology har givit information om bolagets fullmakter på årsmötet. Läs mer. 
Qlifes grundare har delat upp ägandet i fyra ägarbolag. Läs mer.
Eurocine Vaccines presenterade på Småbolagsdagarna. Läs mer.
iZafe Group har givit information om förändrat antal aktier. Läs mer.
Noteringsaktuella Odinwell publicerade en vd-intervju. Läs mer.
Förmiddagens vinnare: European institute +20,5%, Idogen +7,3%, Cline Scientific +7,0%, Magle Chemoswed +6,2%, Paxman +5,9%, Moberg Pharma +5,7%
Förmiddagens förlorare: Chordate Medical -15,7%, Karolinska Development -8,3%, Real Heart -7,4%, BerGenBio -7,3%, Attana -6,8%, EXACT Therapeutics -6,4%
Index: OMXS30 2267,01 -0,23%, Hälsovård +0,35%
Fler artiklar från BioStock
» Enzymaticas förkylningsspray lanseras på e-handelsjätten Amazon
» Ultimovacs presenterade kliniska data på ASCO
» Dicot-teamet förstärks med styrelseledamot och COO
» Idogens vd om World Transplant Day och IDO T mot organavstötning
» AlphaHelix vd om förvärvet av CyberGene

Prenumerera på BioStocks nyhetsbrev