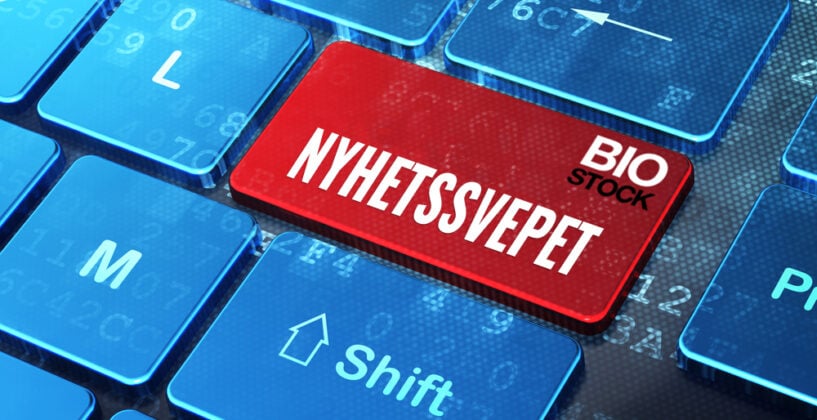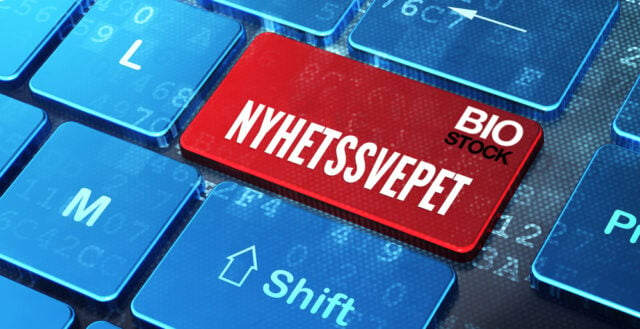 Nyhetssvepet torsdag 15 april
De senaste artiklarna från BioStock
» Säljteamet – en nyckelkomponent i Fluicells tillväxt 
» Godkännande av BMS CAR T-cellbehandling banar väg för Elicera
» Högt intresse för Invent Medics kommande produkt
» BioStock Live med Duearity
» Respiratorius genomför riktad emission och inleder bryggstudie med VAL001

Läs BioStocks nyhetsbrev för vecka 14 här.
Alligator Bioscience och MacroGenics ingår forskningssamarbete för att utveckla ny immunterapi. Läs mer.
Aptahem meddelar att idag, den 15 april, är sista dagen att nyttja teckningsoptioner serie TO 5. Läs mer.
Scibase meddelar att en artikel i Nature presenterar inverkan och betydelsen av epitelbarriärskador för en rad vanliga sjukdomar. Läs mer. Bolaget har även meddelat att certifieringen enligt MDR har försenats cirka två veckor. Läs mer.
Xbrane Biopharma utökar sin interna utvecklingskapacitet för biosimilarer med nytt biotechlabb och bjuder in till virtuell kapitalmarknadsdag 17 maj. Läs mer.
Region Kronoberg byter till Sectras IT-lösning för att förbättra hanteringen av medicinska bilder. Läs mer.
Hemcheck Sweden har tecknat distributörsavtal med Abdulla Fouad for Medical Supplies and Services Company avseende distribution i Saudiarabien. Läs mer.
CellaVision presenterar delårsrapporten för första kvartalet 2021, den 28 april kl. 11:00. Läs mer.
BioArctic bjuder in till presentation av delårsrapporten för perioden januari – mars 2021 den 21 april. Läs mer.
DBP Internationals vd Igor Lokot medverkade på Aktiekvällen Stockholm den 14e april. Läs mer. DBP International har varit värd för ett investigatorsmöte för den planerade fas I-studien av SI-053. Läs mer.
Årsredovisning:
Alzinova  Camurus  C-RAD  Hemcheck  Sedana Medical  Vicore Pharma  Q-linea 
Rapporter:
Kommunikéer:
LifeClean International  Ultimovacs
Kallelser till bolagsstämmor:
AcouSort  Alzinova  Bonesupport  Genovis  Initiator Pharma  Monivent RhoVac
Nyheter inkomna sedan igår lunch:
Saniona presenterar prekliniska resultat för SAN903 på ASPETs årsmöte för experimentell biologi 2021. Läs mer.
WntResearchs styrelse och ledning tecknar units i den pågående företrädesemissionen. Läs mer.
Coegin Pharma genomför en riktad emission till garant i samband med den nyligen genomförda företrädesemissionen samt meddelar att företrädesemissionen nu är registrerad. Läs mer.
NextCell Pharma har fått godkännande att genomföra klinisk prövning med ProTrans i barndiabetes. Läs mer.
LifeClean International har erhållit CE-märkning enligt MDD för LifeClean Desinfektion. Läs mer.
CELLINK vinner prestigefyllda gold award för BIO X6 samt två utmärkelser inom design excellence för C.WASH och UP.SIGHT på iF Design Awards 2021. Läs mer.
Erik Sundquist har utsetts till ny vd i Peptonic Medical. Läs mer.
Pharmivas valberedning föreslår inval av Jenny Rydhström som styrelseledamot vid den kommande årsstämman. Läs mer.
Förmiddagens vinnare: AroCell +24,1%, Hemcheck Sweden +14,6%, Glycorex Transplantation +10,8%, Redwood Pharma +8,9%, Scibase +8,7%, Fluicell +8,2%
Förmiddagens förlorare: OssDsign -21,7%, Lifecare -9,2%, Papilly -7,2%, Cline Scientific -6,1%, Alteco Medical -5,2%, Magle Chemoswed -5,1%
Index: OMXS30 2240,17 +0,54%, Hälsovård +0,83%
Fler artiklar från BioStock
» Stor potential i onoterade svenska life science-bolag
» BioStock Studio: WntResearchs vd om studieåterstart och emission
» PHIs vd om försäljningen till Harvard och EU-center
» Ultimovacs presenterar studiedesign för INITIUM på AACR
» Duearitys grundare om bolagets produkter och kommande börsnotering

Prenumerera på BioStocks nyhetsbrev