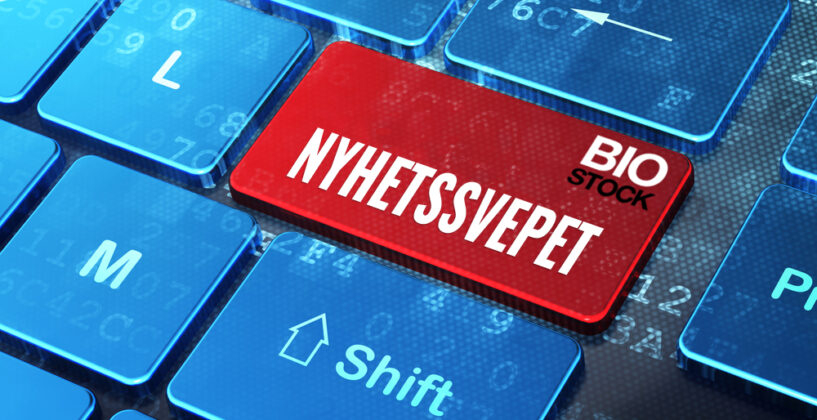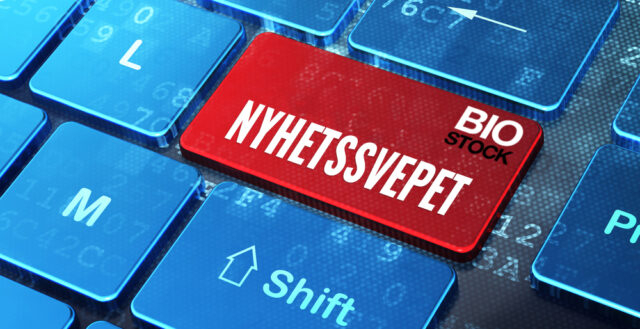 Nyhetssvepet måndag 19 december
Det senaste från BioStock

» Flera storsäljarpatent går ut 2023 
» Amgen satsar på sällsynta sjukdomar med förvärv 
» Elicera om den positiva kliniska effekten i cancerstudien 
» Stort intresse på konferenser för Staybles behandling 
» AlzeCures emission förstärker positivt momentum 
Läs BioStocks nyhetsbrev för v. 50 här.
---
Den 29-30 november gick BioStock Life Science Summit av stapeln på Medicon Village i Lund. Nu är alla presentationer från eventet tillgängliga via bannern nedan!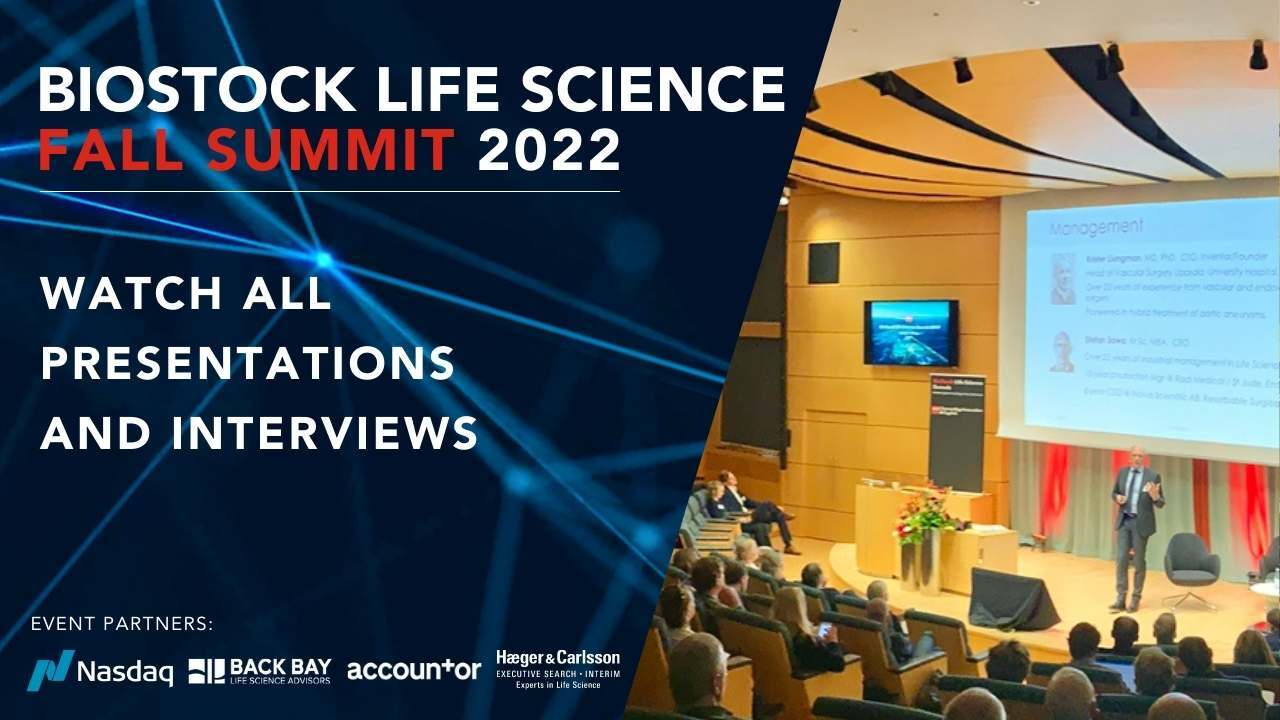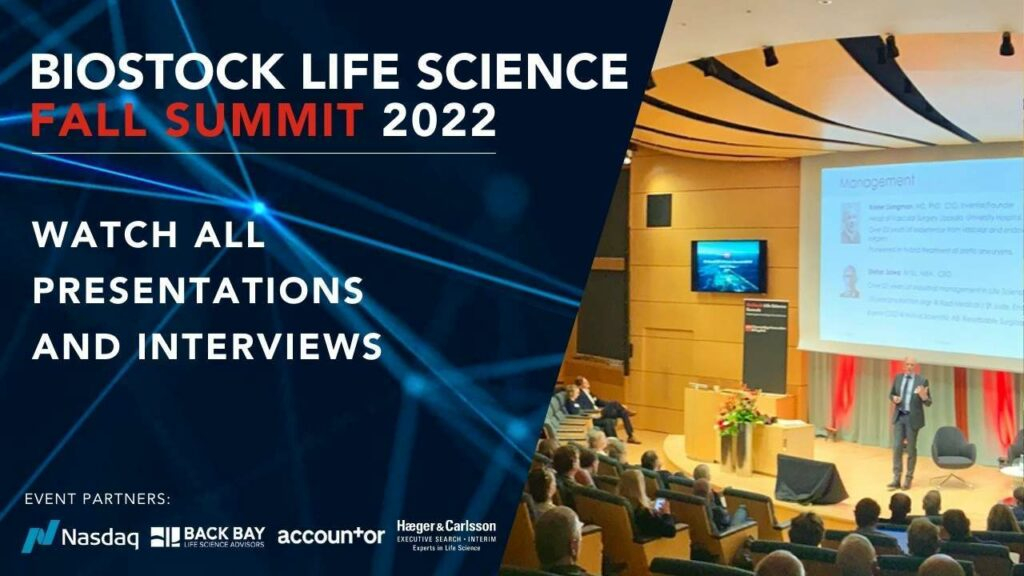 ---
Förmiddagens nyheter
Annexin genomför en riktad nyemission om cirka 7 Mkr för att påbörja utveckling inom cancerområdet. Läs mer.
Astra Zenecas Enhertu godkänns i EU för patienter med tidigare behandlad HER2-positiv avancerad magcancer (läs mer) och rekommenderas även av CHMP för godkännande för patienter med HER2-låg metastaserande bröstcancer (läs mer). 
CHMP rekommenderar också EU-godkännande för AstraZenecas Forxiga (läs mer) samt Imfinzi plus Imjudo (läs mer). Bolagets uppdaterar även om fas III-studien PEARL  med Imfinzi som monoterapi i steg IV icke-småcellig lungcancer. Läs mer.
Nykode Therapeutics och Richter-Helm BioLogics har ingått ett strategiskt samarbete. Läs mer.
Acarix har erhållit order i USA på CADScor-System. Läs mer.
Fluicell meddelar order på BioPen från University of Southern California (CHEMS-USC). Läs mer.
---
---
Nyheter sedan fredag lunch
Sista dag för handel med Aptahems BTA är den 21 december. Läs mer.
Amerikanska kliniska riktlinjer som rekommenderar Senzimes typ av teknik har publicerats . Läs mer.
Ziccum tilldelas 10 Mkr i Eurostars-finansiering för 3D-modellering och Digital twin-projekt. Läs mer.
Diagonal Bio har meddelat utfall i genomförd företrädesemission. Läs mer.
Karolinska Developments portföljbolag OssDsign har redovisat positiva data. Läs mer.
Diamyd Medical har fått godkänt att starta preventionsstudie för typ 1-diabetes med Diamyd. Läs mer.
CS MEDICA har tecknat nytt distributörsavtal för Storbritannien och Sverige. Läs mer.
ArcticZymes Technologies har lanserat nya produkten AZscriptT Reverse Transcriptase (RT). Läs mer.
Flaggningsmeddelande i Episurf Medical har meddelats. Läs mer.
Flaggningsmeddelande har meddelats i Nordic Nanovector. Läs mer.
Medtronics har upptäckt att bolagets halvautomatiska insulinpumpar kan hackas av utomstående. Läs mer.
Nexstim har meddelat att Henri Hannula har utnämnts till VP, Sales and Marketing och Steve Beller har lämnat sin befattning som Vice President och General Manager, Nordamerika. Läs mer.
Alvotech slutför en riktad emission på 70 MUSD (rättelse). Läs mer.
---
Förmiddagens kursutveckling
Vinnare: EURIS 69,7%, S2Medical 16,0%, Luxbright 12,5%, Abliva 10,8%, Attana 8,9%
Förlorare: SelectImmune -10,1%, Carbiotix -10,1%, Eurocine Vaccines -9,3%, WntResearch -8,7%, Pila Pharma -7,8%
Index: OMXS30 2053 0,35%, Hälsovård -0,19%
---
Mer från BioStock
» Cyxones vd om nuläge och pipeline 
» Värdet av patentskydd inom life science 
» Se mingelintervjuer från BioStock Life Science Fall Summit 
» BioStock Investor Pitch: AlzeCure Pharma
» Mendus presenterar proof-of-concept-data för underhållsbehandling av AML 
Prenumerera på BioStocks nyhetsbrev