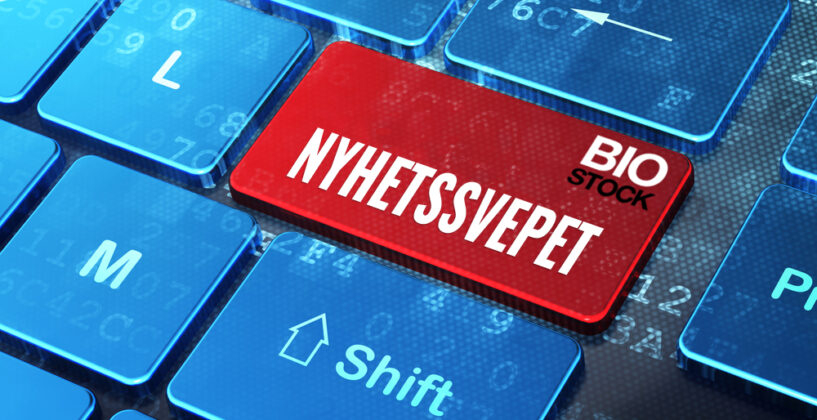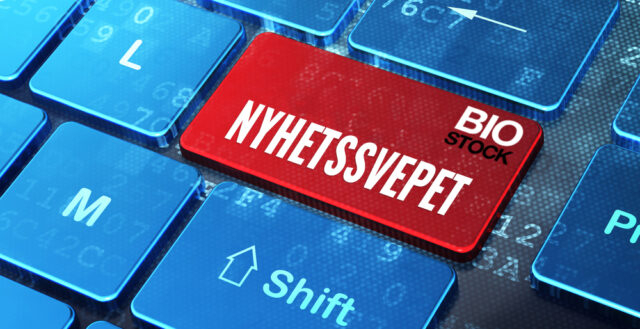 Nyhetssvepet tisdag 24 maj

---
Förmiddagens nyheter
Alzinova offentliggör prospekt med anledning av företrädesemission av units. Läs mer.
Respiratorius rapporterar positiva prekliniska resultat för VAL001 för indikationen återfallande DLBCL. Läs mer.
Idag 24 maj är sista dagen för handel av Fluicells teckningsoptioner TO3. Läs mer.
Horizon 2020-projektet DeteCTCs inleder klinisk studie. Läs mer.
iZafe uppdaterar sin vision och strategi. Läs mer.
ObsteCare förnyar patent och uppdaterar CE-märkningen. Läs mer.
Ny studie vid Linköpings universitet visar tidigare okänd mutation hos barn med epilepsi. Läs mer.
NextCell Pharma presenterar på Advanced Therapies Congress. Läs mer.
Epigenetiska markörer förutspår risk för komplikationer vid typ 2-diabetes, visar ny forskning vid Lunds universitet. Läs mer.
---
Rapportpresentationer:
Qlucore
Delårsrapporter:
BerGenBio  Calmark  Circa  Curasight  Emotra  Glycorex  Nanoform OssDsign  SelectImmune  QuiaPEG
Årsredovisningar:
Aqilion  Hemcheck  Nattaro Labs
Kallelser till årsstämma:
Cantargia
Kommunikéer:
AroCell  Aino Health
Meddelanden om aktietransaktioner och förändring av eget kapital:
Novozymes  Össur
---
Nyheter inkomna sedan måndag lunch
Chordate Medicals vd Anders Weilandt deltar på investerarkonferens 9 juni. Läs mer.
Teckningskursen i Inhalation Sciences optionsserie TO 1 har fastställts. Läs mer.
Ilya Pharma har utökat den globala patenttäckningen för ILP100. Läs mer.
Resultat från Sanofis fas III-studie IKEMA har publicerats. Läs mer.
Intellego Technologies har utvecklat ett nytt appsystem som lanseras 2022. Läs mer.
Lifecare har initierat ett incitamentsprogram för nyckelpersoner. Läs mer.
Sista dag för handel i Hamlet Pharma teckningsoption HAMLET TO 3 B är 27 maj. Läs mer.
---
Förmiddagens kursutveckling
Vinnare:  ObsteCare 50,0%,  Prolight Diagnostics 10,2%,  Alligator Bioscience 9,5%,  Hemcheck 6,9%,  Bonzun 6,5%
Förlorare:  Glycorex -10,5%,  SenzaGen -9,7%,  Luxbright -8,5%,  Lipigon -8,0%,  Odinwell -7,7%
Prenumerera på BioStocks nyhetsbrev