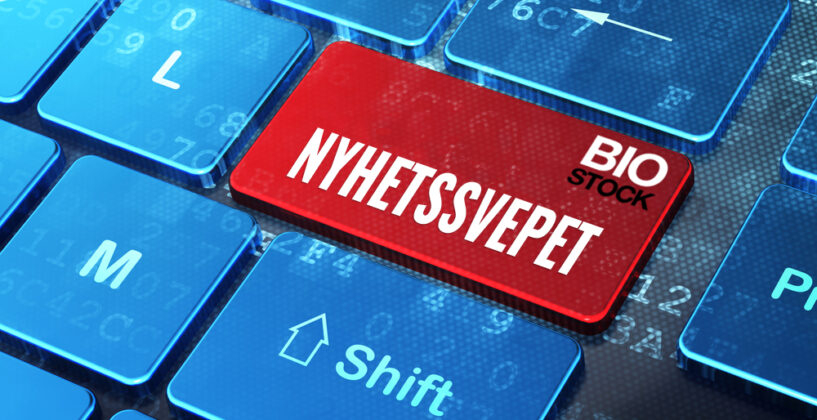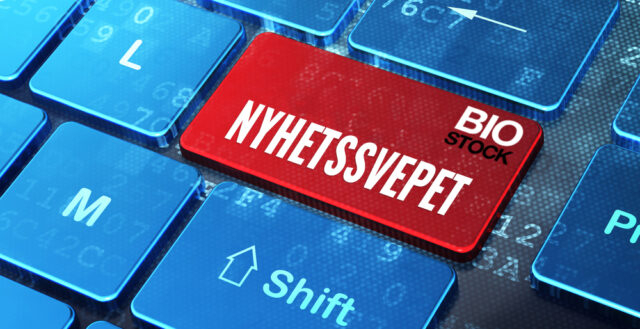 Nyhetssvepet måndag 31 januari
Studieresultat för Chordate Medicals rinitbehandling med K.O.S har publicerats i den vetenskapliga tidskriften American Journal of Surgery and Clinical Case Reports. Läs mer.
RhoVac deltar i lunchseminariet: Kan det komma tillbaka? under Cancerveckan arrangerat av FOKUS patient. Läs mer.
Faron Pharmaceuticals har utsett Juho Jalkanen till rollen som COO. Läs mer.
Promore Pharma avregistrerar teckningsoptioner. Läs mer.
Positivt CHMP-utlåtande för Boehringer Ingelheims empagliflozin. Läs mer.
Idag inleds teckningsperioden i AroCells företrädesemission. Läs mer.
Förändring av antalet utestående aktier i Sectra under januari månad. Läs mer.
Lifecare har publicerat nyhetsbrev för januari 2022. Läs mer.
Probis bokslutskommuniké för 2021 publiceras onsdagen den 2 februari klockan 08:00. Läs mer.
Hamlet Pharma publicerar nyhetsbrev. Läs mer.
Nyheter inkomna sedan fredag lunch: 
Chordate Medical har erhållit beslut om avnotering av dess aktier från NGM Nordic SME villkorat av att listbytet till Nasdaq First North Growth Market slutligen godkänns. Läs mer.
Peptonic Medical har fått information från Ekobrottsmyndigheten som avser yrka på en företagsbot om 0.5 Mkr mot bolaget. Läs mer.
BrainCool har fått en order om sju IQool System från sjukhus i Kalifornien i USA. Läs mer. Bolaget kommer att presentera på Aktiedagen Lund den 31 januari kl. 19.00. Läs mer.
A3P Biomedical tillkännagav att en kostnads-nyttoanalys baserad på STHLM3 MRI-studien har publicerats i European Urology Focus. Läs mer.
Luxbright har tagit fram och testat ett röntgenrör med bolagets patenterade kall katod teknik. Läs mer.
Bristol Myers Squibb meddelade att NT-rådet rekommenderar Opdivo i kombination med Yervoy som andra linjens behandling vid kolorektalcancer. Läs mer.
Recipharm meddelade att byggarbete har inletts på en ny fill finish-anläggning i Marocko. Läs mer.
Prolight Diagnostics publicerade Investerarbrev för januari 2022. Läs mer.
Getinge har öppnat nytt Experience Center i USA. Läs mer.
Paxman publicerade nyhetsbrev om internationalisering av bolagets patientfokuserade webbplats. Läs mer.
Förmiddagens vinnare: Selectimmune Pharma 16,3%, Scandinavian ChemoTech 13,5%, Annexin 10,3%, Carbiotix 9,4%, BrainCool 8,6%
Förmiddagens förlorare: DexTech Medical -16,6%, Aino Health -10,2%, Medfield -7%, Cessatech -6,5%, ScandiDos -6,4%
Index: OMXS30 2294 +1,24%, Hälsovård +1,54%
Prenumerera på BioStocks nyhetsbrev