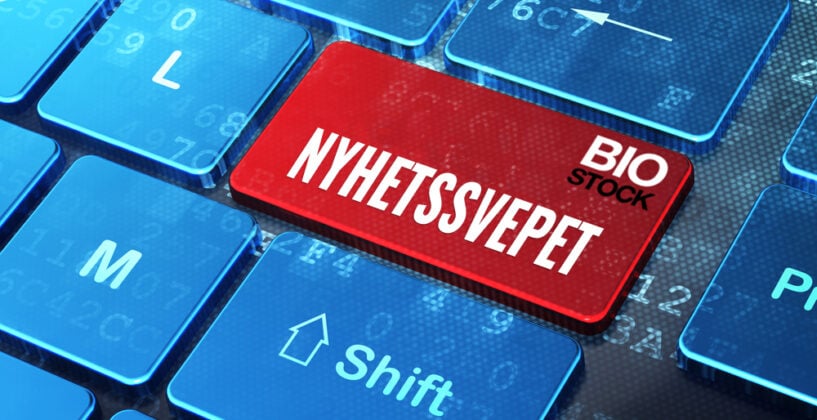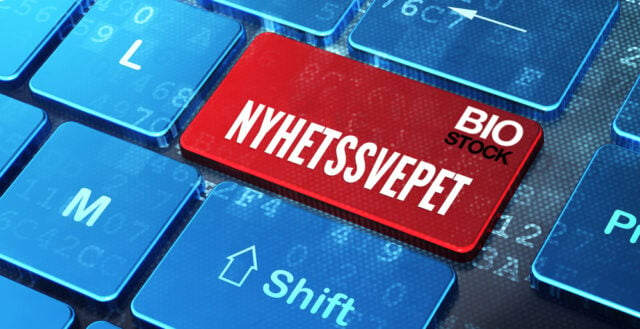 Nyhetssvepet torsdag 1 juli
De senaste artiklarna från BioStock
» BioStock Studio: Hemcheck's CEO on the company's progress
» Aptahem har identifierat verkningsmekanismen för Apta-1
» Sanionas CMO om den nya kliniska studien med SAN711
» First impressions from Alligator's new CEO
» 2021 innebär en början på en ny era för Fluicell

Läs BioStocks nyhetsbrev för vecka 25 här.
På fredag den 2 juli kl 10:00 är det dags för BioStock Live med Modus Therapeutics. Följ eventet här eller via bannern nedan.
Carbiotix utvärdering av nytt produktionsenzym ger positiva resultat. Läs mer.
Cyxone och Medical University of Vienna tillkännager samarbete för att studera utökad användning av T20K i MS. Läs mer.
Bactiguard erhåller betalning från Zimmer Biomet. Läs mer.
Nordic Nanovector utser Malene Brondberg till tf vd. Läs mer.
OssDsigns ledningsgrupp och styrelse ökar sitt långsiktiga engagemang i bolaget genom förvärv av teckningsoptioner till ett totalt belopp om cirka 1,3 Mkr. Läs mer.
Orexo meddelar att den första patienten inkluderats i en pivotal studie som utvärderar effekten av modiatm i kombination med sublingualt buprenorfin/naloxon för behandling av opioidberoende. Läs mer.
Nightingale Health sammanfattar det senaste kvartalet. Läs mer.
Will Martin tillträder som vd för IRRAS. Läs mer.
Alteco Medical tecknar distributörsavtal i Storbritannien och Irland. Läs mer.
Cantargia tar nästa steg i utvecklingen av nadunolimab inom trippelnegativ bröstcancer genom inlämning av klinisk ansökan för TRIFOUR-studie. Läs mer.
Genmab har avslutat sitt återköpsprogram. Läs mer.
Kallelse till extra bolagsstämma i Scandinavian Real Heart. Läs mer.
Rapporter:
Kallelser till bolagsstämmor:
Förändring av antalet aktier och röster:
Bonesupport  Episurf Medical  Exact Therapeutics  Xbrane  Zealand Pharma
Nyheter inkomna sedan igår lunch:
Aptahem har erhållit notice of allowance från det amerikanska patentverket för skydd av patentfamilj 2. Läs mer.
Saniona har inlett klinisk prövning i fas I med SAN711. Läs mer.
PolarCool har slutit avtal med handbollslandslaget. Läs mer.
Cessatech har publicerat ett nyhetsbrev. Läs mer.
FluoGuide har ingått avtal med Linköpings Universitetssjukhus för den andra fasen av den kliniska fas I/II-studien med FG001. Läs mer.
Spermosens beviljades ytterligare bidrag från Vinnova. Läs mer.
Cellink slutförde förvärvet av Discover Echo. Läs mer.
SAGA Diagnostics har tagit in 106 Mkr för kommersialiseringen av ultrakänsliga liquid biopsy metoder för detektion av cancer. Läs mer.
Immunovia har erhållit lagstadgat registreringsbevis – licensieringen av laboratoriet i USA pågår fortfarande. Läs mer.
Mentice har erhållit order om totalt 5,9 Mkr från Baylis Medical Company. Läs mer.
ChemoMetec har rekryterat en ny CFO. Läs mer.
Aegirbio har fått preliminärt godkännande av European patent office. Läs mer.
Xbrane Biopharma har genomfört en riktad nyemission och tillförs därigenom 380 Mkr. Läs mer.
Observe Medical har tecknat distributionsavtal i Polen och Rumänien avseende Sippi. Läs mer.
Micropos inleder företrädesemission torsdag den 1 juli. Läs mer.
Huvudägaren i Enorama Pharma har stärkt bolagets egna kapital med 6 Mkr. Läs mer.
BlackRock har flaggat i Orion Corporation. Läs mer.
ObsteCare har tagit första steg mot FDA-godkännande i USA. Läs mer.
Vimian Group meddelade om utnyttjande av övertilldelningsoption och avslutande av stabiliseringsperiod. Läs mer.
Rättelse av antalet aktier som Intellegos vd totalt äger. Läs mer.
Brighters dotterbolag Camanio vann tilldelningsbeslut för stationära trygghetslarm med Kommunalförbundet sjukvård och omsorg i Norrtälje. Läs mer.
Förmiddagens vinnare: Doxa +14,8%, Peptonic Medical +12,4%, Kontigo Care +12,2%, Carbiotix +11,6%, Brighter +6,8%, Curando Nordic +6,5%
Förmiddagens förlorare: Hamlet Pharma -8,2%, Euris -7,6%, Cline Scientific -6,2%, Cellink -4,7%, Stenocare -4,5%, Raytelligence -4,4%
Index: OMXS30 2274,60 +0,51%, Hälsovård +0,47%
Fler artiklar från BioStock
» Sprint Bioscience stärker kassan med företrädesemission och konvertibel
» Cereno Scientific erhåller IR-skydd i Australien
» CombiGene meddelar flera milstolpar för CG01
» Ny kvalitetschef och kommunikationschef i Enzymatica
» CLS partnersjukhus får grönt ljus för prostatacancerstudie

Prenumerera på BioStocks nyhetsbrev