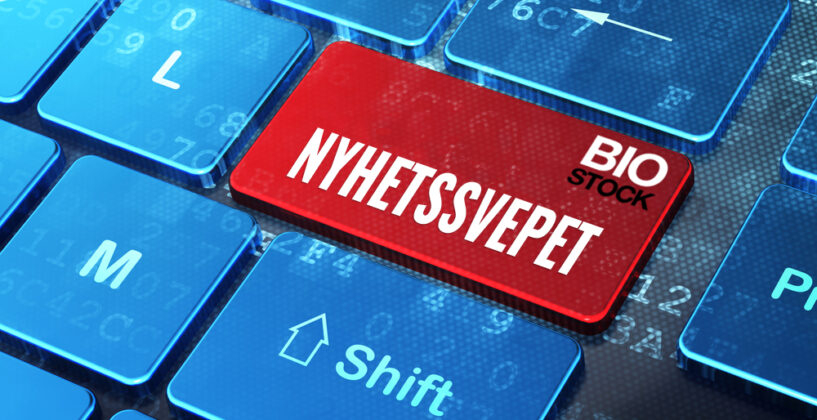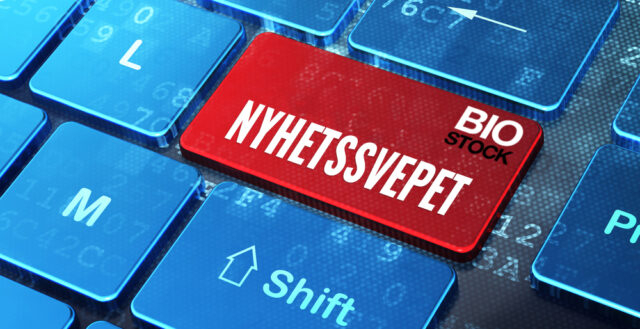 Nyhetssvepet tisdag 6 december
 Det senaste från BioStock

» Bred uppgång i Scandion efter tillträdande vd och insiderköp
» Spago Nanomedical startar fas IIa-studie i endometrios
» Cerenos CIPO kommenterar bolagets starka patentportfölj
» Iconovo satsar på läkemedelsförsäljning i Norden
» Uppsalas life science-sektor fortsätter växa
Läs BioStocks nyhetsbrev för v.48 här.
---
Den 29-30 november gick BioStock Life Science Summit av stapeln på Medicon Village i Lund. Håll utkik på vår hemsida för videoinslag från eventet!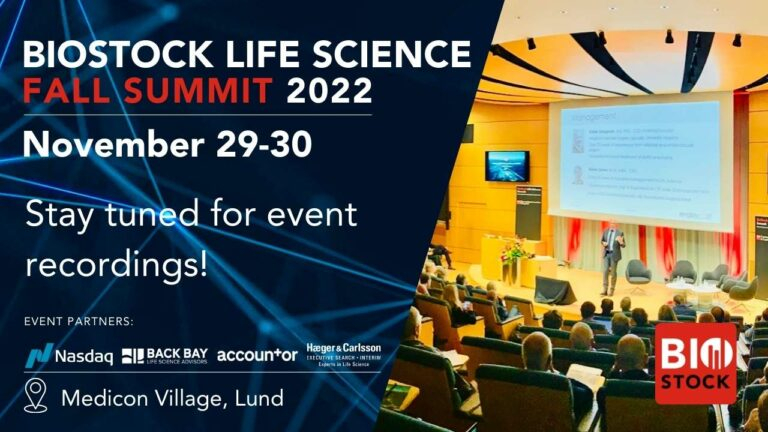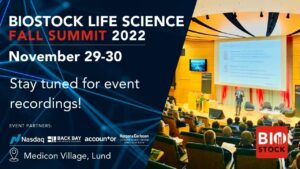 ---
Förmiddagens nyheter
Idag inleds teckningsperioden i AlzeCures nyemission. Bolaget har även deltagit med presentation hos Erik Penser Bank. Läs mer.
Spago Nanomedical initierar klinisk studie med SpagoPix i endometrios och avslutar SPAGOPIX-01. Läs mer.
PolarCool tecknar nytt avtal i franska rugbyligan med storklubben Racing 92. Läs mer.
Abliva inleder den globala fas II-studien FALCON med huvudkandidaten KL1333. Läs mer.
Evaxion Biotech och ExpreS2ion har slutit ett samarbetesavtal avseende utvecklingen av en ny vaccinkandidat för cytomegalovirus. Läs mer.
Ortoma har nått en överenskommelse om ett icke-bindande term sheet för specialanpassad version av OTS Hip. Läs mer.
Nya Orviglance-data stöder framgångsrik avslutning av SPARKLE-studien med 80 patienter, meddelar Ascelia Pharma. Läs mer.
Lifecare presenterar Q3 i en webcast idag den 6 december. Läs mer.
Newbury Pharmaceuticals ska delta på Redeye-event i december. Läs mer.
---
---
Nyheter sedan måndag lunch
De första frivilliga försökspersonerna har screenats för inklusion i Aptahems kliniska fas I-studie med Apta-1. Läs mer.
Gentian Diagnostics har fått amerikanskt patentgodkännande avseende hjärtsviktsmarkören NT-proBNP. Läs mer.
Hanna Sjöström, styrelsemedlem i Alteco Medical, har lämnat sitt uppdrag. Läs mer.
Lumito annonserar i The Pathologist i syfte att öka kännedom och intresse för Scizys by Lumito. Läs mer.
BioPorto har anställt Nis Kruse som EVP of Strategic Partnerships samt GM of EMEA & APAC. Läs mer.
Scandinavian Biopharma har deltagit på VASE i Washington där bolaget redogjorde för data avseende ETVAX. Läs mer.
Presentation av SensoDetect från Erik Penser Banks bolagsdag har publicerats. Läs mer.
Acarix presenterar på Nordic American Life Science Conference den 7-8 december. Läs mer.
Pharmivas vd Anna Linton har intervjuats av Nyhetsbyrån Direkt. Läs mer.
Årets patientriksdag är större än någonsin tidigare, meddelar Novartis. Läs mer.
---
Förmiddagens kursutveckling
Vinnare: RhoVac 20,5%, Medclair Invest 10,0%, Nanoform Finland 9,6%, Acarix 8,9%, Bonzun 8,4%, 
Förlorare: Ascelia Pharma -29,4%, Hemcheck Sweden -25,9%, Eurocine Vaccines -16,4%, ODI Pharma -13,6%, Abera Bioscience -8,9%
Index: OMXS30 2138 -0,05%, Hälsovård -1,03%
---
Mer från BioStock
» Alzinovas CSO om presentationen av ALZ-201 på CTAD
» Curasight förväntansfulla inför fas II-resultat i hjärncancer
» Kan nordiska bolag förlänga livet för Keytruda?
» CombiGenes vd om FDA-godkännandet av Hemgenix
» FemTech på frammarsch i Sverige

Prenumerera på BioStocks nyhetsbrev