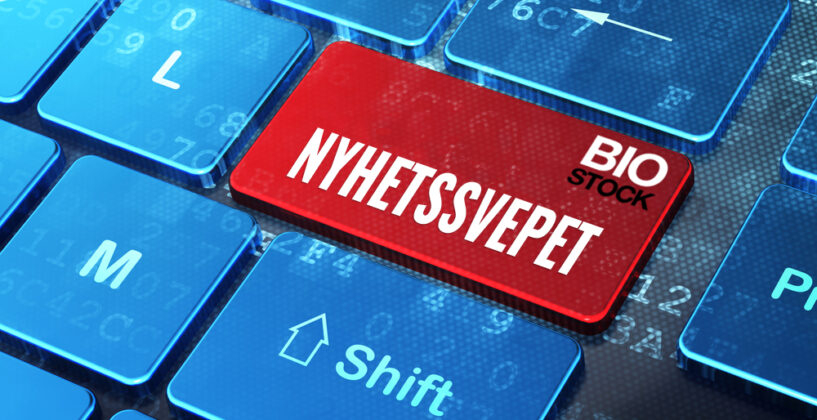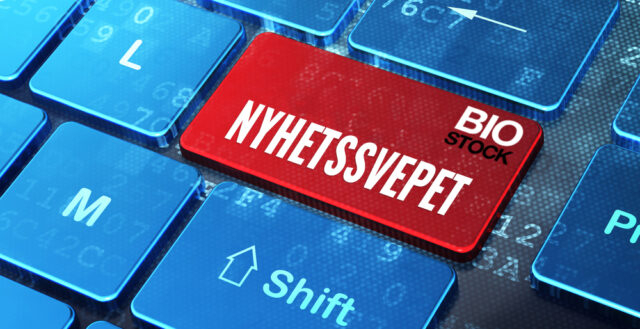 Nyhetssvepet torsdag 13 oktober
Det senaste från BioStock
» Neola Medicals teknologi uppmärksammad i ansedda Pediatric Research
» Cyxone om fas IIb-studien
» Umeå Biotech Incubator ser möjligheter i en svårare marknad
» Emission ska ta Neola Medical fram till marknad
» 12 oktober – Internationella reumatikerdagen 
Läs BioStocks nyhetsbrev för v.40 här.
---
Förmiddagens nyheter
Neola Medicals nya varumärke har registrerats för varumärkesskydd i EU. Läs mer.
Implantica meddelar att Spire Manchester Hospital i Storbritannien nu opererar med RefluxStop. Läs mer.
Genomic Medicine Sweden ingår överenskommelse med life science-branschen för stärkt samverkan inom precisionsmedicin. Läs mer.
ADDI Medical tecknar distributörsavtal med Medicolle. Läs mer.
ObsteCares styrelse förslår avnotering. Läs mer. Till följd av det flyttas bolagets aktie till Spotlight Stock Markets observationslista. Läs mer.
Egetis håller idag en kapitalmarknadsdag. Läs mer.
IRRAS deltar vid European Congress of Neurosurgery. Läs mer.
---
Förändringar i eget kapital och antal röster:
Rapporter: 
Rapportpresentationer: 
Kommunikéer: 
---
Nyheter sedan onsdag lunch
En studie publicerad i Journal of Neurotrauma visade att PolarCools PolarCap kraftigt reducerar långtidsfrånvaro efter hjärnskakning. Läs mer.
iZafe Group meddelade att de tillförs omkring 3,14 Mkr när teckningsoptionerna av serie TO10B nyttjades till cirka 34,1 procent. Läs mer.
Kancera aviserade beslut om företrädesemission om cirka 90 Mkr för att intensifiera satsningen på klinisk utveckling för behandling av äggstockscancer. Läs mer.
Eurocine Vaccines publicerade sin presentation från Sedermeradagen. Läs mer.
Bioservo Technologies presenterade utfallet i företrädesemissionen. Läs mer.
AstraZeneca meddelade att resultat från CHAMPION-NMOSD-studie visade noll återfall med en medianbehandlingstid på 73 veckor. Läs mer.
---
Förmiddagens kursutveckling
Vinnare: Arcede Pharma 22,1%, AcuCort 19,9%, Implantica SDB 16,8%, RhoVac 14,5%, ISR Holding 14,4%
Förlorare: Kancera -40,3%, ObsteCare -32,9%, Asarina Pharma -16,6%, QuiaPEG Pharmaceuticals Hold -11,7%, Aino Health -11,1%,
Index: OMXS30 1 829 -0,26%, Hälsovård -0,54%
---
Mer från BioStock
» Chordate introducerar migränbehandlingen i Finland
» Cereno Scientific tar in 61 Mkr genom nyttjande av teckningsoptioner
» Stärkt DexTech fortsätter avancera mot klinik i multipelt myelom 
» SynAct lämnar in IND och rekryterar första patient
» Emplicures styrelseordförande kommenterar vd-bytet
Prenumerera på BioStocks nyhetsbrev