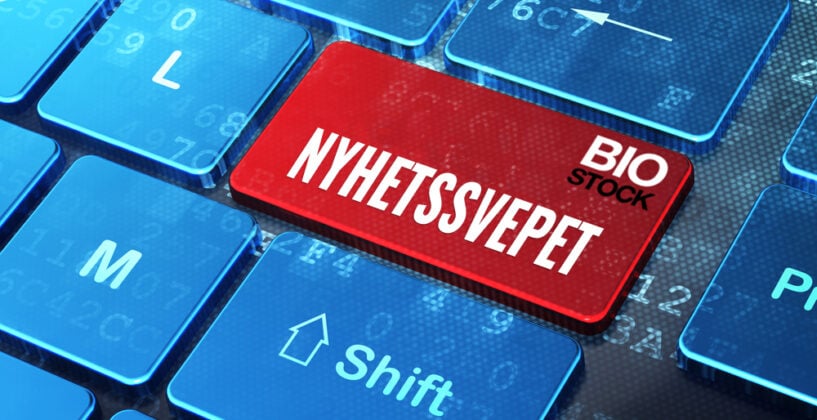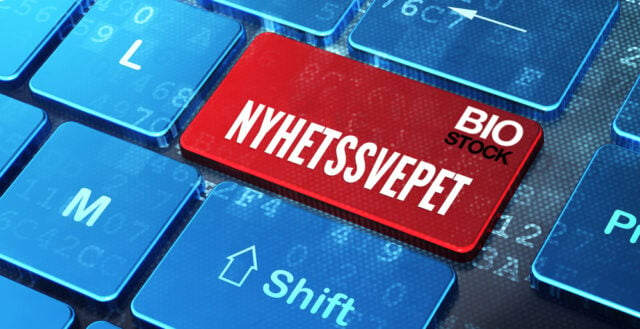 Nyhetssvepet torsdag 8 september
Det senaste från BioStock 
» BioInvent uppnår milstolpe för BI-1808
» Valfrågorna som påverkar life science-branschen
» Alzinova får grönt ljus att fortsätta fas Ib-studie
» BrainCool om den föreslagna företrädesemissionen
» Lovande prekliniska data för Toleranzias läkemedelskandidat TOL2
Läs BioStocks nyhetsbrev för v.35 här.
---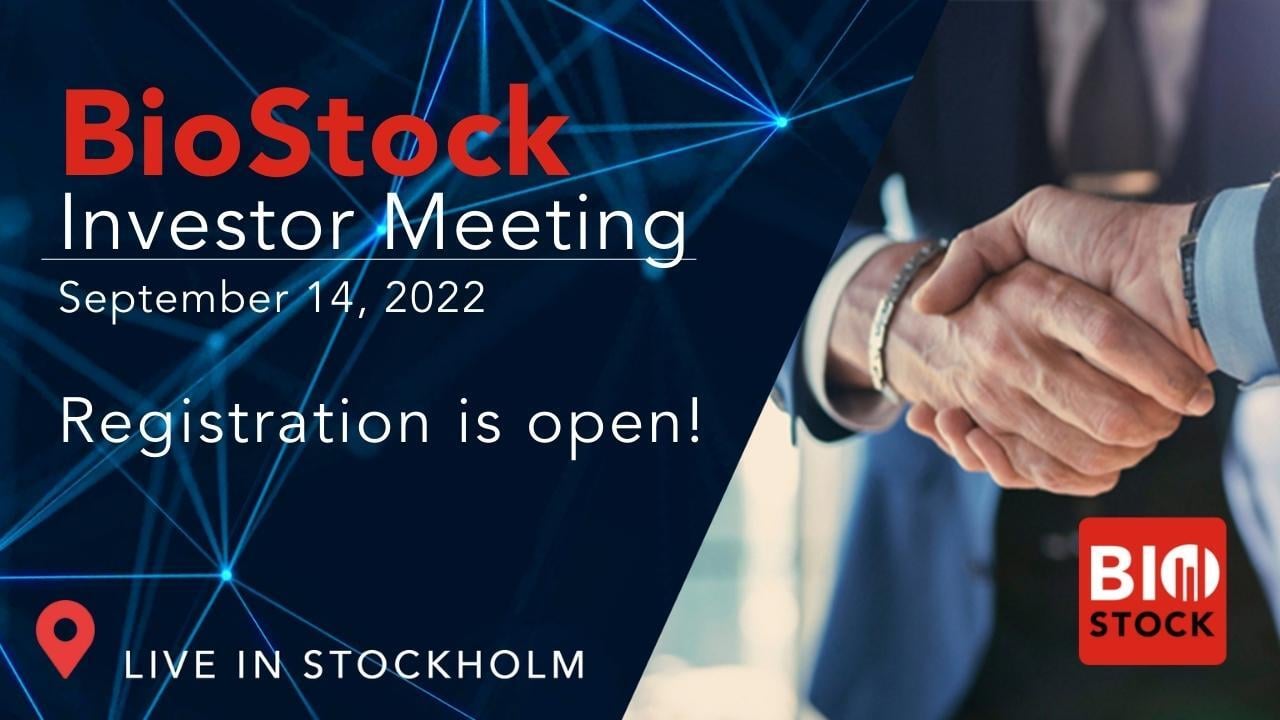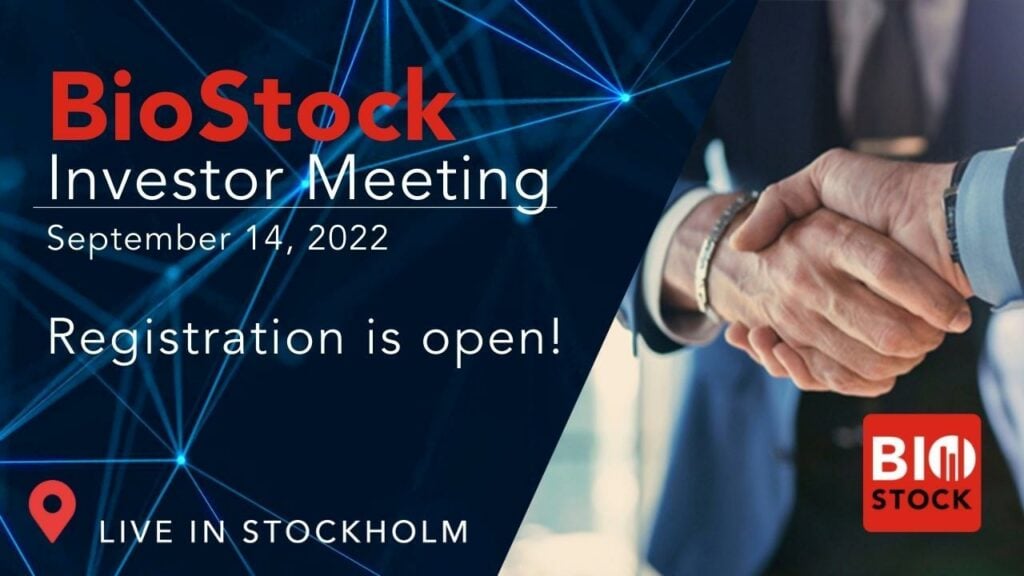 ---
Förmiddagens nyheter
Statistiskt signifikant minskning av antalet huvudvärksdagar visas i subgruppsanalys av Chordates PM007-studie med K.O.S-behandling för förebyggande av kronisk migrän. Läs mer.
Godkänt patent i USA för AlzeCures NeuroRestore ACD856. Läs mer.
Cereno Scientific har beviljats patent i Mexiko för läkemedelskandidaten CS1s. Läs mer.
Lipigons vd Stefan K. Nilsson ökar sitt innehav i bolaget. Läs mer.
Phase Holographic Imaging slutför avtal med Wake Forest Institute for Regenerative Medicine (WFIRM). Läs mer.
Biosergen avancerar i MAD-delen (Multiple Ascending Dose) i sin fas I-studie. Läs mer.
UNION therapeutics presenterar nya data om orismilast vid EADV-kongressen. Läs mer.
Scandinavian Medical Solutions levererar reservdelspaket till kund i USA. Läs mer.
Medivir presenterar data om fostrox vid SITC 2022. Läs mer.
Resultat från studie med Episurf Medicals Episealer presenteras på australiensisk och nyazeeländsk ortopedkongress. Läs mer.
Neola Medical föreslår en företrädesemission om cirka 55 Mkr. Läs mer.
Bonesupport publicerar medel- till långtidsdata som bekräftar fortsatt klinisk effekt av CERAMENT G. Läs mer. En ny aktieanalys av bolaget har gjorts av Analysguiden. Läs mer.
Photocure har lanserat nytt fotodynamiskt diagnostiksystem. Läs mer.
Nykode Therapeutics inkluderas i Oslo Børs jämförelseindex (OSEBX) och fondindex (OSEFX). Läs mer.
Valneva och VBI Vaccines ingår partnerskap för marknadsföring och distribution av hepatit B-vaccin. Läs mer.
---
Bolagsrapporter:
Bolagspresentationer:
Attana  Faron  IRLAB  Xbrane Biopharma  Zealand Pharma
Förändring av antalet röster och eget kapital:

Kommunikéer:
---
Nyheter sedan onsdag lunch
BioInvent och CASI Pharmaceuticals har doserat den första patienten i Kina till den kliniska fas I-studien av BI-1206 för behandling av non-Hodgkins lymfom. Läs mer.
Utnyttjandeperioden för CS Medicas teckningsoptioner TO 1 har avslutats. Läs mer.
Vinnova har beviljat Oncopeptides 5 Mkr i anslag för NK-cellstimulering i multipelt myelom. Läs mer.
Orexos partner Trinity Health har meddelat att vorvida och deprexis nu är tillgängliga för patienter. Läs mer.
Flaggningsmeddelande i Boule Diagnostic har publicerats. Läs mer.
Active Biotech har meddelat utfall i bolagets företrädesemission. Läs mer.
Ledningspersoner i Newbury Pharmaceuticals har köpt aktier i bolaget. Läs mer.
Ny studie av Senzime TetraGraph har publicerats i Saudi Journal of Anesthesia. Läs mer.
ExpreS2ion har meddelat fullt utnyttjande av 2019 års teckningsoptionsprogram. Läs mer.
Biohit har inlett licenssamarbete med Randox om GastroPanel. Läs mer.
Isofol har redovisat data från AGENT-studien. Läs mer.
---
Förmiddagens kursutveckling
Vinnare: Eurocine Vaccines 11,6%, Lipigon 8,3%, QuiaPEG Pharmaceuticals 6,0%, PHI 5,4%, Toleranzia 5,4%, AlzeCure 5,1%,
Förlorare: Neola Medical -20,8%, Abera Bioscience -7,9%, Hemcheck -7,8%, IRRAS -7,6%, Ectin Research -7,0%
Index: OMXS 1 902 0,24%, Hälsovård -0,62%
Prenumerera på BioStocks nyhetsbrev