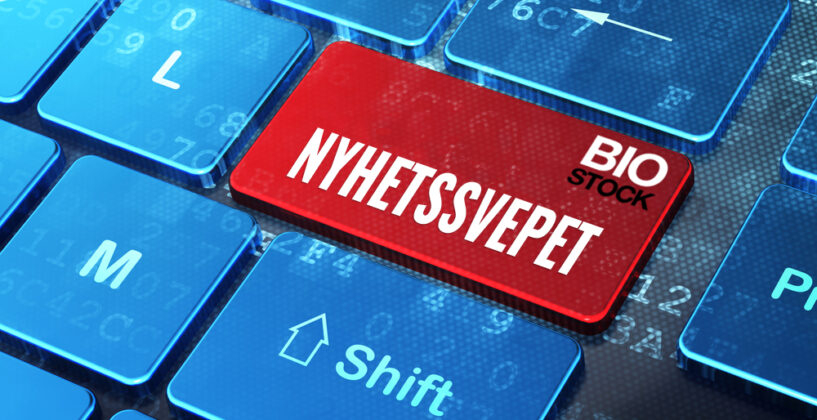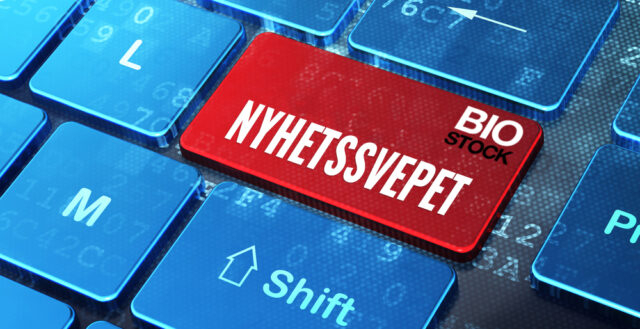 Nyhetssvepet tisdagen 17 maj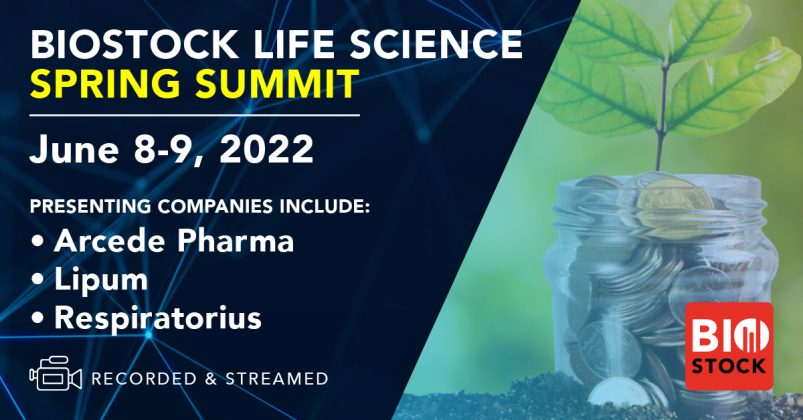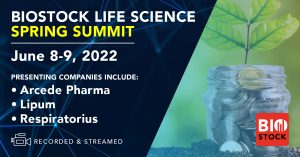 Läs BioStocks nyhetsbrev för v.19 här.
Emplicure har tillförts 12,3 Mkr genom teckning av TO1. Läs mer.
Cereno Scientific deltar på kommande investerarkonferenser. Läs mer.
Sista dag för handel i Amniotics teckningsoptioner är idag den 17 maj. Läs mer.
Immunovia erhåller licensrättigheter kliniska laboratorier från Rhode Islands hälsodepartement. Läs mer.
Nyttjandeperiod för Spermosens teckningsoptioner TO 1 avslutas 23 maj. Läs mer. Sista dag för handel i TO 1 är 19 maj. Läs mer.
Medicinteknikbolaget Dignitana utser Ulf Jönsson till ny CFO. Läs mer
Nya data från NeoDynamics PULSE-studie presenteras på amerikanska konferensen SBI/ACR. Läs mer.
2cureX
 presenterar
tre IndiTreat-posters
på ESMO-GI 2022. Läs mer.
Nexstim
har nått en överenskommelse med dr
Joshua Kuluva
om en minoritetsandel i ett private equity-bolag.
Läs mer
.
För få läkare fortsätter att forska efter disputation – ett hot mot den medicinska forskningen visar studie av Svenska Läkaresällskapet. Läs mer.
Rapportpresentationer:
Delårsrapporter:
Ectin Resesarch  OncoZenge  Promore Pharma  S2Medical  Stayble Therapeutics
Årsredovisningar:
Abera Bioscience  Oxcia  Respiratorius
Kallelser till bolagsstämmor:
Double Bond Pharmaceutical International  Hemcheck  H.Lundbeck
Kommunikéer:
Cyxone  Moberg Pharma
Meddelanden om aktietransaktioner och förändring av eget kapital:
ContextVision  Novo Nordisk  Nykode Therapeutics
Nyheter inkomna sedan måndag lunch:
Första delmålet är nått i BrainCools trobektomistudie i Tyskland, som presenteras på NeuroRad 2022 i Kassel, 12-14 oktober. Läs mer.
Carbiotix har offentliggjort memorandum för kommande företrädesemission av units. Läs mer.
Ny styrelse har tillträtt i SpectraCure. Läs mer.
Patrik Gotthardt har utsetts till interim CFO för AegirBio. Läs mer.
Resultat från studie av AstraZenecas astmabehandling PT027 har publicerats. Läs mer.
Fluicell har korrigerat datum för sista dag för handel med teckningsoptioner av serie TO 3 till den 24 maj 2022. Läs mer.
Hemcheck har meddelat en företrädesemission om 15,4 Mkr. Läs mer.
Jakob Berglund har rekryterats som ny CTO på PainDrainer. Läs mer.
PharmaLundensis Q1 kvartalsrapport har senarelagts till den 31 maj. Läs mer.
ADDvise har slutfört förvärvet av Seebreath för 29 Mkr. Läs mer.
Förmiddagens vinnare: Vicore 32,2%, NeoDynamics 14,4%, Odinwell 12,3%, Arcoma 11,8%, Lipigon 11,1% 
Förmiddagens förlorare: Hemcheck -38,2%, GPX Medical -23,2%, Carbiotix -11,7%, AcuCort -10,3%, Alzinova -8,4%
Prenumerera på BioStocks nyhetsbrev