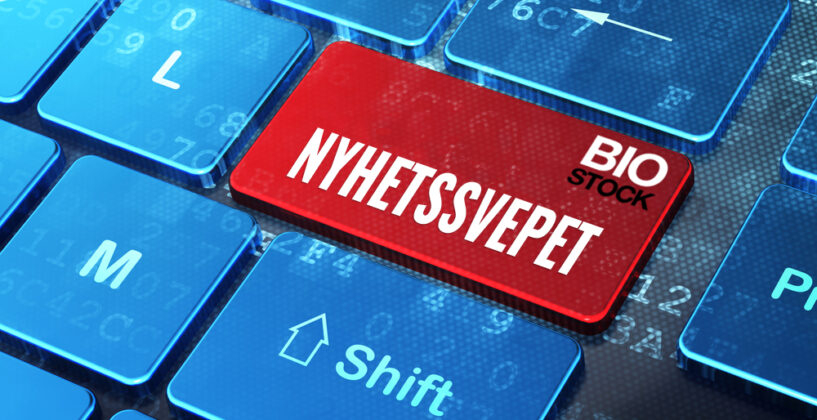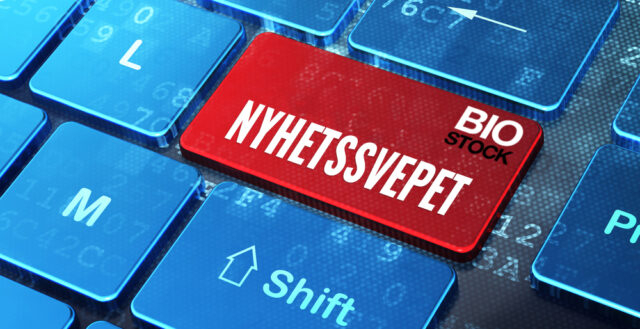 Nyhetssvepet fredag 8 april
Det senaste från BioStock
» Fas I/II data stärker Coegin Pharma 
» PHI tar in kapital för storsatsning på regenerativ medicin
» Alzinovas CSO om den förbättrade produktionsprocessen 
» Annexin får FDA-godkännande för fas II-studie
» Sprint Biosciences CSO kommenterar ytterligare VADA-validering
Läs BioStocks nyhetsbrev för v.13 här.
Se Jeppe Øvlesen, vd för SynAct Pharma, presentera bolaget hos BioStock den 11 april kl 10:00 här eller via bannern nedan.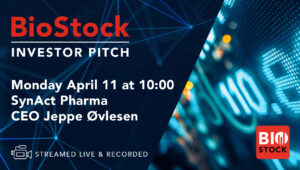 Aptahem meddelar utfallet från nyttjandet av teckningsoptioner serie TO 7. Läs mer.
Carbiotix meddelar att det första amerikanska patentet för produktion av CarbiAXOS har godkänts för att utfärdas av den amerikanska patentmyndigheten. Läs mer.
Prostatype Genomics inleder samarbete med urologimottagningen Capio Specialistcenter i Solna. Läs mer.
Redwood Pharma kommer att delta på den globala oftalmologikonferensen ARVO i Denver, USA, i maj. Läs mer.
Vitrolife inbjuder till telefonkonferens med anledning av delårsrapporten för januari – mars 2022. Läs mer.
Medicinteknikbolaget Ortivus erhåller marknadsgodkännande för MobiMed i Nya Zeeland. Läs mer.
Moberg Pharma meddelar extra bolagsstämma den 3 maj 2022. Läs mer. Bolaget genomför även en fullt garanterad företrädesemission om cirka 121 Mkr. Läs mer.
Hansa Biopharma bjuder in till en telefonkonferens för att presentera delårsrapporten för januari-mars 2022 och ge en uppdatering av bolagets verksamhet. Läs mer.
Elektas linjäraccelerator Elekta Harmony har tilldelats utmärkelsen Red Dot 2022 för god produktdesign. Läs mer.
Årsredovisningar: Attana  Annexin  AroCell  Bactiguard  BioInvent  iZafe Group  Raytelligence  Sedana (Rättelse)  Respiratorius  SyntheticMR
Kallelser till bolagsstämmor: Attana  iZafe  Immunicum  Optomed  Optomed (rättelse)  Pharmiva  Photocure  Sedana  SpectraCure  Stille  Xintela  Surgical Science Sweden  SyntheticMR
Kommunikéer: BerGenBio  Getinge  Immunovia
Nyheter inkomna sedan torsdag lunch:
QuiaPEG har meddelat att bolaget kommer genomföra att genomföra en företrädesemission av units. Läs mer.
ExpreS2ion Biotech har meddelat att bolaget kommer att delta och presentera på investeringsevent och stora konferenser under april och maj. Läs mer.
Bristol Myers Squibb meddelar att Opdivo har godkänts av Europeiska kommissionen som adjuvant behandling av patienter med muskelinvasiv urotelcellscancer med PD-L1 tumörcellsuttryck. Läs mer.
Episurf Medical har inlett en prospektiv prövarinitierad studie för 2-årsuppföljning av Episealer Talus-patienter som utförs vid Royal National Orthopaedic Hospital NHS Trust, Stanmore, Storbritannien. Läs mer. Bolaget har även meddelat att man kommer skicka in en  510(k)-uppföljningsansökan till FDA för Episealer Patellofemoral System. Läs mer.
RaySearch Laboratories har meddelat att Mevion China har lagt en order värt 10 Mkr på RayStation som ska levereras till Tongji Hospital i Wuhan i Kina. Läs mer.
Peptonic Medical har meddelat att sista dag för handel i BTU är 13 april samt att första dag för handel i teckningsoptioner serie TO 1 blir 21 april. Läs mer.
Dicots valberedning föreslår Fredrik Buch och Michael Zell till nya styrelseledamöter. Läs mer.
Orphazyme har meddelat att den lagstadgade omstruktureringsplanen är antagen av borgenärerna. Läs mer.
Guard Therapeutics har meddelat att den första patienten har doserats i bolagets globala kliniska fas II-studie av kandidaten ROSgard. Läs mer.
Abera Bioscience vd, Maria Alriksson, har intervjuats i Direkt Studios om bolagets fokus på vaccinkandidaten mot pneumokocker. Läs mer.
Norska medicinteknikbolaget Kongsberg har meddelat att de inleder kapitalrunda på 20 miljoner NOK för att finansiera vidare utveckling av strålningbehandlingen MaMa-K. Läs mer.
Förmiddagens vinnare: Prostatype Genomics 9,8%, Saniona 8,1%, Psysitrack 8,0%, ObsteCare 6,90%, Carbiotix 6,5%
Förmiddagens förlorare: Moberg Pharma -33,5%, Xintela -16,2%, AdderaCare -14,8%, BiBBInstruments -6,0%, Addvise Group -6,03%
Index: OMXS30 2127 0,91%, Hälsovård -0,64%
Prenumerera på BioStocks nyhetsbrev