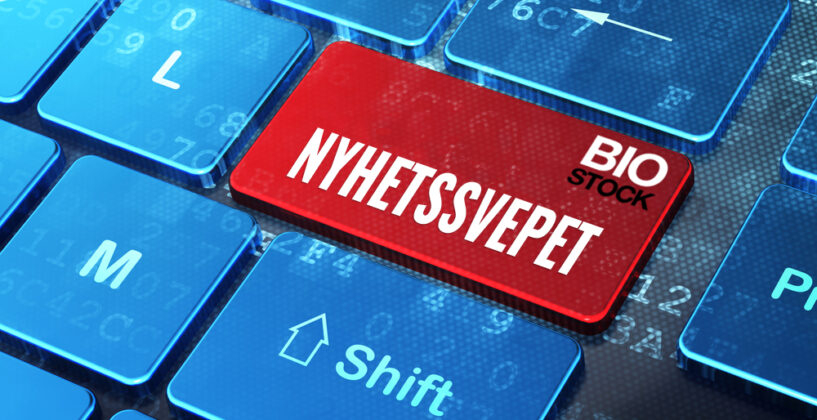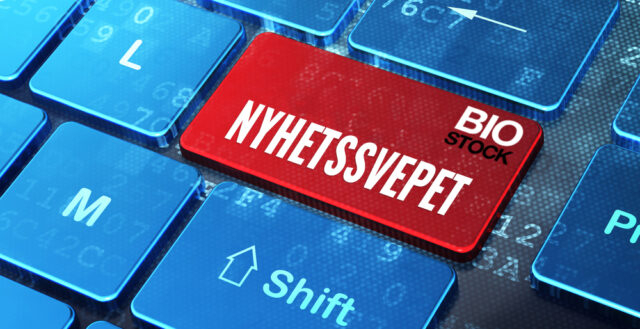 Nyhetssvepet tisdag 11 oktober
  Det senaste från BioStock
» Chordate introducerar migränbehandlingen i Finland
» Cereno Scientific tar in 61 Mkr genom nyttjande av teckningsoptioner
» Stärkt DexTech fortsätter avancera mot klinik i multipelt myelom 
» SynAct lämnar in IND och rekryterar första patient
» Emplicures styrelseordförande kommenterar vd-bytet

Läs BioStocks nyhetsbrev för v.40 här.
---
Förmiddagens nyheter
Pharmacolog utökar avtalet med Codonics. Läs mer.
Brain+ informerar om nya IR-initiativ och bjuder in till sin första live-uppdatering för investerare. Läs mer. Analyst Group släpper den första beställda aktieanalysen av Brain+. Läs mer.
DanCann Pharma uppger att kommande legalisering i USA och Tyskland kommer att ha stor inverkan på acceptansen av cannabis över hela världen. Läs mer.
Orexo rapporterar positiva data från klinisk fas I-studie med OX640. Läs mer.
BerGenBio meddelar initiering av fas Ib/IIa-försöksutvärdering av Bemcentinib. Läs mer.
IRLAB presenterar bolaget på Redeye Neurology Seminar den 12 oktober. Läs mer.
IRRAS lanserar ny webinarserie i samarbete med Jacobs Institute och University of Buffalo Department of Neurosurgery. Läs mer.
SoftOx Solutions tar in 25 MNOK i nytt säkerställt konvertibellån och kallar till extra bolagsstämma. Läs mer.
Nexstim rapporterar utmärkta behandlingsresultat för över 400 MDD-patienter. Läs mer.
Learning 2 Sleep påbörjar samarbete med Progress Me. Läs mer.
Ny data från AlzeCure visar på potentiella sjukdoms-modifierande effekter av NeuroRestore ACD856. Läs mer.
iZafe och Aleris inleder pilotprojekt för säkrare läkemedelshantering. Läs mer.
---
Förändringar i eget kapital och antal röster:
---
Nyheter sedan måndag lunch
Alzinova meddelade att de ska presentera bolaget på flera kommande event. Läs mer.
Scandion Oncology initierade del tre av fas II-studien av CORIST. Läs mer.
CS MEDICA meddelade att de avslutar året med att ingå flera starka partnerskap. Läs mer.
Probi rapporterade svagare tillväxt i USA. Läs mer.
Biotage har utsett valberedning. Läs mer.
Cessatech noterar framsteg under Q3. Läs mer.
SpectraCures kliniska studie presenterades under Urologidagarna. Läs mer.
Jenny Sundqvist utsågs till vd för InDex Pharmaceuticals. Läs mer.
BICO Group bjöd in till kapitalmarknadsdag. Läs mer.
Kalqyl har publicerat en intervju med Calmark Swedens vd Anna Söderlund. Läs mer.
---
Förmiddagens kursutveckling
Vinnare: Alzinova 22,3%, Gabather 17,7%, ProstaLund 12,3%, Ellen 12,1%, Stayble Therapeutics 10%
Förlorare: FluoGuide -10,1%, Sprint Bioscience -7.7%, Ziccum -7,5 %, Redwood Pharma -6,1%, NeoDynamics -6,1%
Index: OMXS30 1825 0,04%, Hälsovård 0,24%
---
Mer från BioStock
» Miris ökar aktiviteten i USA och EU
» Förskingring av läkemedel – ett växande problem inom sjukvården
» AstraZeneca bygger vidare på satsningen mot sällsynta sjukdomar
» NLSDays: Intervjuer med 10 intressanta bolag
» Invent Medic fortsätter expandera antalet försäljningskanaler

Prenumerera på BioStocks nyhetsbrev