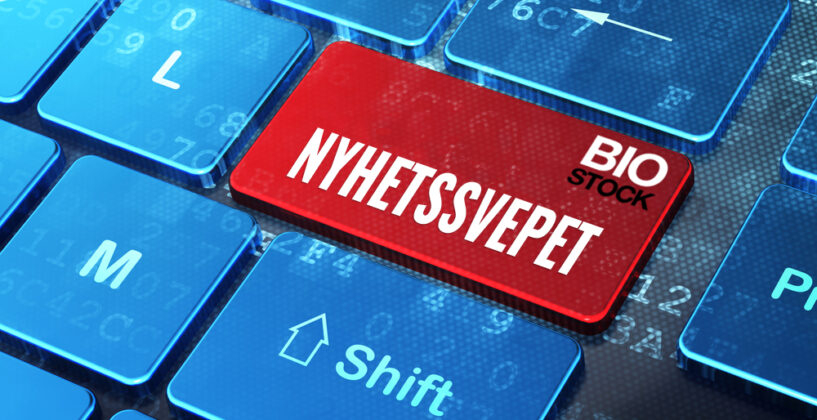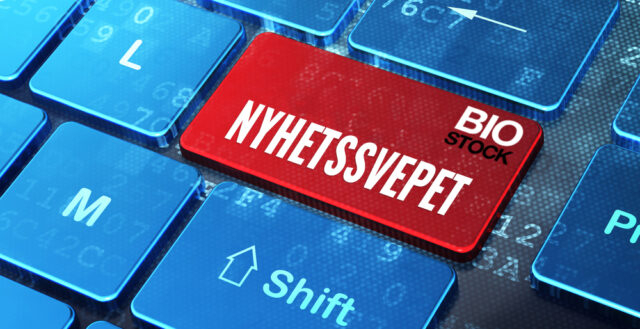 Nyhetssvepet måndag 12 september
Det senaste från BioStock 
» Emplicures PK-studie med Empli03 godkänd
» Sensidoses grundare berättar om bolagets resa
» Pharmiva siktar på högt värderad världsmarknad
» Dr Hoffmann presenterar resultat från Chordates migränstudie
» Läkemedelsexporten allt viktigare för svensk ekonomi 
Läs BioStocks nyhetsbrev för v.36 här.
---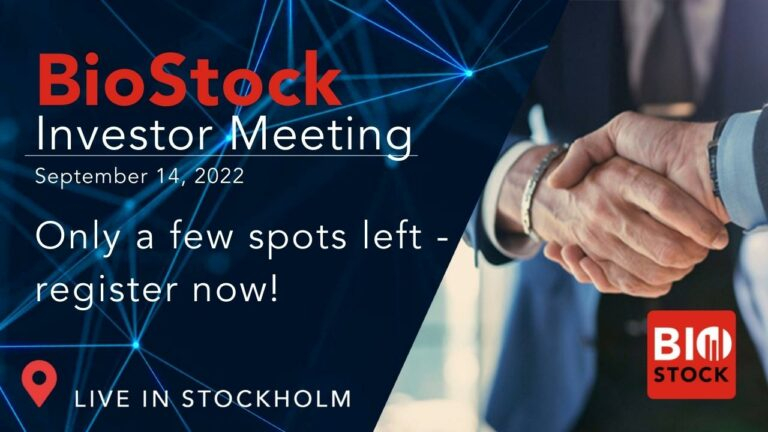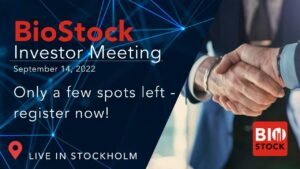 ---
Förmiddagens nyheter
Idag inleds teckningstiden i Pharmivas företrädesemission av aktier. Läs mer.
Analysguiden har inlett bevakning av Arcede Pharma samt sätter motiverat värde om 4,3 kr. Läs mer.
Heliospectra genomför kvittningsemissioner om cirka 25,9 Mkr. Läs mer.
AstraZeneca meddelar positiva resultat i ADAURA, POSEIDON, DESTINY-Lung01 och HIMALAYA. Läs mer.
Cline Scientifics StemCART-projekt rapporterar framgångsrika resultat från ex-vivo tester. Läs mer.
Bioretecs patent avseende bolagets hybridkomposit har godkänts i Europa (rättelse). Läs mer.
Ytterligare distributionsavtal i Europa tecknat av Gradientech. Läs mer.
IRLAB slutför rekryteringen till fas IIb-studien med mesdopetam vid Parkinson. Läs mer.
Targovax ska presentera på ett flertal kommande konferenser. Läs mer.
Region Gävleborg har beställt Ortivus debribillatorer MobiMedLife till ett värde om ca 4 Mkr. Läs mer.
Nykode Therapeutics ska presentera på H.C Wrainwright 24th Annual Global Investment Conference. Läs mer.
Magle Chemoswed utser ny Chief Marketing and Innovation Officer. Läs mer.
DannCann Pharma har inlett samarbete med Horsted Institute avseende observationsstudie. Läs mer.
Första leveransen för Profundus specialkonstruerade kamera för ögondiagnostik. Läs mer.
---
Förändring av antalet röster och eget kapital:
Orion  Virbac
---
Nyheter sedan fredag lunch
Utfallet i Clinical Laserthermia Systems genomförda företrädesemission har offentliggjorts. Läs mer.
AcouSort är utvalt för deltagande på MEDICA 2022. Läs mer.
Medfield Diagnostics och Dedalus har skrivit ett "memorandum of understanding" gällande samarbete. Läs mer.
Israel har godkänt S2Medicals Instagraft-patent. Läs mer.
Positiva resultat i två fas III-studier med lynparza i kombination med bevacizumab för avancerad äggstockscancer, meddelar AstraZeneca. Läs mer.
Hansa Biopharma har beslutat om emission och återköp av C-aktier för incitamentsprogram. Läs mer.
---
Förmiddagens kursutveckling
Vinnare: Neola 23,4% Dignitana 10,3%, Phase Holographic 10,0%, ISR Holding 6,4%, Pharmiva 6,0%
Förlorare: QuiaPEG -12,2%, NeoDynamics -11,7%, PharmaLundensis -11,6%, Chordate Medical -9,0%, BiBBInstruments -8,1% 
Index: OMXS30 1952 0,96%, Hälsovård -0,24%
Prenumerera på BioStocks nyhetsbrev