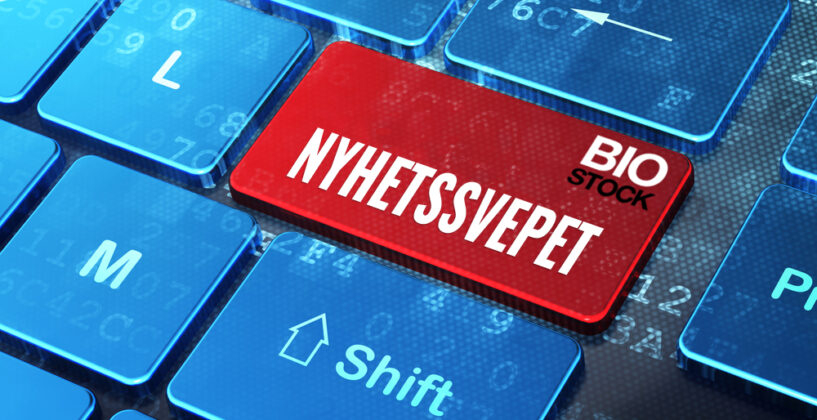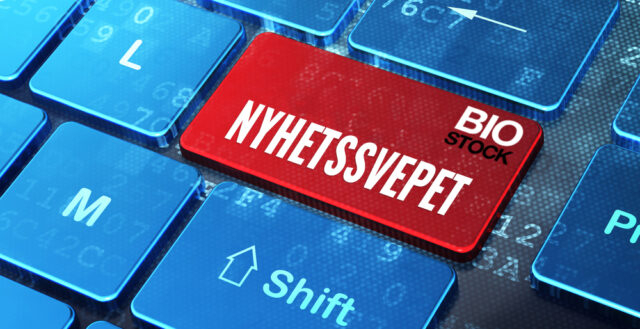 Nyhetssvepet fredag 4 mars
De senaste artiklarna från BioStock
» Xintela presenterar planerna för 2022 i sin Q4-rapport
» Cereno Scientific stärker IP-skydd i Europa
» Sanionas Q4 signalerar kommande värdeskapande
» Pharmacolog bygger vidare efter rekordår
» Vetenskaplig artikel stödjer RhoVacs cancerbehandlingsmetod
Läs BioStocks nyhetsbrev för v.8 här.
Missa inte årets första digitala BioStock Investor Meeting den 16 mars med presentationer från flera ledande life science-bolag.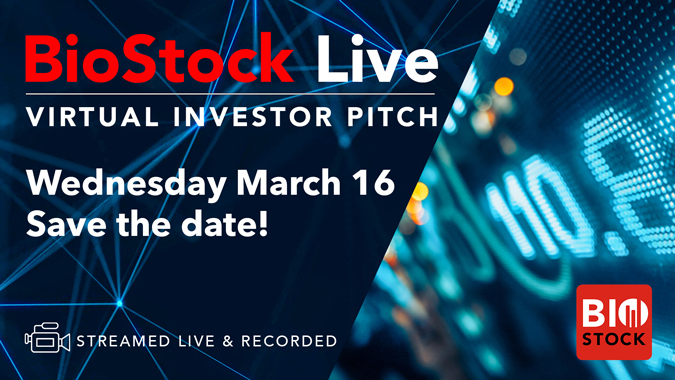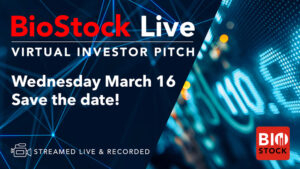 Abreos Biosciences, ett dotterbolag till AegirBio, har idag lämnat in en preliminär patentansökan till USPTO. Läs mer.
RhoVacs styrelse har besluta om företrädesemission av konvertibler. Läs mer.
BioArctics partner Eisai påbörjar inlämning av data för läkemedelskandidaten lecanemab till den japanska läkemedelsmyndigheten PMDA, med ett tidigare regulatoriskt godkännande som mål. Läs mer.
Hamlet Pharmas rapport till Horizon 2020 program har framgångsrikt granskats. Läs mer.
Inhalation Sciences får order på 23 500 Euro från Research Institute of Sweden (RISE). Läs mer.
AlzeCure Pharma offentliggör prospekt och bjuder in till investerarträffar. Läs mer.
Genetic Analysis stärker ledningsgruppen genom att anställa Lars Tiller som Head of Operations. Läs mer.
Photocure meddelar att Endotherapeutics Group är ny kommersiell partner för Hexvix i Australien och Nya Zeeland. Läs mer.
Demant investerar i ShengWang, ett ledande nätverk av kliniker för hörselproblem i Kina. Läs mer.
Vicore Pharma anordnar en virtuell forsknings- och utvecklingsdag den 10 mars. Läs mer.
Rapporter:
Nyheter inkomna sedan igår lunch: 
Enzymaticas munspray mot förkylning lanseras i i Mexiko. Läs mer.
Aptahem har publicerat ett nyhetsbrev för mars. Läs mer.
Odinwell har utsett Susanne Olauson till ny vd. Läs mer.
Oasmia Pharmaceutical har offentliggjort prospekt avseende företrädesemission. Läs mer. Bolaget meddelade även att Fredrik Järrsten slutar som CFO senare i år. Läs mer.
ALK-Abelló meddelade att de kan lämna in en registreringsansökan i Kina för bolagets tablett mot kvalsterallergi innan de har slutfört den kliniska studien. Läs mer.
Cellenion öppnar BICOs första Single Cell Analysis Center of Excellence. Läs mer.
EQL Pharma skänker 2 500 flaskor Hevicain (bupivacain), som bland annat används vid kirurgi, till Ukraina. Läs mer.
ADDvise Group förvärvar JTECH Medical. Läs mer.
Brighter besökte distributören Al Danah, sjukhus och andra vårdanläggningar i Qatar för att diskutera lanseringen av Actiste. Läs mer.
Förmiddagens vinnare: Scandion Oncology 7,3%, Respiratorius 6,6%, Stille 6,1%, Luxbright 4,4%, Nanexa 3,8%
Förmiddagens förlorare: Prolight Diagnostics -11,2%, Annexin -9,8%, Kancera -9%, Brighter -8,8%, Nextstim -8,7%
Index: OMXS30 1987 -2,90%, Hälsovård -2,09%
Prenumerera på BioStocks nyhetsbrev