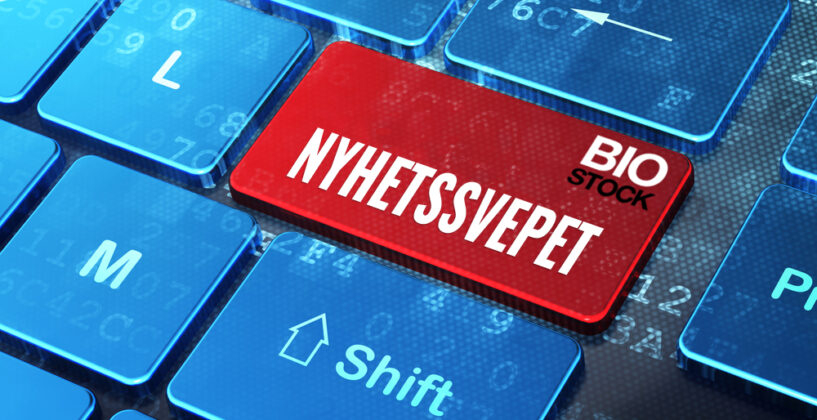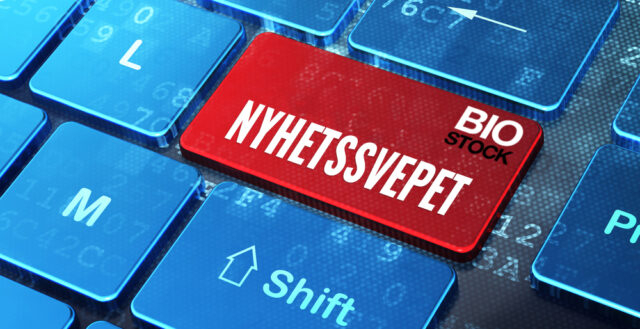 Nyhetssvepet torsdag 17 februari
AcuCort tecknar avtal med konsultbolag avseende farmakovigilans inför kommersialiseringen av ISICORT. Läs mer.
Attana erhåller order för ett Cell 250-instrument från ett europeiskt life science-bolag. Läs mer.
Xbrane Biopharma ger en uppdatering om sitt dotterbolag Primm Pharma. Läs mer.
AroCell offentliggör utfall i företrädesemission. Läs mer.
Immunovia meddelar att IMMray PanCan-d – referensgranskad, blinda valideringsstudien är publicerad i Clinical and Translational Gastroenterology. Läs mer.
Qlife följer upp dansk klinisk utvärdering av snabbtester för covid-19. Läs mer.
VibroSense Dynamics tecknar distributörsavtal för den kinesiska marknaden med Genertec Universal Medical Group. Läs mer. Bolaget har även fått en order i Kina värd drygt 38 Mkr. Läs mer.
Styrelsen i ObsteCare har beslutat att utvärdera en ny strategisk inriktning för att skapa bättre framtida möjligheter för bolaget. Läs mer. Bolaget publicerar även en rättelse här.
Amgen meddelar att Lumykras uppvisar kliniskt meningsfull antitumoral aktivitet hos patienter med avancerad KRAS G12C-muterad bukspottkörtelcancer. Läs mer.
Sectra och amerikanska Emory Healthcare har tecknat avtal för digital patologi. Läs mer.
UmanDiagnostics anställer affärsutvecklingschef. Läs mer.
Pharmiva meddelar att återförsäljare lanserar Vernivia i e-handelsortiment och inom kort i utvalda fysiska butiker. Läs mer.
Rapporter:
Acarix  Acarix (rättelse)  AlphaHelix  Amniotics  Bioretec  Bioservo Technologies  BONESUPPORT  CombiGene  ContextVision  Dignitana  Egetis Therapeutics  Enzymatica  Gabather  Genmab  Gentian Diagnostics  Immunicum  Immunovia  Invent Medic Sweden  Lumito  Lytix Biopharma  Nanexa  Navamedic Oncopeptides  Optomed  Qlife  Q-linea  Scandion Oncology  Sedana Medical  Senzime  Stille  Targovax  Ultimovacs  Vistin Pharma  Ziccum
Inbjudningar till rapportpresentationer:
Brighter  Chordate Medical  Devyser Diagnostics  Nightingale Health  Photocure
Nyheter inkomna sedan igår lunch: 
Aptahem har erhållit patentskydd i Japan för patentfamilj 2. Läs mer.
Sedana Medical meddelade att de första flaskorna med Sedaconda (isofluran) har levererats till kunder i Tyskland. Läs mer.
S2Medical har mottagit en bekräftelse från saudiarabiska myndigheter att produkterna i den nya Epiprotect-serien är registrerade och godkända för försäljning som klass IIb i landet. Läs mer.
SpectraCures patentansökan som avser en ny teknik för att förbättra bolagets IDOSE-teknik har godkänts av det amerikanska patentverket. Läs mer.
Peptonic Medical meddelade att de introducerar VagiVital utbud av hormonfria behandlingar på den amerikanska marknaden. Läs mer.
Carbitiox publicerade rättelse gällande MAR etikett på pressmeddelande från 16/2. Läs mer.
Asarina Pharma tillkännagav att "Första patientens första besök" ('First Patient First Visit') har ägt rum i bolagets fas IIa-studie av Tourette syndrom vid Bispebjerg University Hospital, Köpenhamn. Läs mer.
CELLINK och CollPlant Biotechnologies har tecknat ett samarbetsavtal. Läs mer.
Navamedic informerade om lansering av SmectaGO. Läs mer.
Vistin Pharma har utsett interim vd. Läs mer.
Eurocine Vaccines vd Hans Arwidsson sammanfattade 2021 i en kort video. Läs mer.
Styrelsen i Medimi har fastställt tillträdesdag för Alexander Johansson som ny vd till den 17 juni 2022. Läs mer.
Selectimmune Pharma meddelade att bolagets dess Chief Medical Officer och styrelseledamot dr Gabriela Godaly utsetts till professor vid Lunds Universitet. Läs mer.
Genmab har sänt in sin årsrapport till U.S. Securities and Exchange Commission. Läs mer.
BerGenBio informerade om ökning i aktiekapitalet. Läs mer.
Förmiddagens vinnare: SpectraCure 9,1%, Hemcheck Sweden 6,4%, Enzymatica 6,3%, Surgical Science 6,3%, Aptahem 5,7%
Förmiddagens förlorare: Immunovia -14,8%, IRRAS -10,3%, Qlife -9,1%, Luxbright -9,1%, Redwood Pharma -8,2%
Index: OMXS30 2250 -0,57%, Hälsovård -0,26%
Prenumerera på BioStocks nyhetsbrev