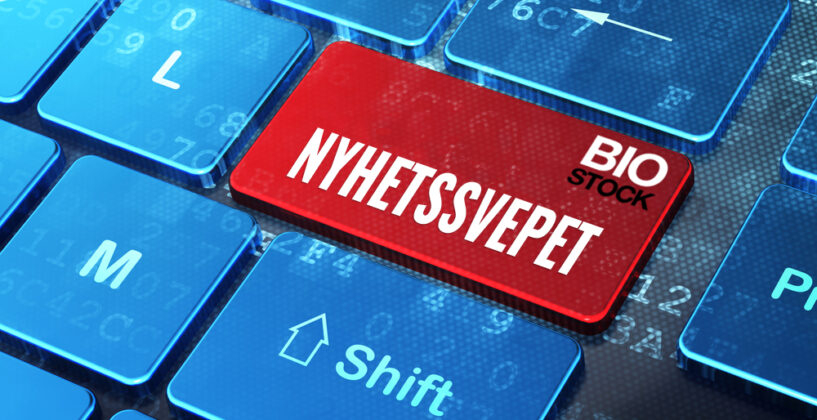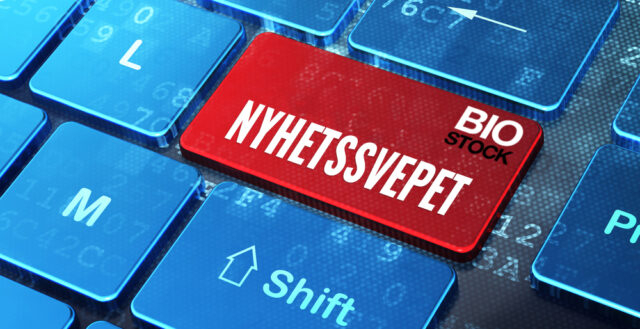 Nyhetssvepet fredag 25 februari
ScandiDos lanserar Delta4 Insight som nu är tillgänglig för försäljning till kunder i Europa och nyckelmarknader i Asien. Läs mer.
Scandinavian ChemoTechs TSE-teknologi visar positiva resultat efter förstudie i Indien. Läs mer.
STENOCARE planerar lansering i Storbritannien. Läs mer.
RhoVacs målprotein RhoC uppmärksammas i den vetenskapliga tidskriften Cancer Cell International. Läs mer.
DBP International meddelar att idag inleds nyttjandeperioden för teckningsoptioner av serie TO 2B. Läs mer.
Valberedningens förslag rörande styrelse för CellaVision inför årsstämman 2022. Läs mer.
Rapporter:
2cureX  AegirBio  Attana  BBS-Bioactive Bone Substitutes  Calmark Sweden  Chordate Medical  Cline Scientific  Coegin Pharma  DanCann Pharma  DBP International  Gradientech  Hamlet Pharma  Karolinska Development  Medfield Diagnostics  Medistim  ODI Pharma  Peptonic Medical  Pharmacolog  PolarCool  Polymer Factory Sweden  Raytelligence  RLS Global  Toleranzia  Vicore Pharma  Xintela
Kallelser till bolagsstämmor:
BBS-Bioactive Bone Substitutes  Genmab  Phase Holographic Imaging
Kommunikéer:
Nyheter inkomna sedan igår lunch: 
AegirBio har gjort bedömningen att det avtal som bolagets tidigare distributör träffat avseende Indien om minst 20 miljoner tester, villkorat av relevant myndighets godkännande, inte kommer att fullföljas. Läs mer.
S2Medical har mottagit betalning för förband i Epiprotect-serien av den saudiarabiska distributören Arabian Trade House, uppgående till cirka 300 000 SEK. Läs mer.
Elicera Therapeutics forskningschef, professor Magnus Essand, ska hålla en presentation på SWECARNETs Utbildningsdag 2022. Läs mer.
DBP International meddelade att teckningskursen för utnyttjande avteckningsoptioner av serie TO 2B har fastställts till 0,48 SEK. Läs mer.
C-RAD informerade om användning av bolagets produkter i Argentina. Läs mer.
Observe Medical meddelade resultat av emissionen. Läs mer. Bolaget informerade om teckning av aktier i emissionen av insynspersoner och närstående till dessa. Läs mer.  Artal har flaggat ner i Observe Medical. Läs mer.
Nordic Nanovectors prospekt har godkänts. Läs mer. Bolaget har också beslutat att genomföra en uppföljningsemission för befintliga aktieägare. Läs mer.
Prolight Diagnostics kommer att presentera på Digitala Aktiekvällen den 28 februari. Läs mer.
Genmab och Seagen kommer att presentera den första data för tisotumab vedotin i patienter med skivepitelkarcinom i huvud och hals vid American Society for Radiation Oncology (ASTRO) 2022 Multidisciplinary Head and Neck Cancers Symposium. Läs mer.
LIDDS publicerade komplettering till tidigare pressmeddelande. Läs mer.
BlackRock flaggade ner i Orion. Läs mer.
Össur informerade om insidertransaktioner. Läs mer.
Förmiddagens vinnare: DBP International 23,8%, Idogen 20,6%, Emplicure 14,7%, Redwood Pharma 13,8%, Asarina Pharma 13,6%
Förmiddagens förlorare: Aegirbio -17,5%, Inhalation Sciences -8,9%, Abera Bioscience -7,8%, IRLAB -6,5%, PharmaLundensis -5,3%
Index: OMXS30 2081 +0,16%, Hälsovård +0,17%
Prenumerera på BioStocks nyhetsbrev