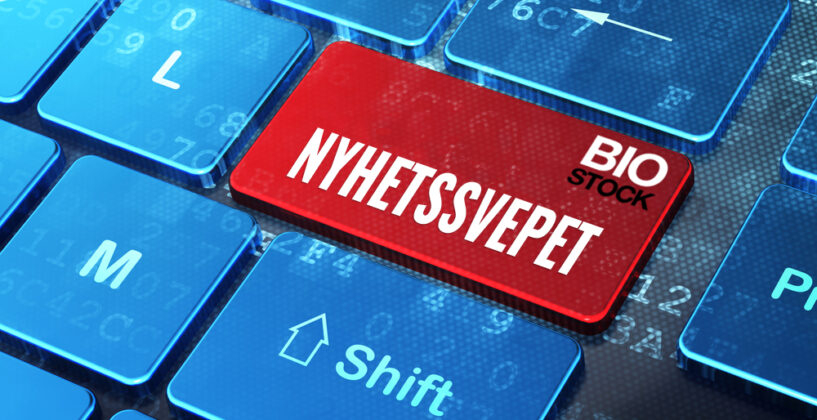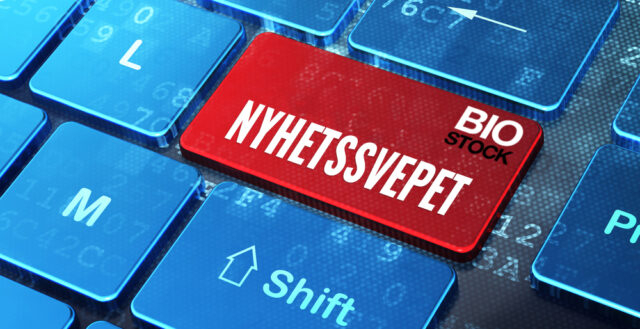 Nyhetssvepet tisdag 3 januari
Det senaste från BioStock

» Alligator Bioscience presents positive interim data
» Emission tar Chordate Medical vidare mot exit
» Sveriges 10 starkaste life science-aktier 2022
» Medgrundare om WntResearchs nya NeoFox-fynd
» Läkemedelsutveckling – de fyra stegen

Läs BioStocks nyhetsbrev för v. 51 här.
---
Förmiddagens nyheter
Publicerade forskningsresultat påvisar hög specificitet hos Alzinovas antikropp ALZ-201 samt kandidatens potential till best-in-class. Läs mer.
Karolinska Developments portföljbolag Umecrine Cognition presenterar data som visar effekt av golexanolon i en preklinisk modell av Parkinsons sjukdom. Läs mer.
Ny studie pekar på klinisk fördelar med blåljuscytoskopi vid NMIBC, meddelar Photocure. Läs mer.
Stenocare har genomfört den första leveransen av bolagets medicinska cannabisolja till norska Apotek 1. Läs mer. Bolaget har även erhållit godkännande att påbörja försäljning av CBD20 i Danmark. Läs mer.
Mike Heffernan är utsedd till NMD Pharmas styrelseordförande. Läs mer.
Medistim offentliggör den finansiella kalendern för 2022/2023. Läs mer.
---
Valberedning:
Ortoma  Peptonic Medical
Insiderhandel och förändrat kapital:
Aiforia Technologies  Demant
---
Nyheter sedan måndag lunch
Alligator Bioscience har offentliggjort positiva fas II-data från studien OPTIMIZE-1, som utvärderar mitazalimab i bukspottkörtelcancer. Läs mer.
PolarCool har publicerat en sammanfattning av 2022 års marknadsexpansion och produktutveckling samt utsikter för 2023. Läs mer.
Neola Medical ska delta vid J.P. Morgan Healthcare Conference 2023 i San Francisco samt Digital Medicine and Medtech Showcase.
Prostatype Genomics har ingått ett avtal med Life Genomics. Läs mer.
Positivt utfall när S2Medicals antibakteriella peptider testades mot multiresistenta bakterier, meddelade bolaget. Läs mer.
PharmaLundensis har delgett information avseende avslutad nyttjandeperiod av teckningsoptioner av serie TO 2019/2022 II (TO4).Läs mer.
C-RAD har utsett Christoffer Herou till CFO. Läs mer.
Genmab kommer presentera på J.P. Morgan Healthcare Conference 2023. Läs mer.
Nordic Nanovector har uppdaterat om aktieinnehav inför extrasträmman. Läs mer.
---
Förmiddagens kursutveckling
Vinnare: Alligator Bioscience 50,9%, S2Medical 27,3%, Spermosens 27,0%, Calmark 18,8%, Alzinova 13,6%
Förlorare: Micropos Medical -10,0%, Nanexa -7,6%, Newbury Pharmaceuticals -6,7%, RhoVac -6,3%, Arcede Pharma -6,2%
Index: OMXS30 2096 1,02%, Hälsovård 0,85%
---
Mer från BioStock
» Nya läkemedel väcker hopp för ALS-patienter 
» Chosa Oncology får grönt ljus för patent i Kina 
» Gabather's aims to impact the neurodegeneration field 
» Framsteg med ny genterapi vid allvarlig hudsjukdom
» Klaria fortsätter ta steg mot marknadsgodkännande

Prenumerera på BioStocks nyhetsbrev