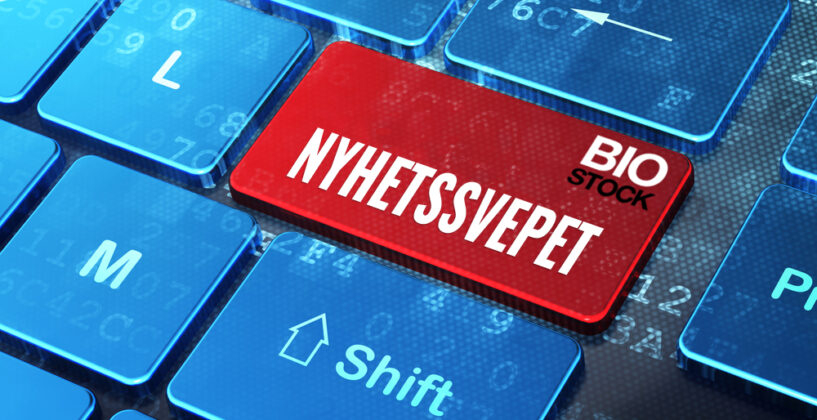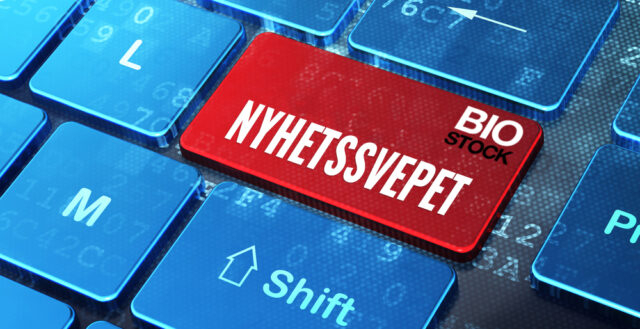 Nyhetssvepet torsdag 15 september
Det senaste från BioStock 
» Investera i biotech – finansieringsrundor 
» Investera i biotech – 4 saker att tänka på
» Evaxion får NIH-bidrag för gonorrévaccin
» Investera i biotech – en artikelserie
» Spago Nanomedical i hett område 

Läs BioStocks nyhetsbrev för v.36 här.
---
Förmiddagens nyheter
Ett investerarbrev är publicerat av Neola Medical. Läs mer.
PolarCool erhåller tidsplan för MDR-certifiering av bolagets kvalitetssystem QMS. Läs mer.
Idag inleds utnyttjandeperioden för teckningsoptioner av serie TO 5 i Idogen. Läs mer.
Nanexa startar produktprojektet NEX-22, en långtidsverkande formulering av liraglutid. Läs mer.
Inhalation Sciences förtydligar tidigare pressmeddelanden avseende den planerade FDA-studien. Läs mer.
Utnyttjandeperioden för BioSergens företrädesemission av units börjar idag. Läs mer.
Schweiziska COMCO har inlett utredning om ett patent av Novartis för bredare användning inom dermatologi. Läs mer.
Photocure meddelar att Hexvix nu täcks av Lecheng Global Specialty Drug Insurance Specialty Drug List 2022. Läs mer.
Cantargia ska presentera nya prekliniska effektdata för CAN10 i systemisk skleros på ACR Convergence 2022. Läs mer.
Staffan Skogvall, vd för PharmaLundensis, har köpt aktier i bolaget för 60,000 kr. Läs mer.
Prostatype Genomics uppvisar goda resultat i asiatisk pilotstudie. Läs mer.
Frida Lawenius blir ny vd för SwedenBIO. Läs mer.
Teckningsperioden i Pharmacolog i Uppsalas företrädesemission inleddes på onsdagen. Läs mer.

Bayer initierar Fas III-studieprogram med FXIa-hämmaren asundexian. Läs mer.
Skatteverket har beslutat att kräva återbetalning av Brighters dotterbolag Nectarine Health. Läs mer.
Ziccum och Zürich University of Applied Sciences lämnar in gemensam ansökan om Eurostars-finansiering. Läs mer.
Nya treårsdata för BIMZELX visar bibehållen fullständig hudutläkning vid måttlig till svår plackpsoriasis, meddelar UCB. Läs mer.
---
Förmiddagens kursutveckling
Vinnare: S2Medical 23,7%, Bactiguard 11,6%, PharmaLundensis 11,0%, Ortoma 8,4%, ScandiDos 8,2%
Förlorare: ODI Pharma -14,9%, PExA -10,0%, Lumito -6,5%, Alteco -6,0%, Redsense Medical -5,7%
Index: OMXS30 1924 0,42%, Hälsovård 0,53%
Prenumerera på BioStocks nyhetsbrev