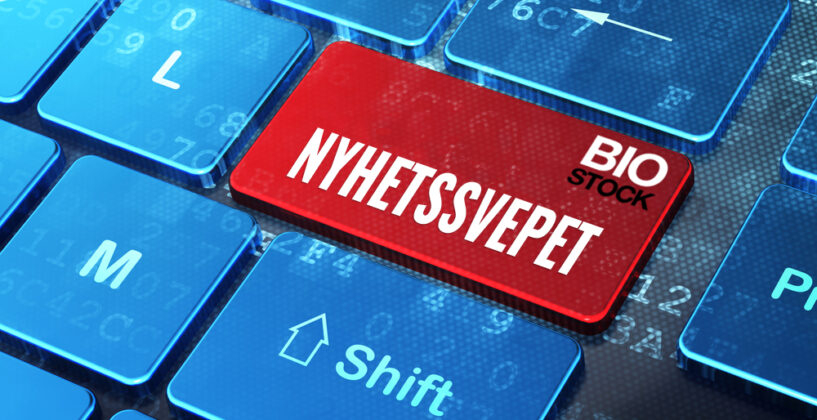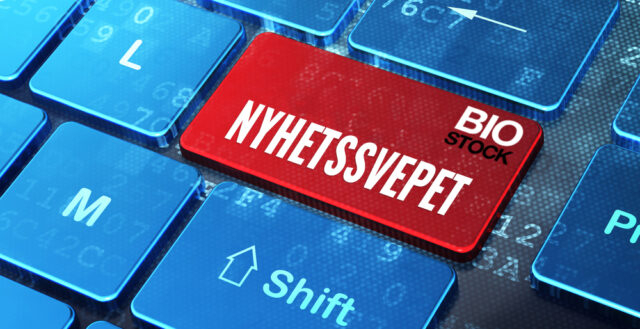 Nyhetssvepet tisdag 13 september
Det senaste från BioStock 
» Investera i biotech – en artikelserie
» Spago Nanomedical i hett område 
» Idogens tf vd berättar om planerna för hösten
» Emplicures PK-studie med Empli03 godkänd
» Sensidoses grundare berättar om bolagets resa

Läs BioStocks nyhetsbrev för v.36 här.
---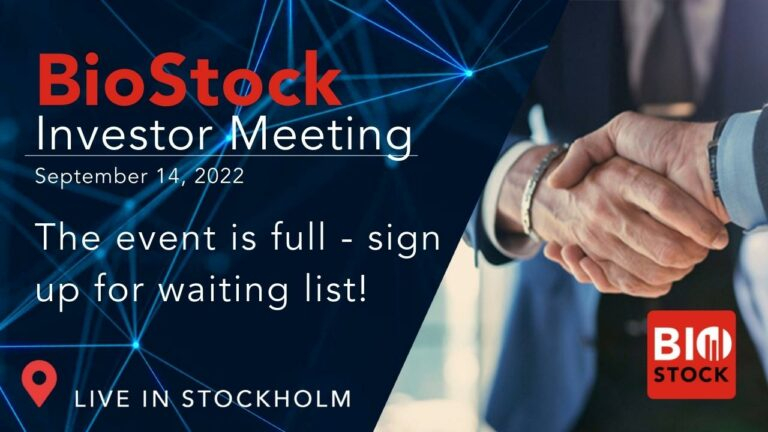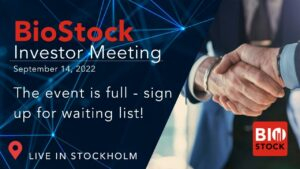 ---
Förmiddagens nyheter
Teckningskurs för utnyttjandet av Cereno Scientifics teckningsoptioner av serie TO2 är fastställd till 1,9 kr per aktie. Läs mer.
PolarCool tecknar sitt första avtal i finska hockeyligan. Läs mer.
World Sepsis Day 2022 uppmärksammas av Aptahem. Läs mer.
Faron Pharmaceuticals ska presentera data avseende Traumakine på Military Health System Research Symposium (MHSRS) 2022. Läs mer.
MHSRS 2022 får även se Ilya Pharma presentera data för ILP100-Topical. Läs mer.
IRLAB ska presentera på ABGSC Investor Day. Läs mer.
Nytt avtal mellan Region Blekinge och Ortivus avseende MobiMed värt ca 4,5 Mkr. Läs mer.
Spermosens justerar fram tidsplanen för tillverkning av JUNO-Checked System. Läs mer.
Oslo Universitetssjukhus ska inkludera Integrums OPRA Implant System för artificiell tumproteskirurgi. Läs mer.
SensoDetect informerar marknaden om verksamhetens nuläge efter sommarledigheten. Läs mer.
---
Rapporter:
ScandiDos  VibroSense
Förändring av antalet röster och eget kapital:
Orion
Inbjudan till presentation:
Arctic Bioscience
Aktieåterköpsprogram:
Novo Nordisk  Össur
---
Nyheter sedan måndag lunch
Ultimovacs har publicerat fas I-data avseende melanom i Journal of Translational Medicine. Läs mer.
Hanna Sjöström, vd för Neola, presenterar på ABG Sundal Colliers Investor Day den 13 september. Läs mer.
Medivir ska presentera vid H.C. Wrainwright 2th Annual Global Investment Conference 2022. Läs mer.
Pretzel Therapeutics har inlett en Serie A-finansiering om 72,5 miljoner dollar för banbrytande behandlingar av mitokondriella sjukdomar. Läs mer.
SMC rekommenderar Hansa Biopharmas Idefirix för högsensitiserade njurtransplantationspatienter. Läs mer.
VitroLifes vd går i pension och frånträder sin befattning, meddelar bolaget. Läs mer.
Positivt utlåtande för Pfizer och BioNTechs boostervaccin anpassat för omikron BA.4/5. Läs mer.
Diabetesklinik i Tyskland utvärderar VibroSense Meter II. Läs mer.
EQL Pharma har fått en utmärkelse av Apotek Hjärtat. Läs mer.
Ny studie visar att Janssens Tremfya ger större effekt på plackpsoriasis vid tidiga insatser. Läs mer.
Novo Nordisk och Microsoft ingår nytt samarbete i avseende att påskynda läkemedelsupptäckt- och utveckling. Läs mer.
Medfield Diagnostics och FlexMed har skrivit ett "memorandum of understanding" gällande samarbete kring distribution. Läs mer.
Real World Data-analys bekräftar säkerhet och effektivitet med radium-223-diklorid följt av lutetium-177-PSMA för män med mCRPC, meddelar Bayer. Läs mer.
Bayer har även presenterat nya data från ARASENS-studien. Läs mer.
---
Förmiddagens kursutveckling
Vinnare: Carbiotix 10,9%, Isofol Medical 10,9%, RhoVac 8,1%, Immunovia 6,7%, Vicore Pharma 6,4%
Förlorare: Cline Scientific -16,5%, Odinwell -12,3%, ScandiDos -12,0%, Chordate -11,9%, Calmark -8,8%
Index: OMXS30 1979 0,27%, Hälsovård -0,15%
Prenumerera på BioStocks nyhetsbrev