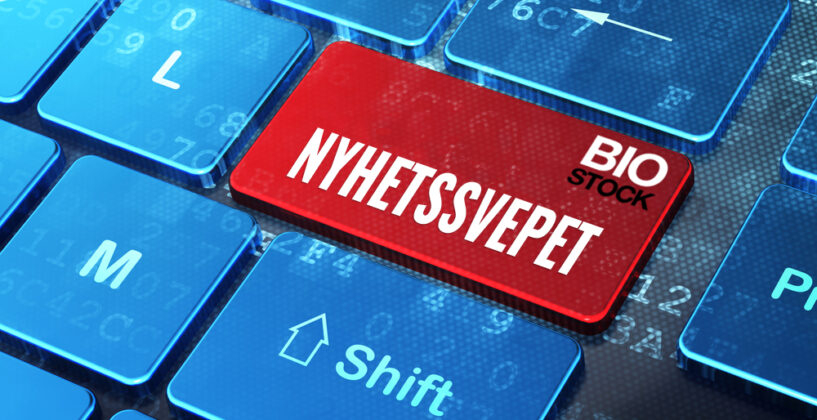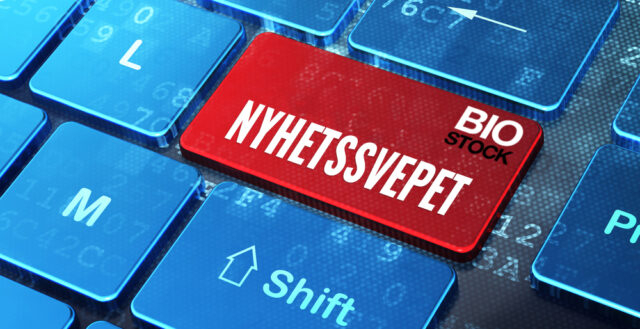 Nyhetssvepet tisdag 23 augusti
Det senaste från BioStock 
» CLS tar in nytt kapital för fortsatt avancemang
» Stark tillväxt under Q2 för Invent Medic
» BrainCool erhåller ny USA-order samt säkrar lån
» Alligator Bioscience is ready for an exciting news flow
» Saniona redo att avancera sitt Kv7-program 
Läs BioStocks nyhetsbrev för v.33 här.
---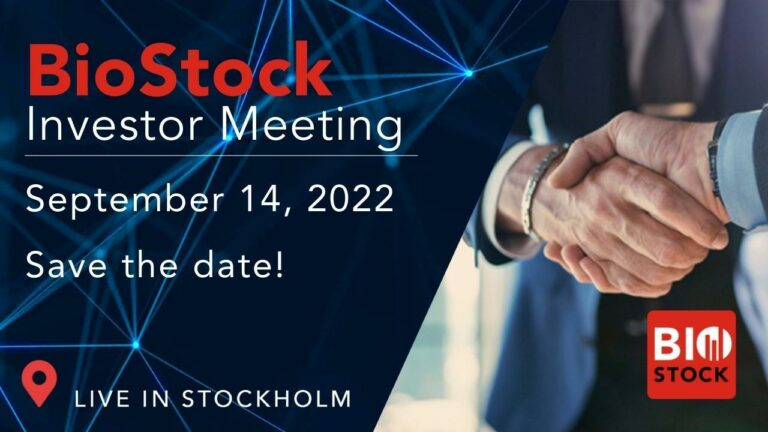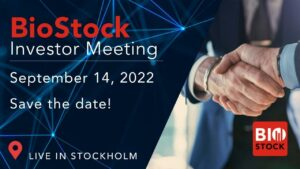 ---
Förmiddagens nyheter
Idag inleds teckningsperioden i Clinical Laserthermia Systems företrädesemission av units. Läs mer.
Årets Q2-rapport för Annexin Pharmaceuticals publicerad. Läs mer.
Calmark beslutar om emission av units om ca 26,1 Mkr. Läs mer. Bolaget kallar till extra bolagsstämma. Läs mer.
Medivir presenterar vid Erik Penser Banks bolagsdag den 24 augusti 2022. Läs mer.
De första patientbehandlingarna i DIVE-studien rapporteras av IRRAS. Läs mer.
Immunovia ska presentera på Gilmartin Group´s Emerging Growth Company Showcase. Läs mer.
Björn Larsson ny vd för RLS Global. Läs mer.
A3P Biomedicals Stockholm3 utvärderat i NICE Medtech Innovation Briefing för Storbritannien. Läs mer.
Elektas nya system för strålbehandling erhåller CE-märkning. Läs mer.
Bioretecs ActivaPin utgör bra alternativ behandling för pediatriska armbågsskador. Läs mer.
Ny data av Amgen ska presenteras avseende Repatha på European Society of Cardiology Congress 2022. Läs mer.
Egetis kommer att delta på ett flertal kommande investerarkonferenser. Läs mer.
---
Bolagsrapporter:
BerGenBio  Diagonal Bio  Ectin Research  Implantica  Isofol  Kancera  Medistim  Modus Therapeutics  ObsteCare  OssDsign  SyntheticMR  Ziccum
Kommande rapportsläpp:
Immunovia  Observe Medical
Aktietransaktioner och förändring av eget kapital:
Genmab  Novo Nordisk  Össur
---
Nyheter sedan måndag lunch
Cereno Scientific har bekräftat programmet för kapitalmarknadsdagen den 30 augusti 2022. Läs mer.
Ultimovacs IP-portfölj har stärkts genom erhållande av Notice of Allowance för UV1-metodpatent. Läs mer.
Hansa Biopharma och Medison Pharmas Idefirix har beviljats nationell subvention i Polen. Läs mer.
Utnyttjandet av Camurus teckningsprogram 2019/2022 fastställt. Läs mer.
Panu Hendolin är vald till ny medlem i Biohits ledningsteam. Läs mer.
AroCell har signerat distributionsavtal avseende UBC Rapid i Indien. Läs mer.
Framgångsrikt avslut av fas II-studien med CagriSema för Novo Nordisk. Läs mer.
Intervju med Coala Lifes vd Dan Pitulia publicerad. Läs mer.
CS Medica har förlängt samarbetet med partnern Nutrin. Läs mer.
Avtal för PharmaLundensis avseende uthyrning av den första Minievaporatorn. Läs mer.
Kliniska data visar på uPAR som ett attraktivt mål vid orofaryngeal skivepitelcancer, meddelar FluoGuide. Läs mer.
PExA har ingått avtal för PExA 2.1 med amerikanskt bioteknikbolag. Läs mer.
Föreslagen bibehållen ersättningsnivå för skalpkylningsbehandling, lyfter Paxman fram. Läs mer.
Försök med screening av lungcancer leds av Karolinska Universitetssjukhuset. Läs mer.
---
Förmiddagens kursutveckling
Vinnare: IRRAS 23,2%, OssDsign 18,4%, Dicot 12,3%, SyntheticMR 11,7%, Invent Medic 11,3%
Förlorare: Calmark -29,1%, ObsteCare -24,5%, Aino Health -9,5%, QLife Holding -7,6%, Alteco -7,4%
Index: OMXS30 2004 0,42%, Hälsovård -1,51%
Prenumerera på BioStocks nyhetsbrev