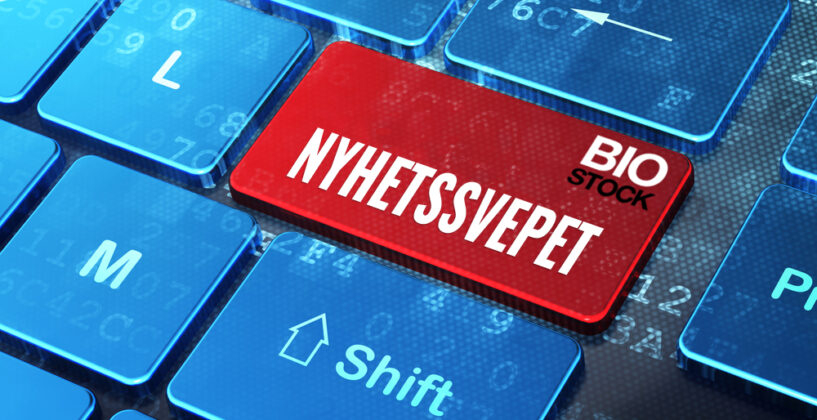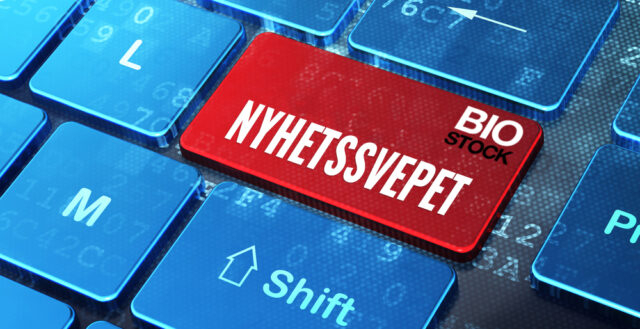 Nyhetssvepet tisdag 7 juni

---
Förmiddagens nyheter
Iconovo erhåller förhandsgodkännande av patent för ICOone i Japan. Läs mer.
Gabather meddelar notice of allowance från amerikanska patentverket för sin patentansökan. Läs mer.
Carbiotix tillförs 16Mkr efter genomförd företrädesemission. Läs mer.
OssDsign etablerar en strategisk Advisory Board i USA. Läs mer.
LIDDS beviljas patent för NanoZolid i Japan och Sydkorea. Läs mer.
Bavarian Nordic har fått order från Kanada om 56 MUSD på IMVAMUNE smittkoppsvaccin. Läs mer.  Bolaget håller även investerar- och analytikerkonferens om apkoppor 3 juni kl 15:00. Läs mer.
Utfallet av inlösen i Medimis teckningsoptioner TO 5 har meddelats. Läs mer.
Karolinska Universitetssjukhuset har utfört sina första operationer med Integrums OPRA-Implant System. Läs mer.
Camurus presenterar vid Jefferies 2022 Healthcare Conference. Läs mer.
Zealand Pharma har presenterat data från fas I-studien med Dapiglutide och ämnar att gå in i fas II mot fetma. Läs mer. Bolaget har även meddelat deltagande i investerarkonferenser. Läs mer.
Årets mottagare av Hjärt-Lungfondens stora forskningsanslag 2022 på 15 miljoner kronor är Maria Lerm, professor vid Linköpings universitet. Läs mer.
Ny forskning visar hopp för patienter med hög risk för neuroblastom. Läs mer.
---
Årsredovisning:
Emotra
Kommunikéer:
Observe Medical  Medfield Diagnostics  Toleranzia
Meddelanden om aktietransaktioner och förändring av eget kapital:
BiBB Instruments  CS Medica  iZafe  Navamedic  Prolight Diagnostics  RaySearch Laboratories (rättelse) SpectraCure  Zealand Pharma
---
Nyheter inkomna sedan fredag lunch
BrainCool har meddelat preliminära resultat och information om kliniska studier i trombektomi. Läs mer.
QuiaPEG har utsett Hjördis Berg till ny CFO. Läs mer.
Nya styrelseordförande Christer Norstedt ger sin syn på WntResearch. Läs mer.
SpectraCures patentansökan har godkänts i Europa av EPO. Läs mer.
Ny styrelseordförande i Medimi har utsetts. Läs mer.
Scandion Oncology håller webbkonferens om kommande företrädesemission. Läs mer.
Uppdaterade resultat från AstraZenecas fas III-studien ELEVATE-TN med Calquence. Läs mer. Bolaget har även presenterat resultat från fas III-studien DESTINY-Breast04. Läs mer.
BerGenBio har presenterat kliniska data om bemcentinib. Läs mer.
Första deltagaren inkluderad i Bioservos forskningsprojekt om effekten av exoskelett på centrala nervsystemet. Läs mer.
iZafe presenterar på Aktiespararnas Småbolagsdagar. Läs mer.
Analys av Diamyd Medicals Diamyd har publicerats i en vetenskaplig tidskrift. Läs mer.
Nanoform har beslutat om incitamentsprogram. Läs mer.
Resultat från fas II-studie av Izokibep har presenterats av Affibody, ACELYRIN och Inmagene Biopharmaceuticals. Läs mer.
IO Biotech deltar på 2022 BIO International Convention. Läs mer. 
Resultat från Genmabs och Seagens TIVDAK presenteras på ASCO 2022. Läs mer.
Lytix Biopharma har meddelat data från sin ATLAS-IT-04-studie. Läs mer.
Registrering av PharmaLundensis företrädesemission är klar. Läs mer.
Vicore Pharma har ändrat det primära effektmåttet för att accelerera fas III-studien i covid-19-patienter. Läs mer.
---
Förmiddagens kursutveckling
Vinnare: Rayintelligence 11,2%, Bactiguard 10,5%, Oncopeptides 9,4%, ODI Pharma 8,7%, WntResearch 7,3%
Förlorare: SelectImmune -16,0%, Alteco -11,0%, Redwood Pharma -10,6%, RhoVac -8,6%,, Emplicure -8,4%
Prenumerera på BioStocks nyhetsbrev