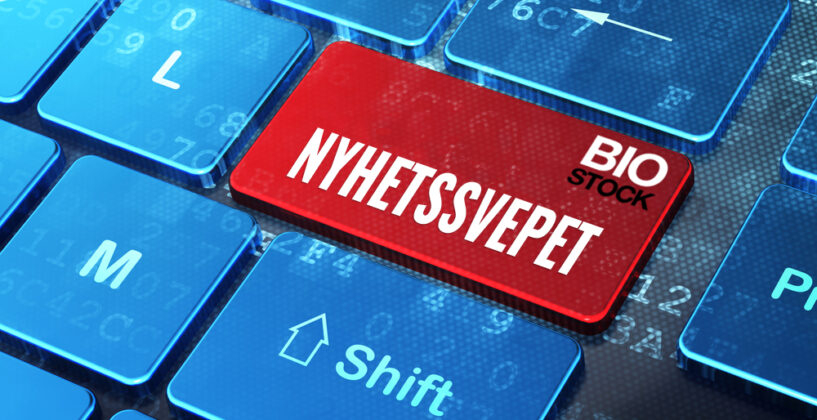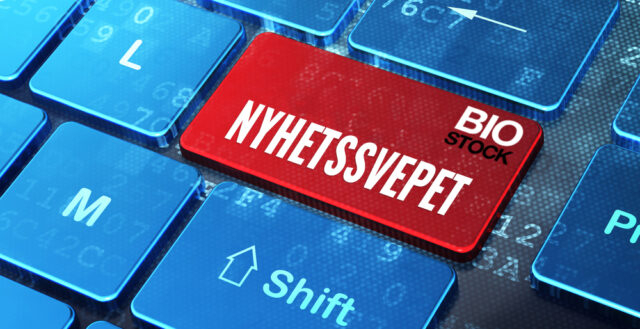 Nyhetssvepet måndag 30 maj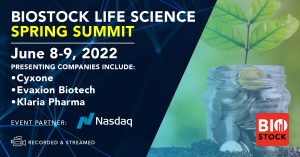 ---
Förmiddagens nyheter
Sprint Biosciences NASH-program går in i ny in vivo proof-of-concept-studie. Läs mer.
RhoVacs fas IIb-studie, BRaVac, lyckades inte nå sitt primära effektmått. Läs mer. I samband med detta meddelar Spotlight att aktien flyttas till observationslistan. Läs mer.
Teckningsperioden i Alzinovas företrädesemission inleds idag 30 maj. Läs mer.
Cereno Scientific har rekryterat Nick Oakes till Head of Preclinical Development. Läs mer.
Sahlgrenska Universitetssjukhuset beställer Pharmacologs DrugLog. Läs mer.
Sista dag att handla i PHI:s BTU är idag 30 maj. Läs mer.
Xbrane Biopharma drar tillbaka FDA-ansökan för LUCENTIS. Läs mer.
Positivt CHMP-utlåtande för AbbVies upadacitinib (Rinvoq). Läs mer.
Attgeno meddelar genomförd fas I-studie av läkemedelskandidaten Supernitro. Läs mer.
Faron presenterar vid ASCO 2022. Läs mer.
RLS Global etablerar ett distributionsnätverk i Mellanöstern för ChloraSolv . Läs mer.
Janssen meddelar att EU godkänt behandligen Carvykti mot multipelt myelom. Läs mer.
Idag 30 maj är sista teckningsdagen i Duearitys nyemission. Bolaget har även tecknat ett samförståndsavtal med PRETTL Electronics. Läs mer.
PharmNovo har ansökt om klinisk prövning för fas I-studie med PN6047. Läs mer.
Realhearts vd Ina Laura Perkins har valts in i styrelsen för ISMCS. Läs mer.
Lipigon uppdaterar om presentation som hölls vid EAS Congress 2022. Läs mer.
Nexstim ska presentera på Redeye Growth Day. Läs mer.
---
Delårsrapporter:
Annexin  Hemcheck  Polarcool  SynAct Pharma
Kommunikéer:
---
Nyheter inkomna sedan fredag lunch
Teckningskursen för Dicots teckningsoptioner TO 3 har fastställts. Läs mer.
Bavarian Nordic har uppdaterat bolagsordningen. Läs mer.
Medfield Diagnostics har beslutat om en företrädesemission om cirka 21,3 Mkr. Läs mer.
Herantis Pharma presenterar på Redeye i juni. Läs mer.
Ny styrelseledamot i Glycorex Transplantation har föreslagits till bolagets årstämma 31 maj. Läs mer.
Peptonic Medical har meddelat att VagiVital VS lanserats i Sverige. Läs mer.
IO Biotech kommer att presentera vid ASCO 2022. Läs mer.
Genmab kommer att presentera vid ASCO 2022. Läs mer.
---
Förmiddagens kursutveckling
Vinnare: Medfield 20,69%, Invent Medic 17,8%, Saniona 16,6%, Lipigon 16,5%, PharmaLundensis 14,1%
Förlorare: RhoVac -93,9%, QuiaPEG -12,8%, Xbrane -12,6%, Biosergen -7,9%, Ortoma -7,7%
Prenumerera på BioStocks nyhetsbrev