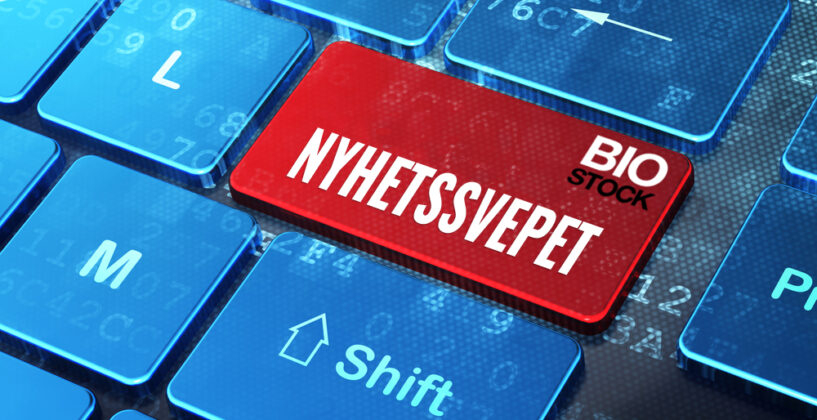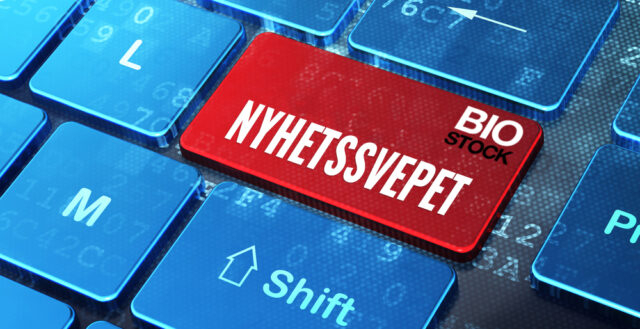 Nyhetssvepet onsdag 19 januari
Alligator Bioscience meddelar starten på ett sponsrat forskningsavtal med University of Pennsylvania under ledning av dr Gregory Beatty. Läs mer.
Cereno Scientific erhåller ytterligare patentskydd i Japan för fas II-läkemedelskandidaten CS1. Läs mer.
Carbiotix startar utvärderingsprojekt med globalt laboratorietestbolag. Läs mer.
FDA tilldelar BioInvents kandidat BI-1206 särläkemedelsstatus för behandling av follikulärt lymfom. Läs mer.
BioArctic tillkännager att DIAN-TU-studien påbörjar kombinationsstudie med lecanemab som basbehandling. Läs mer.
Aqilion stärker sitt operationella team inom preklinisk utveckling. Läs mer.
Xintela erhåller 4,8 Mkr från Vinnova. Läs mer.
Maastricht Universitetssjukhus får godkännanden att starta studie med Annexin Pharmaceuticals läkemedelskandidat, ANXV, hos patienter med covid-19. Läs mer.
Hemcheck uppnår CE märkning av sin nya produkt för blodgasmarknaden. Läs mer.
AstraZeneca publicerar data gällande Imfinzi i kombination med tremelimumab, här, och gällande Imfinzi i kombination med kemoterapi, här.
Styrelsen i Oasmia Pharmaceutical har beslutat om en nyemission av aktier med företrädesrätt för befintliga aktieägare om cirka 151 Mkr. Läs mer. Bolaget avser även att byta namn till Vivesto. Läs mer.
BICO meddelar att SCIENION inleder samarbete med Institute for Prevention and Occupational Medicine för att utveckla UROfast, en plattform för snabb diagnostik av urinblåsecancer. Läs mer.
Nanologica tecknar kreditram med huvudägare. Läs mer. Bolaget ändrar även datum för publicering av finansiella rapporter. Läs mer.
Positiva resultat från Pfizers fas III-studie av samtidig administration av pneumokockvaccinet PCV20 och Pfizer/BioNTechs vaccin mot covid-19 hos äldre. Läs mer.
DanCann Pharma informerar om lovande analysresult. Läs mer.
SciBase meddelar om förändring av ledande befattningshavare och ny chef för kvalitets- och regulatoriska frågor. Läs mer. Bolaget publicerar även ett vd-brev. Läs mer.
Bavarian Nordic har utsett Russell Thirsk till Chief Operating Officer. Läs mer.
Lumitos vd presenterar bolaget vid två tillfällen i januari. Läs mer.
Kallelser till bolagsstämmor:
Kommunikéer:
Bokslutskommunikéer:
Nyheter inkomna sedan igår lunch: 
Elicera Therapeutics har säkrat 5 Mkr i bidragsfinansiering från Vinnova för att utveckla en automatiserad tillverkningsprocess av CAR T-celler. Läs mer.
Realheart lämnade klargörande gällande medieuppgifter i UAE. Läs mer.
Christopher Robinson har tillträtt en fast anställning som CFO i Brighter. Läs mer.
Scandion Oncology kommer att presentera data från CORIST-studien vid ASCO Gastrointestinal Cancers Symposium. Läs mer.
Medicover meddelade att förvärvet av NIPD Genetics är slutfört. Läs mer.
Orphazyme gav en finansiell uppdatering gällande 2021. Läs mer.
Biohit informerade om insider transaktioner 1, 2, 3, 4, 5, 6.
Förmiddagens vinnare: Hemcheck Sweden 40%, Pila Pharma 17,2%, NeoDynamics 11,8%, Toleranzia 7,9%, Scandinavian Realheart 7,6%
Förmiddagens förlorare: Oasmia -15,3%, AlphaHelix -8,5%, iZafe Group -6,9%, Zenicor -6,3%, Enorama Pharma -5,9%
Index: OMXS30 2329 +0,28%, Hälsovård -0,19%
Prenumerera på BioStocks nyhetsbrev