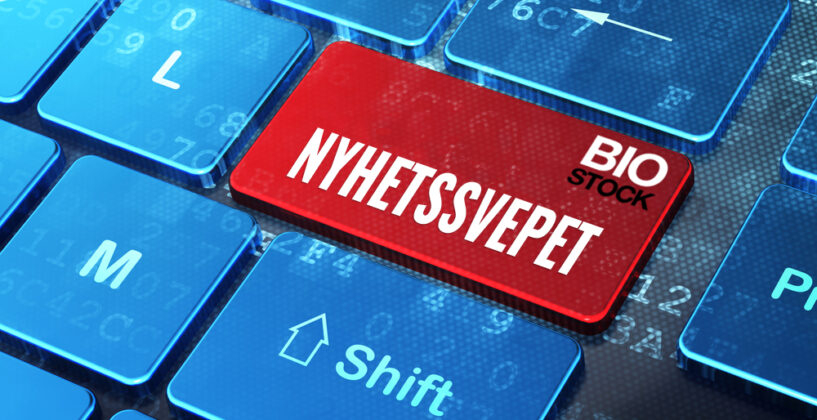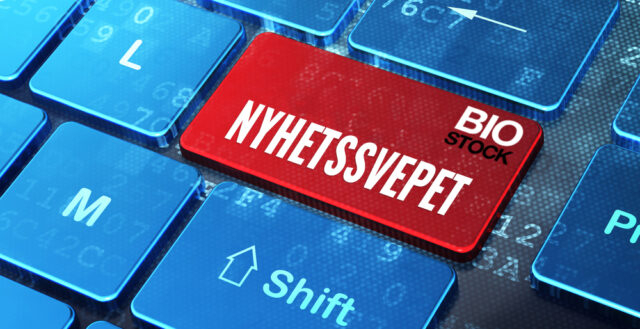 Nyhetssvepet onsdag 17 maj
Det senaste från BioStock
Läs BioStocks nyhetsbrev för v.19 här.
---
Snart dags för BioStock Life Science Spring Summit!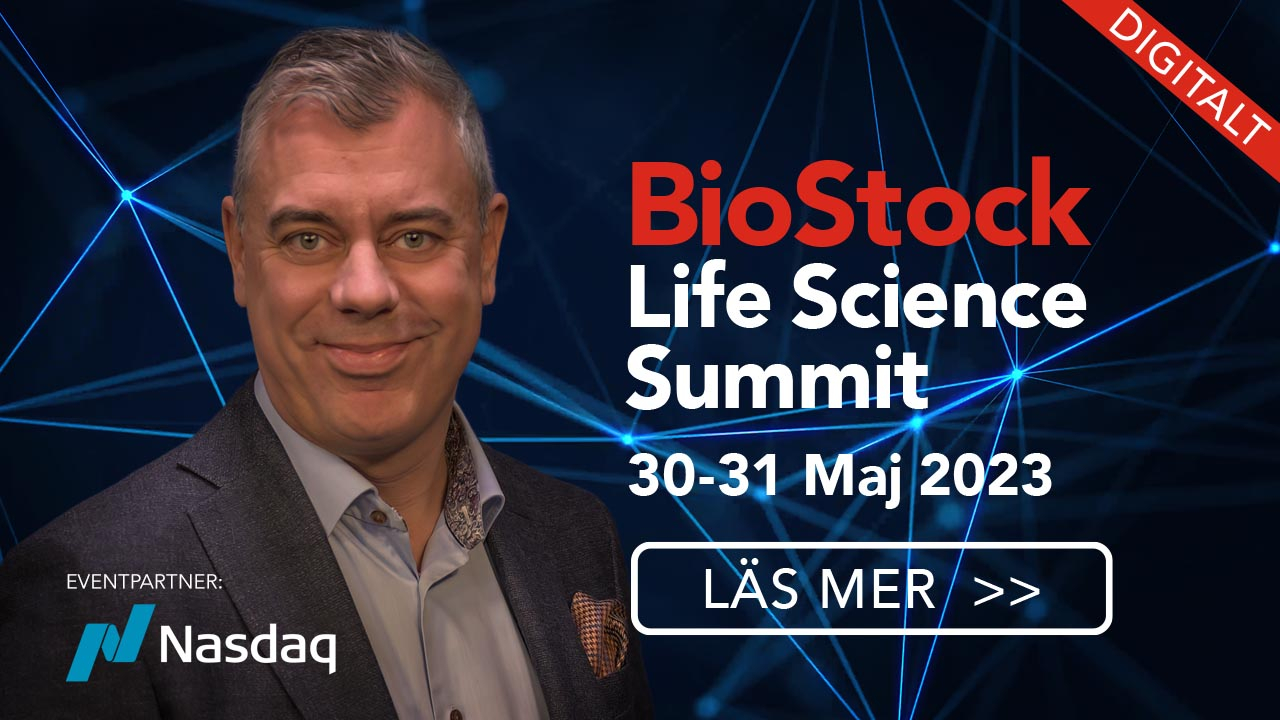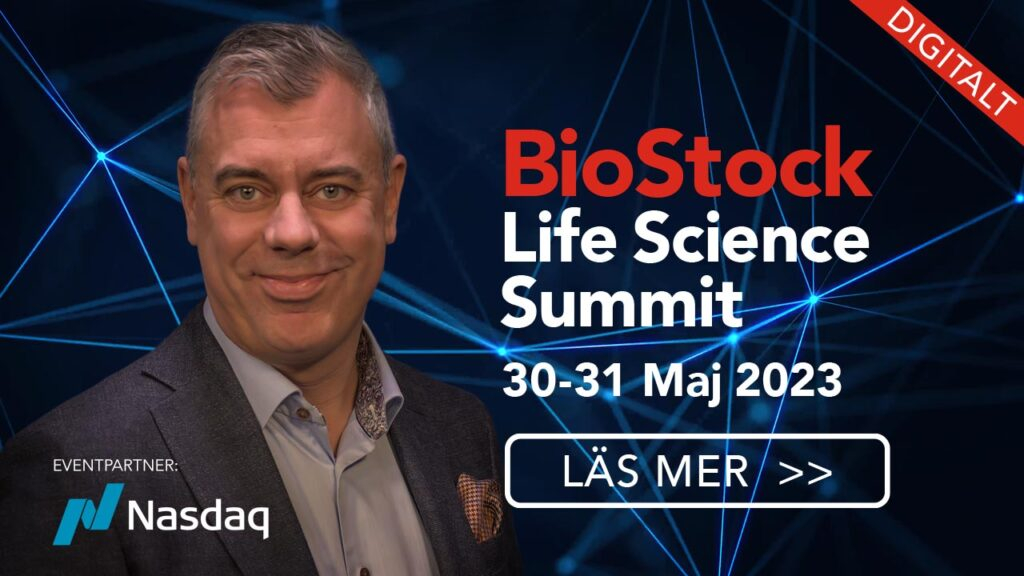 ---
Förmiddagens nyheter
Carbiotix beslutar att skala upp produktionen av CarbiAXOS från havrefiber. Läs mer. Teckningstiden i bolagets företrädesemission av units inleds idag. Läs mer.
Inför Dicots kliniska studie: studieläkemedlet har anlänt till Sverige. Läs mer.
Lipigon har valt CRO för utformning av kommande fas II-studie med Lipisense. Läs mer. Bolaget presenterar på Redeye Event. Läs mer.
Analyst Groups Aptahem-analys: Slutför snart första delen av fas I-studien. Läs mer.
BioArctics partner Eisai meddelade studieresultat av lecanemab i Japan publicerat i Neurology and Therapy. Läs mer. Bolaget har även återköpt personaloptioner av vd. Läs mer.
Moberg Pharma har beslutat om avstämningsdag för sammanläggningen av aktier. Läs mer.
AstraZenecas rapporterar resultat av Tagrisso plus kemoterapi i fas III-studien FLAURA2. Läs mer.
Sedana Medical presenterar topline-resultat från den pediatriska fas-3 studien IsoCOMFORT. Läs mer.
Calmark lanserar utökat kostnadsbesparingsprogram med fokus på ökad försäljning. Läs mer.
Teckningskurs för teckningsoptioner TO 4 B i Hamlet Pharma har fastställts till 2,32 kr per aktie. Läs mer.
Aktieanalys på AcuCort publiceras av Analyst Group. Läs mer.
Redeye har kommenterat Q1 rapporter för Genovis (Läs mer) och för Surgical Science (Läs mer).
---
Se det senaste avsnittet av Börsronden i bannern nedan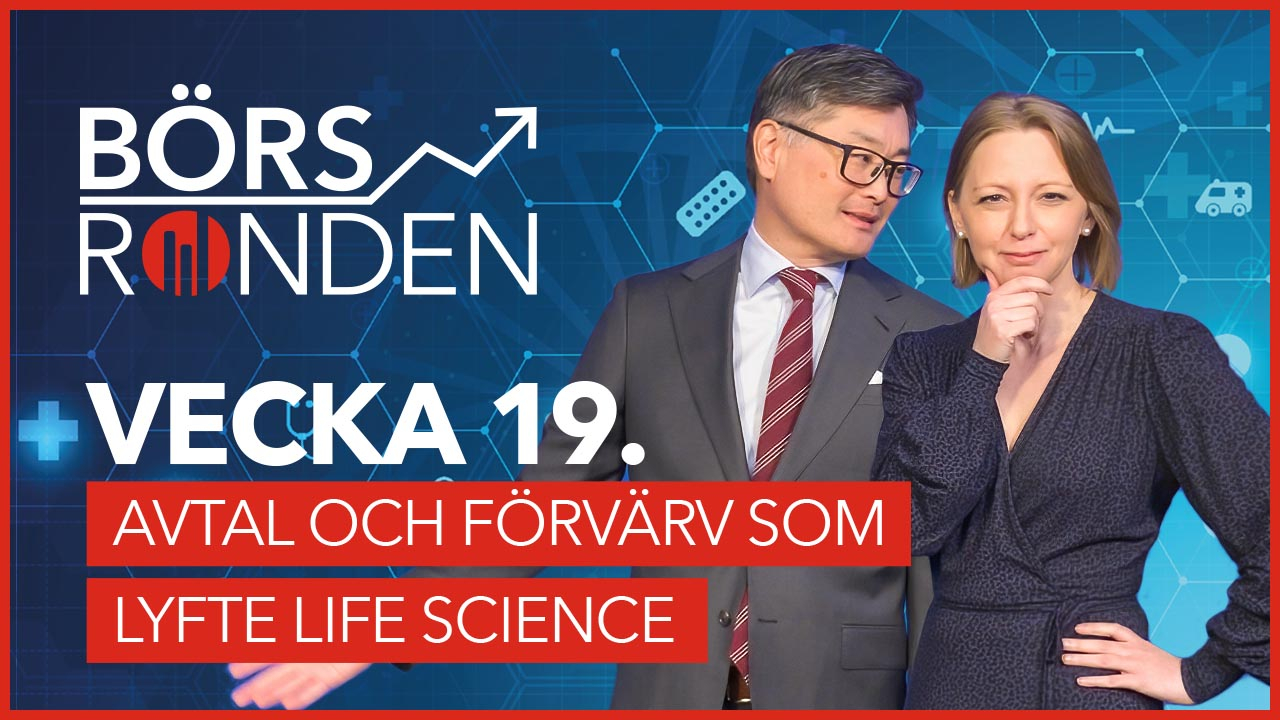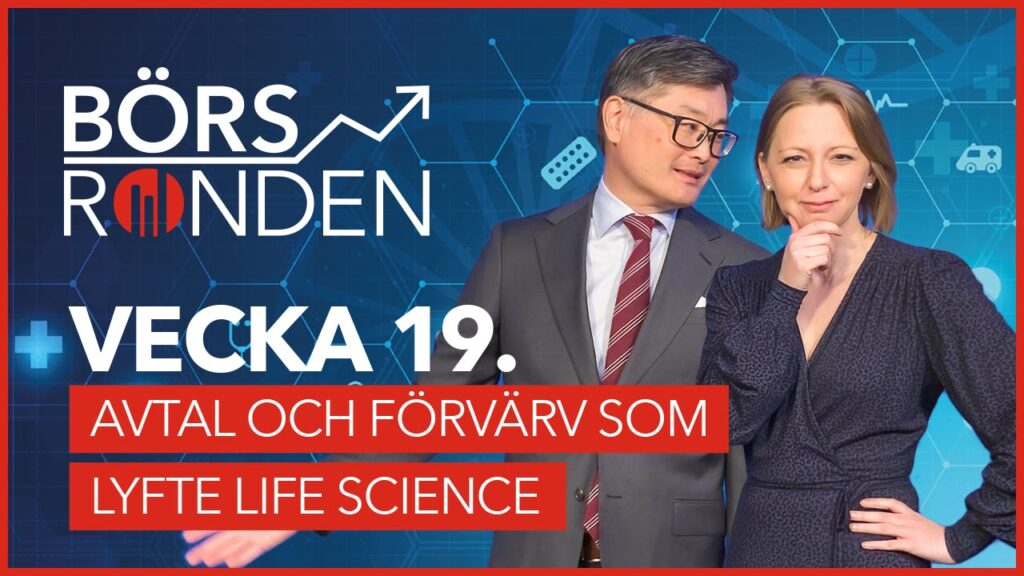 ---
Delårsrapporter:
Alzinova  Annexin  Gradientech  IRRAS  Medimi  Neola Medical  Pharmacolog  ProstaLund  RaySearch  Respiratorius  SpectraCure
Årsredovisningar:
Bolagspresentationer
Kallelser:
Insynshandel:
Kommunikéer:
Scandinavian ChemoTech  Coala-Life  Elicera Therapeutics  Genovis Inify Laboratories  iZafe  Karolinska Development  Moberg Pharma  Respiratorius  Scandinavian ChemoTech  Sedana Medical  Senzime  SpectraCure  Xspray Pharma
---
Nyheter sedan tisdag lunch
CHOSA Oncology utlicensierar cancervaccinkandidat i kliniskt stadium till Magle Group. Läs mer.
Sensidose har meddelat om Navamedics höjda offentliga uppköpserbjudande. Läs mer.
Circio har publicerat inspelning och presentation från bolagsuppdatering 16 maj. Läs mer.
Evaxion kommer att vara värd för en FoU-dag den 25 maj 2023. Läs mer.
Erik Penser har utfört analys av Klarias Q1 rapport. Läs mer.
Medivir har beslutat om emission, återköp och omvandling av C-aktier samt överlåtelse av stamaktier inom ramen för LTIP 2023. Läs mer.
IBT beslutar om en företrädesemisson. Läs mer. Bolaget har kallat till extra stämma. Läs mer .
S2Medical vinner upphandling för sårläkningsartiklar i Västra Götalandsregionen. Läs mer.
Fluicell publicerar whitepaper kring utvecklingsprogram för behandling av typ 1-diabetes. Läs mer.
Prostatype Genomics har offentliggjort slutligt utfall i företrädesemissionen. Läs mer.
IRLAB Therapeutics och McQuade Center for Strategic Research and Development har ingått avtal om utvärdering av IRLAB:s neuropsykiatriska program IRL757 och IRL942. Läs mer.
Gradientech har valt Hilja Ibert och Nedal Safwat till nya styrelseledamöter. Läs mer.
Acarix har tilldelats Business Sweden 2023 Catalyst Program Award. Läs mer.
Kalqyl har publicerat rapportkommentar för Tendos Q1. Läs mer.
Elekta har uppdaterat om kliniska användare på European Radiation Oncology Conference. Läs mer.
Erik Penser Bank har publicerat en intervju med OncoZenge. Läs mer.
---
Förmiddagens kursutveckling
Vinnare: Neola Medical 17,0%, Paxman 14,2%, Abera Bioscience 11,1%, PExA 10,7%, Mendus 9,8%
Förlorare: ProstaLund -32,6%, Calmark -23,7%, PILA Pharma -19,5%, Sedana Medical -16,2%, Lipigon -14,3%
Index: OMXS30 2 239 0,12%, Hälsovård -0,16% 
Prenumerera på BioStocks nyhetsbrev