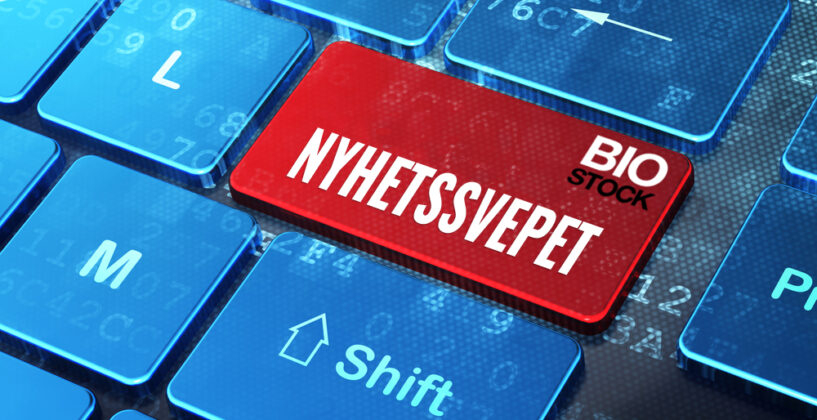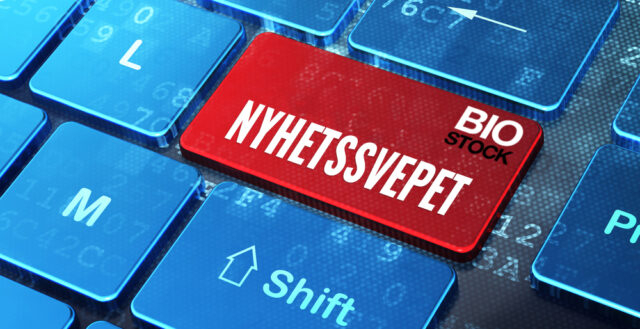 Nyhetssvepet onsdag 16 november
Det senaste från BioStock
» Cereno Scientific sammanfattar Q3
» Evaxion presenterar nytt strategiskt fokus
» Carbiotix Q3-rapport visar framsteg
» Lipums vd om potentialen för life science i Umeå
» Sensidose backar i Q3 men förväntar försäljningstillväxt

Läs BioStocks nyhetsbrev för v.45 här.
---
Den 29-30 november äger BioStock Life Science Summit rum på Medicon Village i Lund. Anmäl dig via länken i bannern nedan. Välkommen!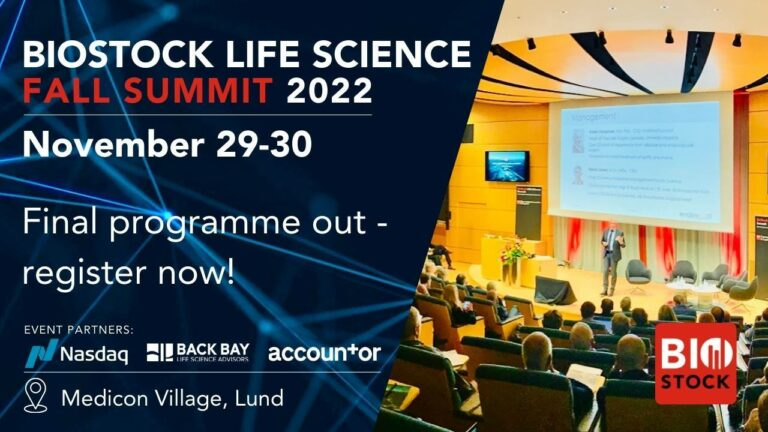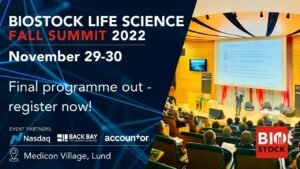 ---
Förmiddagens nyheter
Elicera Therapeutics medgrundare får ytterligare bidrag på totalt 7,65 MKr från Cancerfonden för att stödja CAR T-forskning. Läs mer.
Mendus anordnar ett webbsänt event med key opinion leaders inom immunoterapi den 30 november. Läs mer.
Studie vid Karolinska Institutet visar på fördel med Learning2Sleep's behandling av sömnproblem. Läs mer.
Scandinavian Biopharma ingår ett kommersiellt samarbete med Novavax i Sverige. Läs mer.
Enzymatica och University of Kent startar studie som ska undersöka förebyggande av virusinfektioner i de övre luftvägarna hos elitidrottare. Läs mer.
Nya europeiska kliniska riktlinjer för patientövervakning stödjer Senzimes TetraGraph. Läs mer.
Peter Åkerlund utses till tillförordnad CFO för Iconovo. Läs mer.

Bioservo lyfter fram samarbetet med Arbetsförmedlingen avseende Carbonhand. Läs mer.
Immunovias vd har köpt teckningsoptioner med ett värde om ca 0,3 Mkr. Läs mer.
Nanexa och VitriVax har nått en lösning på patentintrångsprocessen. Läs mer.
RaySearch har publicerat preliminärt resultat för tredje kvartalet 2022 samt senarelägger rapportdatum. Läs mer.
Lumito presenterar på Mangold Insights Investerardag idag. Läs mer.
Idag håller Episurf Medical kapitalmarknadsdag. Läs mer.
Medivir presenterar vid Redeye Life Science Day den 24 november. Läs mer.
Dignitana anställer Johan Johansson som bolagets Vice President of Operations, Research and Development. Läs mer.
Ny studie från Linköpings universitet visar att covid-19 aktiverar latenta virus, särskilt hos ME-patienter. Läs mer.
---
---
Nyheter sedan tisdag lunch
WntResearch har meddelat om reviderande av studieplan för fas II-studien NeoFox, vilket ger tids- och kostnadsbesparingar. Läs mer.
Dicots senaste studie visar att verkningsmekanismen hos LIB-01 skiljer sig från den hos dagens potensläkemedel. Läs mer.
IRLAB har rapporterat om nya prekliniska data som visar på mesdopetams effekt vid parkinsonpsykos och PD-LIDs. Läs mer.
Spermosens har föreslagit en företrädesemission om 24 Mkr. Läs mer. Bolaget kallar till extra bolagsstämma. Läs mer.
Paxmans Limb Cryocompression System har var valts ut av SWOG Cancer Research Network till studie av förebyggande av cellgiftsinducerad perifer neuropati. Läs mer.
Ytterligare finansiering och förestående uppskalning av försäljningen tillkännages av Stenocare. Läs mer.

Ett tilläggsprospekt avseende företrädesemissionen har offentliggjorts av Redwood Pharma. Läs mer.
Diagonal Bio har designregistrerat kassett med provtagningsbehållare för Panviral i Europa. Läs mer.
Optomed uppdaterar kring FDA-processen. Läs mer.
Coala Life har ingått konvertibel lånefacilitet om 25 Mkr med befintliga aktieägare. Läs mer.
AstraZeneca har rankats i topp tre i den oberoende rankingen Access to Medicine Index. Läs mer.
---
Förmiddagens kursutveckling
Vinnare: Medimi 48,0%, Alzinova 15,3%, Senzime 13,1%, WntResearch 12,5%, RaySearch 10,8%
Förlorare: Spermosens -51,2%, ObsteCare -40,3%, EURIS -33,0%, Acarix -11,5%, Odinwell -10,3%
Index: 2089 -0,41%, Hälsovård -0,97%
---
Mer från BioStock
» BiBBInstruments kommenterar Q3-rapporten
» Växande intresse för myastenia gravis
» Ultimovacs redo för nästa steg i den kliniska utvecklingen
» Patientperspektivet i fokus när Abliva designar fas II/III-studie
» Regulatoriskt fokus för Neola Medical
Prenumerera på BioStocks nyhetsbrev