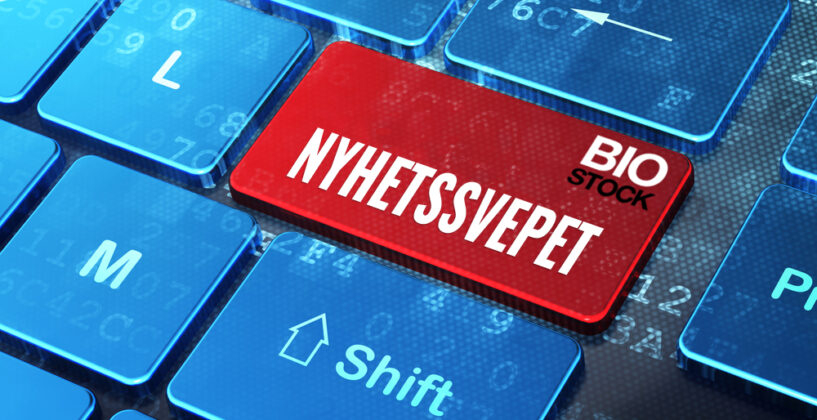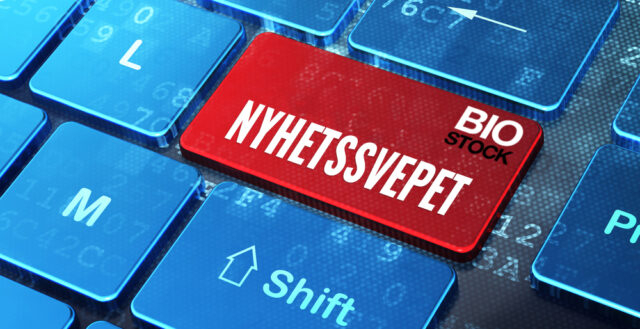 Nyhetssvepet fredag 22 april
Det senaste från BioStock
AlzeCure publicerar nya data kring Alzstatin från vetenskaplig Alzheimer-konferens. Läs mer.
Annexin tillkännager ett preliminärt godkännande av ett nytt amerikanskt patent som omfattar tillverkning av ANXV. Läs mer.
Chordate Medical meddelar att patientstudien nu är färdigrekryterad. Läs mer.
Coegin Pharma förbereder en fas IIa-studie med AVX001 för behandling av basalcellscancer. Läs mer.
Curasight meddelar att en patentansökan avseende uTRACE godkänts i USA. Läs mer.
Miris tidigarelägger kvartalsrapporten avseende det första kvartalet 2022. Rapporten publiceras fredag den 29 april 2022. Läs mer. Miris kallar även till årsstämma tisdagen den 24 maj 2022. Läs mer.
Pila Pharma bygger pipeline – ansöker om Orphan Drug Designation (särläkemedelsstatus) vid U.S. Food and Drug Administration, FDA, för utvecklingskandidaten XEN-D0501. Läs mer.
Ultimovacs meddelar om amerikanskt patent på kombinationer av vaccin-checkpoint-hämmare som omfattar cancerbehandlingar som inkluderar bolagets UV1-peptidvaccin. Läs mer.
Alligator Bioscience bjuder in till telefonkonferens för att presentera delårsrapport onsdagen den 27 april 2022 klockan 15:30 CET. Läs mer.
Prolight Diagnostics har släppt video om förvärvet av Psyros. Läs mer.
Lipigons vd Stefan K. Nilsson medverkar på Redeyes investerarevent. Läs mer.
IRLAB genomför förvärv kopplat till utveckling av innovativ kemi och patent i P003-projektet som är inriktat mot behandling av Parkinsons sjukdom. Läs mer.
Orions samarbetspartner Bayer lämnar in ansökan om ytterligare indikation på Darolutamid i Kina. Läs mer.
Kommande rapportpresentationer:
Bactiguard  ContextVision  SoftOx Solutions
Delårsrapporter: ADDvise Group  Arjo  Medfield Diagnostics  Vitrolife
Kallelser till bolagsstämmor: 2cureX  Arctic Bioscience  Lifecare  Lumito  Miris  Raysearch Laboratories  
Kommunikéer: Carbiotix  Herantis Pharma  Orexo  Q-Linea  Ultimovacs
Meddelanden om aktietransaktioner: Arctic Bioscience  Ultimovacs
Nyheter inkomna sedan torsdag lunch:
Respiratorius har meddelat att sista dag för handel med betalda tecknade aktier BTA är den 25 april 2022. Läs mer. Bolaget har även meddelat att de övergått till brutet räkenskapsår (1 maj–30 april) och inte kommer att släppa delårsrapport för perioden 1 januari – 30 mars 2022. Läs mer.
RhoVac har meddelat att sista dag för handel med BTU (Betald Tecknad Unit) är den 26 april 2022 och stoppdag är den 28 april 2022. Första dag för handel med konvertibler är den 2 maj 2022. Läs mer.
Faron Pharmaceuticals har meddelat att de presenterar resultat från Melanoma Cohort av MATINS-fas III studie på Congress of the European Association of Dermato-Oncology (EADO). Läs mer.
AddLife har utsett Fredrik Dalborg till ny vd och koncernchef för bolaget efter Kristina Willgård som tidigare meddelat sitt beslut att avgå senast under 4Q 2022. Läs mer.
Q-linea har meddelat att bolaget presenterar på branschmässan European Congress of Clinical Microbiology & Infectious Diseases (ECCMID) i Lissabon 23–26 april 2022. Läs mer.
Monivent har inlett ett samarbete med diskussionsplattformen Axyer. Läs mer.
Förmiddagens vinnare:  FRISQ 11,0%, BrainCool 8,8%, ADDvise 7,8%, Double Bond Pharmaceutical 7,28%, ADDvise Group 6,49%
Förmiddagens förlorare:  S2Medical -12,4%, AlphaHelix -9,4%, Biovica -8,6%, Vitrolife -8,5%, Zenicor -6,8%
Index: OMXS30 2111 -0,73%, Hälsovård -1,92%
Prenumerera på BioStocks nyhetsbrev