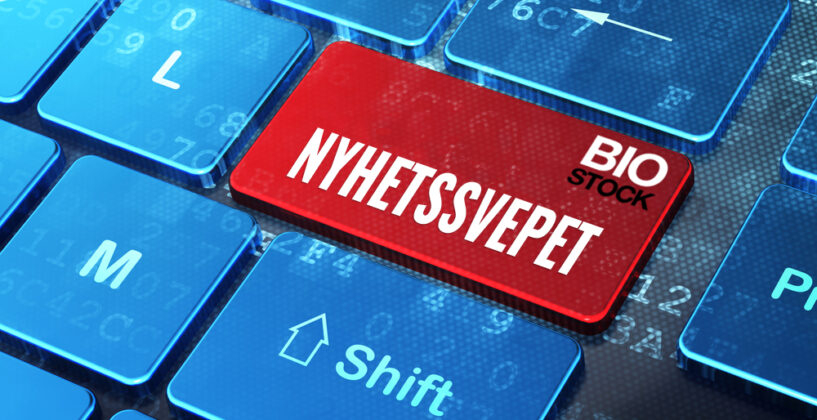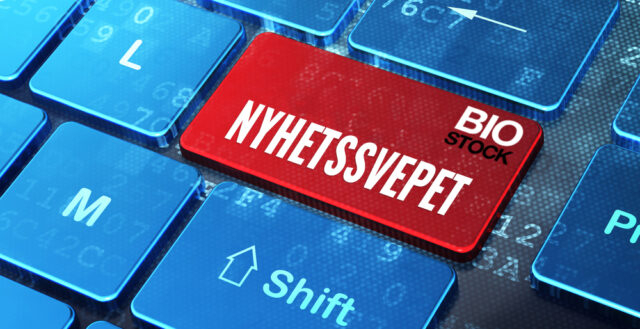 Nyhetssvepet tisdag 15 mars
De senaste artiklarna från BioStock
» Evaxion slutför patientrekryteringen till EVX-02
» AlzeCures företrädesemission accelererar multipla projekt
» Tongivande transplantationskirurg uttalar sig om Idogens cellterapi
» BioStock Studio: AlzeCures vd kommenterar finansieringen
» BioInvent presenterar flera projekt på AACR:s årsmöte
Läs BioStocks nyhetsbrev för v.10 här. 
Missa inte årets första digitala BioStock Investor Meeting den 16 mars med presentationer från flera ledande life science-bolag. Följ eventet här eller via bannern nedan.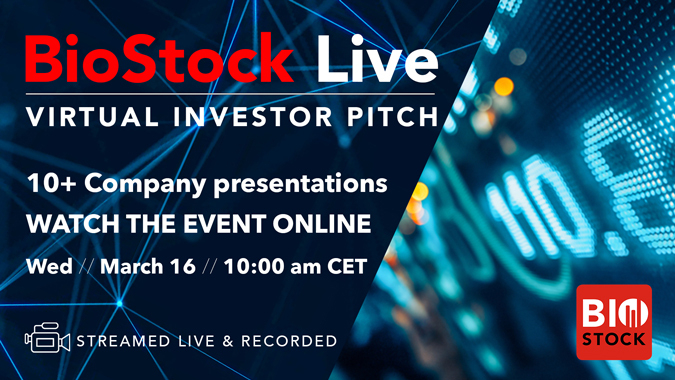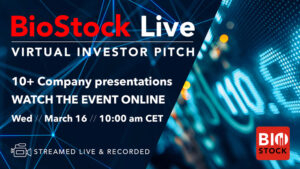 PolarCool och Love of the Game startar samarbete med fokus på hjärnskakningar inom sport. Läs mer.
NeoDynamics startar bolag i USA. Läs mer. HC Andersen Capital intervjuade bolagets vd Magnus Precht. Läs mer.
Nytt patentbeviljande i Kina för Episurf Medical. Läs mer.
Brain+ och Biogen förbereder för kommersialisering i Tyskland. Läs mer.
Fortsatt försäljningstillväxt för Phase Holographic Imaging. Läs mer.
Ny studie som använt Attanas teknologi för att utveckla syntetiska antikroppar har publicerats. Läs mer.
Elekta och IBA samarbetar för att optimera kvalitetssäkring inom strålbehandling. Läs mer.
Arctic Bioscience har erhållit positiv feedback från European Medicines Agency. Läs mer.
AlzeCure presenterar nya kliniska data med ACD856 på Alzheimer-konferens. Läs mer.
Lipidor meddelar att djurhälsobolaget Emollivet tar in kapital och förstärker teamet. Läs mer.
Stayble Therapeutics presenterade på Aktiedagen Stockholm 2022. Läs mer.
LIDDS lanserar ny hemsida. Läs mer.
Lytix Biopharma informerade om optionsinlösen. Läs mer.
Mangold Insight Analys kommenterar 2cureX. Läs mer.
Kommunikéer:
Coala Life  Herantis Pharma  Respiratorius
Rapporter:
Nyheter inkomna sedan igår lunch: 
QuiaPEG har förstärkt teamet inom affärsutveckling. Läs mer. Bolaget kommer att presentera vid Aktiedagen och Biostock Investor Meeting. Läs mer.
Biovica meddelade att man etablerar amerikanskt CLIA-labb för att förstärka lanseringen av DiviTumTKa. Läs mer.
Europeiska patentmyndigheten har meddelat att den kommer godkänna Pharmivas FOAM I-patent. Läs mer.
PharmaLundensis styrelseordförande Arne Skogvall har via bolag förvärvat 268 000 PharmaLundensis-aktier. Läs mer.
ADDvise Group har genomfört en riktad emission om 100 Mkr. Läs mer.
Targovax föreslår avknoppning av operationella verksamheter till det helägda dotterbolaget Targovax Solutions. Läs mer.
Eurocine Vaccines presentation på Aktiedagen Stockholm. Läs mer.
Össur informerade om bolagets aktieåterköpsprogram. Läs mer.
Observe Medical informerade om insidertransaktioner. Läs mer.
CS MEDICA har donerat produkter till organisationen Bevar Ukraine. Läs mer.
Genmabs styrelse har föreslagit att Elizabeth O'Farrell väljs in i styrelsen. Läs mer.
Pierre Fabre tillkännagav studieresultat gällande neratinib. Läs mer.
VIDEM reser 5 Mkr till diagnostik av infektionssjukdomar. Läs mer.
Analyst Group intervjuade Obducats vd Patrik Lundström. Läs mer.
BlackRock har flaggat ned i Novo Nordisk. Läs mer. Novo Nordisk informerade även om sitt aktieåterköpsprogram. Läs mer.
Även Coloplast informerade om sitt aktieåterköpsprogram. Läs mer.
Photocure informerade om ökat aktiekapital via optioninslösen. Läs mer.
Förmiddagens vinnare: PolarCool 8,7%, Pharmiva 7,9%, AroCell 7,5%, Phase Holographic Imaging 6,9%, ObsteCare 4,9%
Förmiddagens förlorare: ScandiDos -15,7%, GPX Medical -9,8%, AlphaHelix -9,7%, Respiratorius -9,3%, QuiaPEG -8,3%
Index: OMXS30 2045 -2,45%, Hälsovård -2,19%
Prenumerera på BioStocks nyhetsbrev