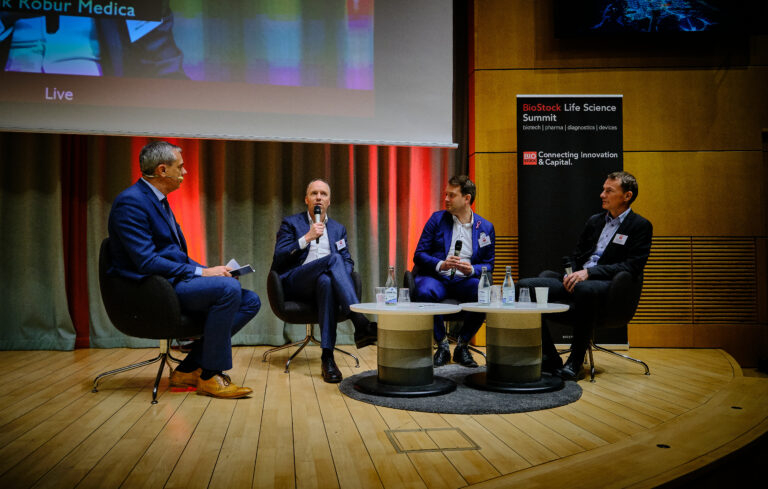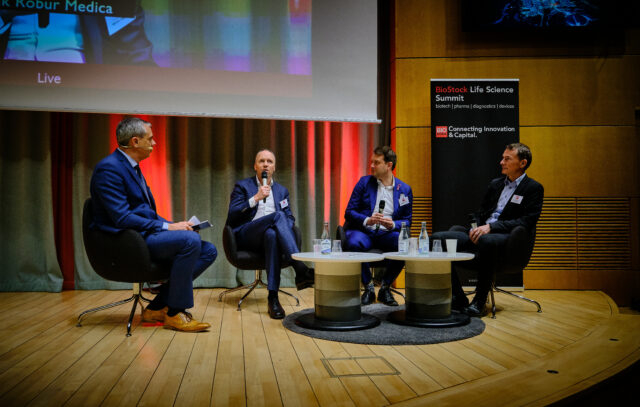 BLSS-videor: fondförvaltare med life science-fokus optimistiska till det nordiska investeringslandskapet
BioStock Life Science Summit fortsatte raden av paneldiskussioner med ett intressant samtal mellan representanter för några av de största skandinaviska fonderna med life science-fokus. Alla panellister uttryckte optimism om det nordiska investeringslandskapet, trots ett finansieringsgap jämfört med USA. De gav dessutom mycket insiktsfulla tips till de bolag som söker nya investerare. Se videon nedan!
Temat för den andra paneldiskussionen på BioStock Life Science Summit 2019 var Investing in Innovations – From discovery to market. Mattias Häggblom från Swedbank Robur Medica, Daniel Bolanowski från Arctic Aurora LifeScience och Claus Johansen från Danske Bank gav alla sina insikter om vad fonder som deras tittar på inför ett investeringsbeslut.
Inledningsvis fick deltagarna dela med sig av sin uppfattning om det konkurrenskraftiga biomedicinska landskapet i Norden och om detta rådde en generell positivitet. Samtidigt uttryckte alla panellister oro för finansieringsgapet mellan amerikanska och europeiska företag där man i USA ser en bättre omvandling av akademiska upptäckter till affärsmöjligheter.
Panelen pratade sedan om vilka "röda flaggor" de letar efter när de är i kontakt med bolag inför en potentiell investering. Det kan t.ex. röra sig om en bristande transparens gällande bolagets projekt eller dålig närvaro på medicinska konferenser, som ofta utgör det verkliga kvittot på projektets potential. Mattias Häggblom betonade hur viktigt det är för bolagen att inte lova för mycket och därmed ge upphov till missvisande förväntningarna. Tankebanan sammanfattades i hans tips till kapitalsökande bolag att ständigt "underpromise and overdeliver."
Därtill nämndes det faktum att fondförvaltare vanligtvis letar efter långsiktiga relationer, d.v.s. relationer som sträcker sig över minst 3 år, med de bolag de investerar i. Man är alltså – generellt – inte ute efter kortvariga investeringsmöjligheter.
Slutligen delade alla paneldeltagare med sig av vilka innovationer de skulle satsa på just nu, och i detta sammanhang fick genterapi flesta omnämnanden. Andra områden som nämndes var kardiovaskulära terapier och behandlingar som riktar in sig på det centrala nervsystemet.
Se hela paneldiskussionen nedan.

Prenumerera på BioStocks nyhetsbrev