BioStock Life Science Fall Summit 2022
We proudly welcome you to the 5th annual fall edition of the BioStock Life Science Summit at Medicon Village in Lund on November 29-30! This year, we will meet in person, as more than 40 listed and private companies from a wide range of therapeutic areas present their innovations and business cases to invited investors. In addition, the programme includes insights from professional investors and sector experts. The event is fully booked, but please sign up for the waiting list if you are interested in attending! 
The event
The BioStock Life Science Fall Summit is the premier showcase platform for early- and growth stage life science companies in the Nordics. It is an in-person event and the 2022 edition will be hosted at the innovation super-cluster Medicon Village in Lund on November 29 and 30.
The Summit programme features showcases from more than 30 private and listed life science companies. The programme will also provide crucial insights on life science investments, capital raising and market trends, with an exclusive focus on the Nordic ecosystem.
Take the opportunity to listen to, mingle with and maybe even pitch to industry experts, business developers, financing professionals and investors on every level.
Programme
DAY 1: TUESDAY, NOVEMBER 29
08:00 Registration, breakfast & networking
09:00 Welcome 09:05 Evaxion Biotech – Per Norlén, CEO
09:25 PharmNovo – Per Von Mentzer, CEO
09:45 Ziccum – Ann Gidner, CEO
10:05 BioInvent – Martin Welschof, CEO
10:25 Break & networking
10:50 Amniotics – Marcus Larsson, CEO
11:10 Idogen – Christina Herder, Interim CEO
11:30 Lipum – Einar Pontén, CEO
11:50 ClexBio – Armend Håti, CEO
11:55 Pharma Holdings – Christian Lütken, CEO
12:00 Lunch & networking
12:45 Ectin Research – Anna Sjöblom Hallén, CEO
13:05 Ultimovacs ASA – Carlos de Sousa, CEO
13:25 Sprint Bioscience – Erik Kinnman, CEO
13:45 Kongsberg Beam Technology – Kerstin Jakobsson, CEO
13:50 XNK Therapeutics – Johan Liwing, CEO
13:55 Break & networking
14:20 Panel: "Financing the life science ecosystem – valuation, investor sentiment and market trends"

featuring

Benjamin Nordin, Head of Healthcare Investment Banking,

ABG Sundal Collier

; Dan Bergström, Project Leader Life Science,

Erik Penser Bank

; Jacob Lindberg, Head of Equity Sales,

Sedermera Corporate Finance

; Anna Boqvist, Head of Healthcare ECM,

Carnegie

.
14:50 WntResearch – Pernilla Sandwall, CEO
15:10 Emplicure – Håkan Engqvist, CEO
15:30 PharmNovo – Per Von Mentzer, CEO
15:35 PainDrainer – Erik Frick, CEO
15:40 iCoat Medical – Peder Waern, CEO
15:45 Paus & nätverkande
16:10 AroCell – Anders Hultman, CEO
16:30 Stock Market Outlook –  A live interview with Carsten Borring, Head of Listings & Capital Markets Nasdaq Copenhagen
16:50 Concluding remarks
17:00 After work & networking
DAY 2:  WEDNESDAY, NOVEMBER 30
08:00 Registration, breakfast & networking
09:00 Welcome 09:05 LIDDS – Anders Månsson, CEO
09:25 Cyxone – Carl-Magnus Högerkorp, Interim CEO
09:45 Xintela – Evy Lundgren-Åkerlund, CEO
10:05 Colzyx – Karin Bryder, CEO
10:10 Selcis Biopharma – Alexandra Ellervik, CEO
10:15 Acorai – Kasper Bourdette, co-founder
10:20 Break & networking
10:45 Lumito – Mattias Lundin, CEO
11:05 Neola Medical – Hanna Sjöström, CEO
11:25 Cantargia – Göran Forsberg, CEO
11:45 Keynote

speaker:

 Jonathan P

Gertler

,

Managing

Partner & CEO Back Bay Life Science Advisors
12:15 Lunch & networking
13:00 Alligator Bioscience – Søren Bregenholt, CEO
13:20 Pharmiva – Anna Linton, CEO
13:40 Chordate Medical – Anders Weilandt, CEO
14:00 Adjutech Pharma – Bjørn Klem, CEO
14:05 Thelper – Katja Vetvik, CEO
14:10 Oncorena – Börje Haraldsson, CEO
14:15 Break & networking
14:40 ExpreS2ion Biotechnologies – Bent U. Frandsen, CEO
15:00 Miris – Camilla Sandberg, CEO
15:20 Theracule – Alexander Crawford, CEO
15:25 Liita Care –  Martin Ohrt, CEO
15:30 Asgard Therapeutics – Cristiana Pires, CEO
15:35 Break & networking
16:00 Panel: "

Attracting

venture

capital

in a market

downturn

–

opportunities

&

challenges

" featuring

 Johan Kördel, Managing Partner, Sound Bioventures; Miao He, Senior Investment Associate, Hadean Ventures; Peter Wolpert, CEO, Industrifonden; Tobias Horneman-Thielcke, Partner, Eir Ventures.
16:30 CLS – Dan Mogren, CEO
16:50 Respiratorius – Johan Drott, CEO
17:10 Concluding remarks
17:15 After work & networking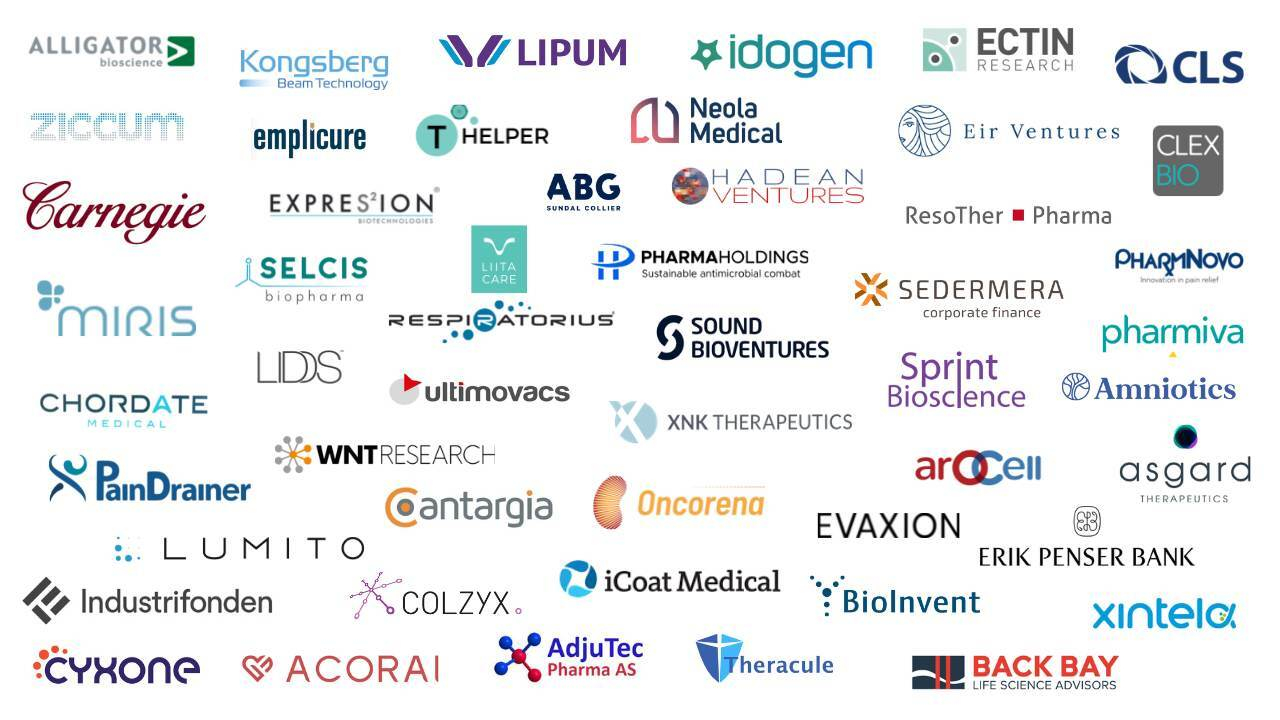 Event details
Where? Medicon Village, Lund (The Inspira building)
When? November 29-30, 2022. Registration from 8am, programme from 9am-5pm
How?

We meet in person (post-event recordings will be available at biostock.se)

Breakfast, lunch, coffee/tea

and something sweet to go with are included.
Event partner
BioStock Life Science Summit 2022 is presented in collaboration with Nasdaq Nordic, Back Bay, Accountor and Haeger & Carlsson.

Take the opportunity to listen to, mingle with and maybe even pitch to investors, industry experts, business developers and financing professionals. The Summit offers a dynamic atmosphere allowing for spontaneous meetings between interested parties. The number of slots are limited and pre-registration is required – register now to secure your spot! See you in Lund on November 29 & 30!