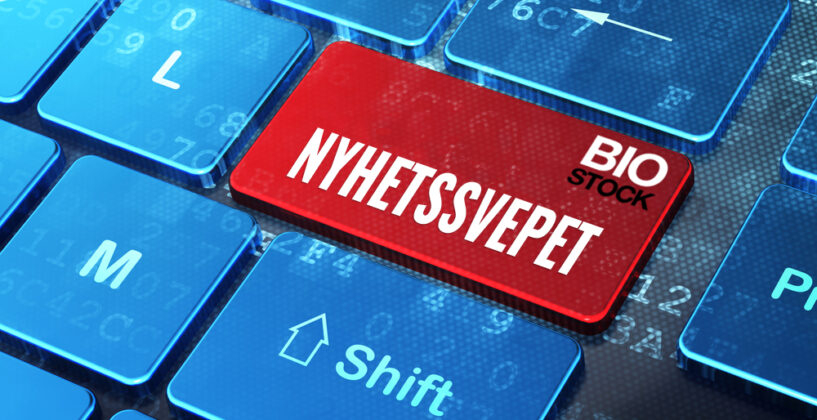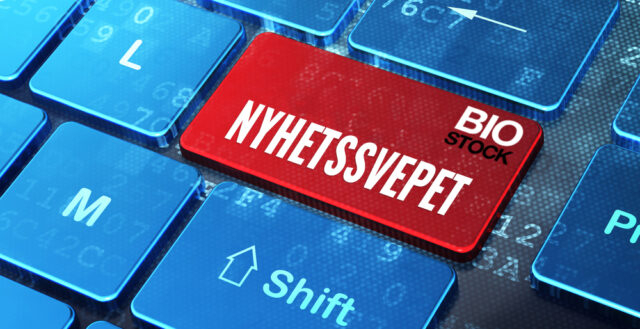 Nyhetssvepet fredag 28 januari
Calliditas Therapeutics tillkännager kommersiell tillgänglighet och första försäljning av TARPEYO. Läs mer.
IRRAS rapporterar behandling av de första patienterna i ACTIVE-studien. Läs mer.
Faron Pharmaceuticals informerar om utdelning av optioner. Läs mer.
Inbjudan till presentation i samband med EQL Pharmas kvartalsrapport, tredje kvartalet, 2021/22. Läs mer.
Diagonal Bio presenterar på Aktiedagen Lund. Läs mer.
Rapporter:
Nyheter inkomna sedan igår lunch: 
Curasight meddelade uppmuntrande resultat från fas II-studie med uPAR-PET. Läs mer.
Coegin Pharma beslutade om emission av fusionsvederlag. Läs mer.
BrainCool förstärker och utökar ledningsgruppen med fyra nyrekryteringar. Läs mer.
Newbury Pharmaceuticals emission övertecknades. Läs mer.
SyntheticMR meddelade att studien HEALthy Brain and Child Development har valt att använda sig av deras mjukvara SyMRI. Läs mer.
AroCell offentliggjorde prospekt med anledning av förestående företrädesemission. Läs mer.
ViroGates meddelade att man erhållit en ny spansk kund. Läs mer.
Positivt utlåtande från CHMP för Pfizers tablettbehandling mot covid-19. Läs mer.
SpectraCure har anställt Kristina Hallerström i rollen som Chief Marketing & Communications Officer. Läs mer.
Brain+ har utsett Bertil S. Jessen till Chief Financial Officer. Läs mer.
Nyttjandeperioden för Prostatype Genomics teckningsoptioner av serie TO 1 har inletts. Läs mer.
Raytelligence omstrukturerar verksamheten. Läs mer.
BerGenBio informerade om ökning av aktiekapitalet. Läs mer.
Black Rock har flaggat ner i Orion Corporation. Läs mer.
Eurocine Vaccines kommer att presentera på Aktiedagen Lund nu på måndag den 31 januari. Läs mer.
Devyser Diagnostics meddelade att bolaget kommer att presentera på Aktiespararnas investerardag Aktiedagen Lund den 31 januari. Läs mer
Förmiddagens vinnare: BBS-Bioactive Bone Substitutes 9,9%, Follicum 9%, Aptahem 8,7%, Dicot 7,2%, Spermosens 6,5%
Förmiddagens förlorare: Raytelligence -11,9%, Double Bond Pharma -5,2%, IRRAS -5,2%, Ortoma B -4,9%, Miris -4,4%
Index: OMXS30 2252 -0,72%, Hälsovård +0,13%
Prenumerera på BioStocks nyhetsbrev