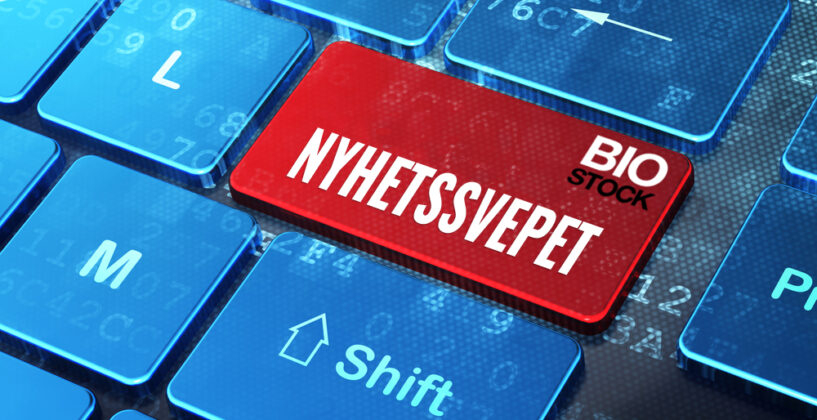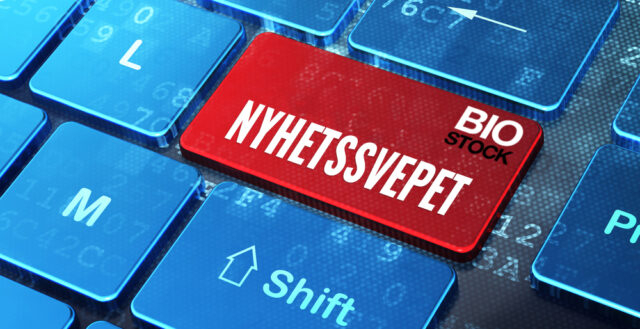 Nyhetssvepet onsdag 2 november
Det senaste från BioStock
» Fokus på produktion för Toleranzia under Q3 
» BioStock Investor Pitch: DanCann Pharma
» Stärkta finanser och kliniska framsteg för BioInvent under Q3 
» BrainCools vd om företrädesemissionen 
» Sprint Bioscience om portföljen, partnering och pågående emission 

Läs BioStocks nyhetsbrev för v.43 här.
---
Den 29-30 november äger BioStock Life Science Summit rum på Medicon Village i Lund. Anmäl dig via länken i bannern nedan. Välkommen!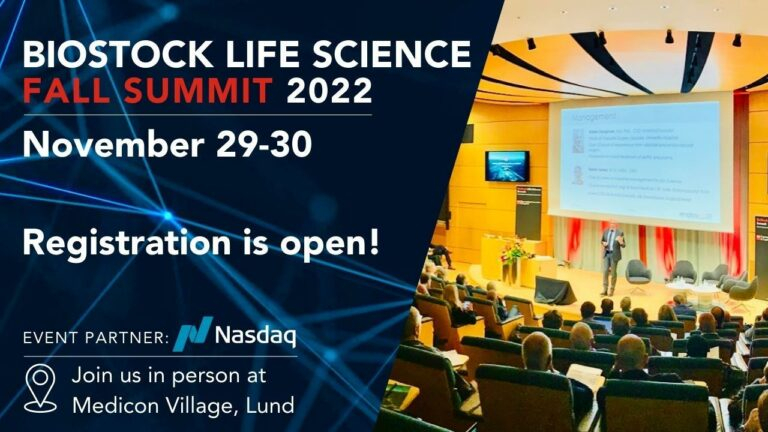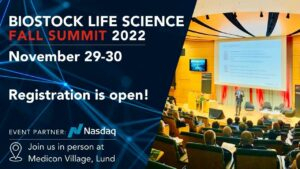 ---
Förmiddagens nyheter

Alligator Bioscience meddelar att en publikation i den expertgranskade tidskriften Journal for ImmunoTherapy of Cancer belyser bispecifika antikroppar som riktar sig mot CD40 och tumörantigener. Läs mer.
Brighter beviljas företagsrekonstruktion. Läs mer.
Styrelsen i Cline Scientific beslutar om företrädesemission av aktier om cirka 17 Mkr. Läs mer.
Genetic Analysis publicerar information avseende nyttjandeperiod av teckningsoptioner av serie TO 1. Läs mer.
AI Medical Technology får ISO 13485:2016-certifiering. Läs mer.
Integrum meddelar att University Hospital of Regensburg har genomfört sin första operation med OPRA Implant System. Läs mer.
Finansinspektionen har publicerat ett flaggningsmeddelande i Episurf Medical. Läs mer.
Faron Pharmaceuticals presenterar på SITC. Läs mer.
---
Rättelser:
Kallelse till stämma:
Valberedningar:
Kommunikéer:
Inbjudningar till rapportpresentation:
Förändring av eget kapital och aktier:
---
Nyheter sedan tisdag lunch
BrainCool publicerade ett pressmeddelande i USA om FDA-godkännande och lansering av Cooral System. Läs mer. Bolaget meddelade även att en ny publikation med RhinoChill visar att kylning kan sättas in ännu tidigare. Läs mer.
Promore Pharma har uppdaterat om sin kliniska fas II-studie med Ensereptide. Läs mer.
Agneta Edberg har utsett till ny styrelseordförande i Idogen. Läs mer.
Pharmacolog har tillsatt ny Director of QA-RA. Läs mer.
Hemcheck Sweden har erhållit certifikat enligt kvalitetsstandarden ISO 13485. Läs mer.
ScandiDos har fått en order på 377 500 euro från Japan. Läs mer.
Arcomas styrelse beslutade om en riktad nyemission och föreslog teckningsoptionsprogram till tillträdande vd. Läs mer.
Novozymes har utnämnts till EPA Safer Choice Partner of the Year för andra året i rad. Läs mer.
QuiaPEG tecknade Letter of Intent med kinesiskt läkemedelsbolag för tillverkning av QPG-1030 med möjlighet att förvärva en licens för den kinesiska marknaden. Läs mer.
LYTIX bjöd in till kapitalmarknadsdag i Oslo 22 november. Läs mer.
Zealand Pharma meddelade att de presenterar på Obesity Societys årsmöte. Läs mer.
Q-linea har erbjudits ett lån på 100 Mkr av huvudägaren Nexttobe. Läs mer.
Bioextrax meddelade att två av bolagets aktieägare genom företrädesemission har passerat flaggningsgränsen om 10 procent av antalet aktier och röster i bolaget. Läs mer.
2cureX bjöd in till Strategy Deep-Dive. Läs mer.
Devyser Diagnostics utsåg John Murad till General Manager i USA. Läs mer.
Getinge publicerade Ethics & Compliance Rapport. Läs mer.
Pihlajalinna publicerade finansiell rapportering och årsstämma för 2023. Läs mer.
Demant publicerade förhandsmeddelande om delårsrapport för Q3 2022 och uppdaterade utsikter. Läs mer.
---
Förmiddagens kursutveckling
Vinnare: Brighter 41%, DexTech Medical 31,4%, Alteco 26,7%, Scandion Oncology 15,8%, SelectImmune Pharma 11%
Förlorare: Cline Scientific -20,6%, Redwood Pharma -17%, ObsteCare -15,4%, Calmark -13,6%, Enzymatica -11,8%
Index: OMXS30 1 986 0,57%, Hälsovård 0,65% 
---
Mer från BioStock
» Aptahem ger en lägesuppdatering
» DanCann Pharma towards commercialisation with rights issue
» GSK lägger ner RA-projekt
» Viktigt år för life science när Sverige har ordförandeklubban i EU 
» Invent Medic belyser behoven vid ansträngningsinkontinens

Prenumerera på BioStocks nyhetsbrev