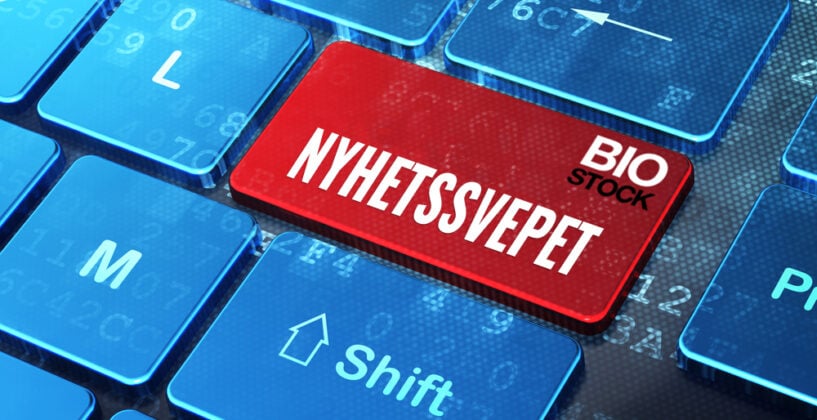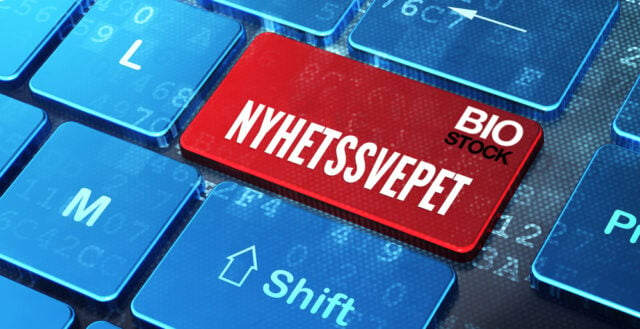 Nyhetssvepet torsdag 27 januari
Cereno Scientific meddelar att en milstolpe har uppnåtts inom det prekliniska programmet CS014. Läs mer.
Idogen presenterar bolagets teknologiplattform på vetenskaplig kongress. Läs mer.
Ectin Research utvärderar ytterligare användning av MFA-370 i samarbete med Sahlgrenska akademin. Läs mer. Bolaget har utsett dr Austin Smith som ny Chief Medical Officer. Läs mer.
Sedana Medical meddelar att National Institute for Health and Care Excellence (NICE) har utfärdat positiva riktlinjer som rekommenderar Sedaconda ACD. Läs mer.
Genetic Analysis informerar om den första kommersiella försäljningen av GA-map Dysbiosis Test version 2. Läs mer.
ObsteCare besöker Sheik Khalifa Medical Center i Ajman med potentiella distributörer. Läs mer.
BerGenBio och Oslo Universitetssjukhus kommer att studera bemcentinib i patienter med covid-19. Läs mer.
Recipharm har tecknat avtal gällande vaccintillverkning. Läs mer.
SensoDetect har förnyat sin ISO 13485:2016 certifiering vid revision. Läs mer.
AlzeCure Pharmas presentation och poster från Symposium on Pharmaceutical Profiling in Drug Discovery and Development finns tillgängliga på bolagets hemsida. Läs mer.
Senzime meddelar om en publicerad studie som visar resultat till fördel för TetraGraph EMG. Läs mer.
Inbjudan till presentation av BioArctics bokslutskommuniké för januari – december 2021. Läs mer.
Bokslutskommunikéer:
Rapporter:
ArcticZymes Technologies  C-RAD  NextCell Pharma
Nyheter inkomna sedan igår lunch: 
Bolagsverket har lämnat tillstånd att verkställa fusionsplanen mellan Coegin Pharma och Follicum samt offentliggörande av preliminär tidsplan avseende fusionen med Follicum. Läs mer.
Evaxion Biotech meddelade publicering av klinisk data gällande  EVX-01. Läs mer.
De första patienterna har rekryterats till fas III-studien med Lipidors AKP02 för behandling av plackpsoriasis. Läs mer.
Brighter offentliggjorde utfall i företrädesemission. Läs mer.
Miris meddelade att man sålt två Miris HMA till centret Cincinnati Children's, USA. Läs mer.
Polymer Factory informerade om forskning gällande dendriter. Läs mer.
CS Medicas styrelseordföranden har köpt aktier i bolaget. Läs mer.
Glycorex Transplantation kommer att presentera på Aktiedagen Lund den 31 januari. Läs mer.
ArcticZymes Technologies bjuder in till presentation av resultatet för det fjärde kvartalet. Läs mer.
Boule Diagnostics har bjudit in till presentation av bokslutskommuniké 2021. Läs mer.
Nordic Nanovector publicerade finansiell kalender. Läs mer.
Coloplast informerade om insidertransaktioner. Läs mer.
Genmab 
informerade om insidertransaktioner.
Läs mer
.
Förmiddagens vinnare: Aptahem 14,8%, Invent Medic 11,1%, Cessatech 10,8%, Coala Life 7,8%, Elos Medtech 6,5%
Förmiddagens förlorare: Orexo -12,8%, Aino Health -11,4%, Biosergen -11%, Idogen -6,4%, Eurocine Vaccines -6,1%
Index: OMXS30 2268 -0,77%, Hälsovård -0,84%
Prenumerera på BioStocks nyhetsbrev