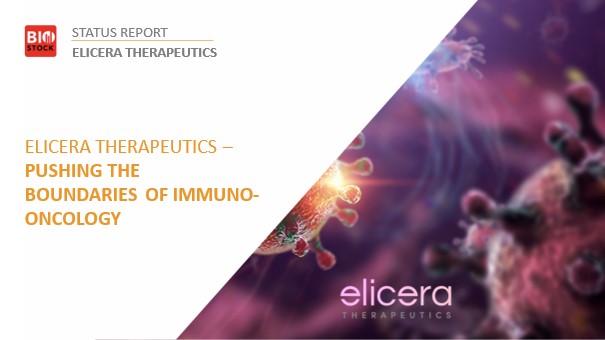 Statusrapport Elicera Therapeutics – Pushing the boundaries of immuno-oncology
Under det senaste årtiondet har immunonkologi förändrat cancerbehandling. I frontlinjen av utvecklingen ligger svenska Elicera Therapeutics, ett cell- och genterapibolag i klinisk fas som utvecklar immunonkologiska lösningar med hjälp av CAR T-celler och onkolytiska virus – två immunterapier som uppvisat lovande egenskaper gällande att förstärka patientens immunsystem för att hjälpa det bekämpa cancer. Bolagets teknologiplattform iTank ska ta dessa behandlingar till nästa nivå genom en mångfacetterad attack på tumörerna, något som konkurrenterna har svårigheter med att åstadkomma. BioStock har nu publicerat en statusrapport om bolaget, som kan läsas nedan.
Elicera Therapeutics är klart för notering på Nasdaq First North Growth Market i juni 2021 och tar samtidigt in 52 Mkr för att avancera sina utvecklingsprogram.
Ladda ner statusrapporten nedan.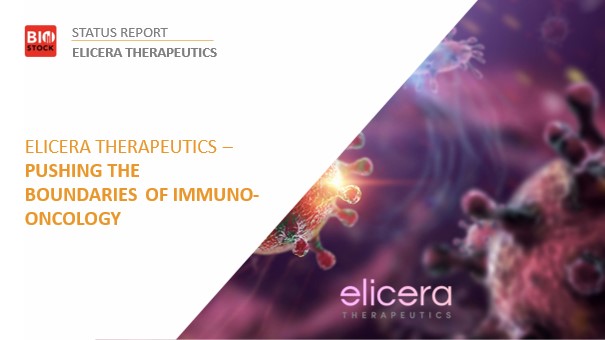 Disclaimer
Detta är en Nulägesanalys utförd av BioStock på uppdrag av det analyserade Bolaget. BioStocks ersättning för analysen har bestämts på förhand och ersättningen är oavhängig analysens innehåll och slutsatser. Innehållet i denna analys baseras på offentlig information inhämtad genom egen research och källor som t.ex. finansiella rapporter, Bolagets hemsida, publika presentationer samt via kontakt med Bolagets representanter. Informationen om Bolaget har faktagranskats och godkänts för publicering av Bolaget. Analysen innehåller subjektiva bedömningar om framtiden vilket skall anses medföra osäkerhet. Eventuella värderingar av Bolag, produkter och marknad har utförts av BioStocks analytiker. Analytikern äger ej aktier i Bolaget. Denna analys skall ej betraktas som en rekommendation eller uppmaning att investera i Bolaget och skall ej tolkas som finansiell rådgivning. BioStock kan ej garantera att de slutsatser som presenteras i analysen kommer att uppfyllas. BioStock kan ej hållas ansvariga för vare sig direkta eller indirekta skador som orsakats av beslut fattade på grundval av information i denna analys. BioStock står ej under Finansinspektionens tillsyn  och behöver därmed ej följa de regler som annars gäller för analysföretag som står under Finansinspektionens tillsyn.
Prenumerera på BioStocks nyhetsbrev