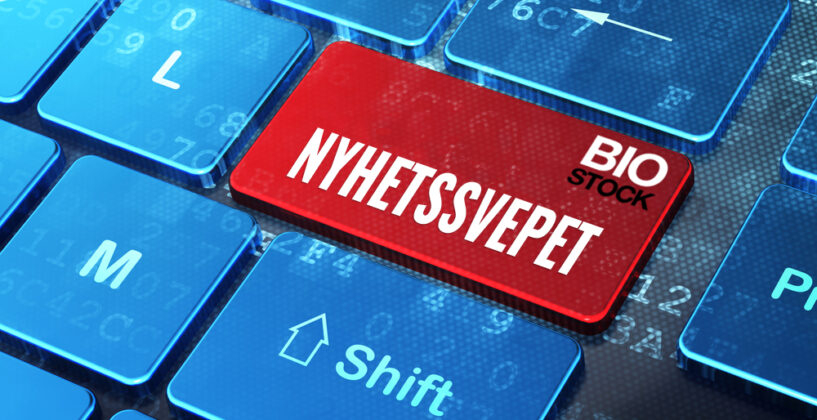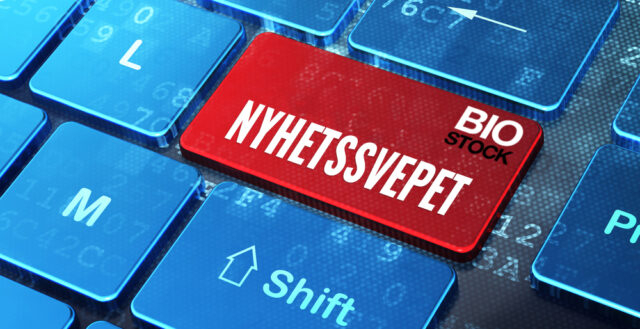 Nyhetssvepet torsdag 22 september
Det senaste från BioStock 
» BioStock Studio: Neolas vd om studie och emission
» Erika Samuelsson ny CDO på Cyxone
» BioStock Investor Meeting: OssDsign presenterar
» BioStock Investor Meeting: Arcede Pharma presenterar
» BioStock Investor Meeting: Intervju med Pharmiva
» Idogens CMO om transformeringen till klinisk fas för IDO 8
Läs BioStocks nyhetsbrev för v.37 här.
---
Förmiddagens nyheter
Redwood Pharma genomför en företrädesemission av units om cirka 33,2 Mkr. Läs mer.
Första patienten med icke-skivepitel NSCLC har behandlats med nadunolimab, Keytruda och cellgifter i Cantargias CIRIFOUR-studie. Läs mer.
AstraZenecas Lynparza har godkänts i Kina som första linjens underhållsbehandling med bevacizumab av HRD-positiv äggstockscancer.  Läs mer.
Kancera meddelar om övertygande prekliniska resultat och beslut om att inleda kliniska studier KAND567 i äggstockscancer. Läs mer.
Linda Persson, vd för NanoEcho, tilldelas stipendiet Nästa skånska stjärna. Läs mer.
CS MEDICA har uppdaterat om bolagets patentsituation. Läs mer.
Novo Nordisk meddelar om jämförelse mellan den veckovisa insulinbehandlingen icodec jämfört med den dagliga degludec. Läs mer.
Pareto Securities har publicerat en analys av ExpreS2ion Biotechnologies. Läs mer.
HC Andersen Capital träffar ledningen för InDex Pharmaceuticals. Läs mer.
---
Bolagsrapporter:
Kallelser: 
---
Nyheter sedan onsdag lunch
Sprint Bioscience har föreslagit en företrädesemission av units om cirka 29,9 Mkr. Läs mer.
Ultimovacs ska presentera vid International Congress of the Society for Melanoma Research den 18 oktober. Läs mer.
Bioservo Technologies har offentliggjort prospekt. Läs mer.
Faron Pharmaceuticals har utfärdat optioner. Läs mer.
Styrelsen i Eurocine Vaccines har beslutat om en fullt säkerställd företrädesemission om cirka 7,8 Mkr. Läs mer.
Vicore har meddelat att C21 stimulerar kärlfunktion i människa. Läs mer.
Herantis Pharma har meddelat om aktietransaktioner för vd Antti Vuolanto. Läs mer.
Decomplix har utsetts till representant för NeoDynamics i Schweiz. Läs mer.
Zealand Pharma ska presentera fas II-data för BI 456906 vid  Annual Meeting of the European Association for the Study of Diabetes. Läs mer.
Learning 2 Sleep har avbrutit samarbete kring likviditetsgaranti. Läs mer.
Erik Penser Bank har intervjuat Orexo (Läs mer) och Initiator Pharma (Läs mer).
---
Förmiddagens kursutveckling
Vinnare: Emotra 150%, Oncopeptides 20,3%, Kancera 13,8%, QuiaPEG 10,6%, Inhalation Sciences 8,7%
Förlorare: Sprint Bioscience -53,6%, Redwood Pharma -43,9%, Eurocine Vaccines -21,2%, Neola Medical -19%, Selectimmune pharma -12%
Index: OMXS30 1860 -0,97%, Hälsovård -0,84% 
---
Fler artiklar från BioStock
» Green light for Alligator Bioscience and Aptevo Therapeutics 
» BioStock Investor Meeting: Expert insights med Mattias Häggblom
» Promore Pharmas bensårsbehandling ska minska patientens lidande 
» BioStock Investor Meeting: Brain+ presenterar
» BioStock Investor Meeting: Redwood Pharma presenterar 
Prenumerera på BioStocks nyhetsbrev