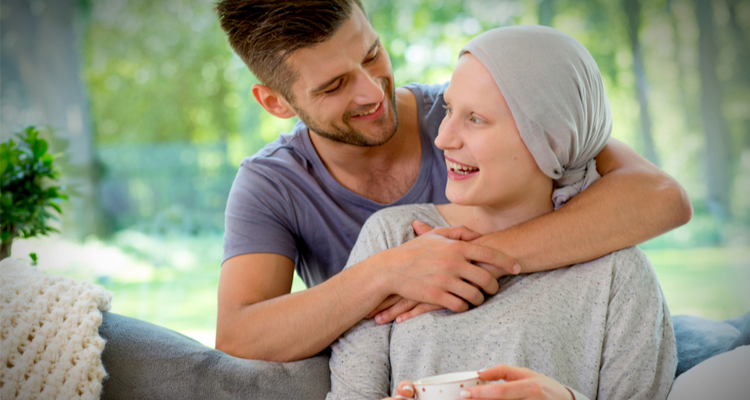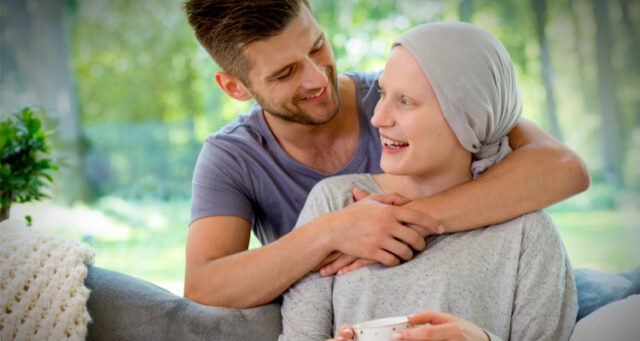 2cureX lanserar IndiTreat
ESMO-konferensen 2020 utgör en virtuell plattform för att samla forskare, experter och innovatörer inom onkologifältet, inklusive danska 2cureX. I mer än tio år har det lilla medicintekniska bolaget utvecklat sitt verktyg, IndiTreat, och nu lanserar man sitt produktsortiment inom funktionell precisionsmedicin vid konferensen. BioStock kontaktade 2cureX vd Ole Thastrup för att få veta mer om detta viktiga ögonblick i bolagets historia.
2cureX är ett danskt medicinteknikbolag som grundades 2006 som en spin-out från Carlsberg Research Center i Köpenhamn. Bolaget har lång industriell erfarenhet inom onkologifältet, och grundades med visionen om att förbättra behandlingseffekten för cancerpatienter.
Med denna vision i fokus har 2cureX, under ledning av medgrundare och vd Ole Thastrup, utvecklat IndiTreat  – ett kliniskt verktyg som är tänkt att hjälpa läkare att identifiera den bästa behandlingen för varje enskild cancerpatient. Den här veckan, vid ESMO 2020-konferensen, lanserar bolaget officiellt sitt IndiTreat-verktyg på marknaden och tar därmed steget från vision till verklighet.
Stor efterfrågan på nya behandlingsmetoder inom onkologi


En av de främsta bidragande faktorerna till att IndiTreat nått denna milstolpe är den innovativa teknik som verktyget bygger på: funktionell precisionsmedicin (FPM). Fram till nyligen har forskningsansatser som syftat till att hitta effektiva cancerbehandlingar fokuserat på genomisk profileringen av patientens cancer för att därigenom kunna erbjuda individanbassade läkemedelsbehandlingar, eller genomisk precisionsmedicin (GPM).
Dessvärre har bara mellan 0,8 och 3 procent av cancerpatienter svarat på läkemedel som valts med hjälp av GPM, detta trots löftet om banbrytande resultat och betydande investeringar i metoden. Än idag är t.ex. första linjens behandling vid metastaserad kolorektalcancer ineffektiv i upp till 50 procent av fallen, framförallt på grund av tumörresistens som utgör en enorm börda, både i termer av klinikens resurser och patienters lidande. Fortfarande finns det alltså en stor efterfrågan på nya lösningar, såsom FPM.
2cureX har ledarposition inom FPM-spåret
Vid FPM används prover från själva tumören, istället för den genetiska profilering av cancerpatienten som är förknippad med GPM. Med IndiTreat förvandlas dessa tumörprover till 3D-mikrotumörer i en in vitro-miljö för att sedan exponeras för en mängd befintliga cancerterapier för att identifiera det, eller de, ämnen som bäst hämmar tumörens tillväxt. Tumoiderna observeras sedan i upp till 11 dagar, varefter tumörtillväxt analyseras (se figuren nedan).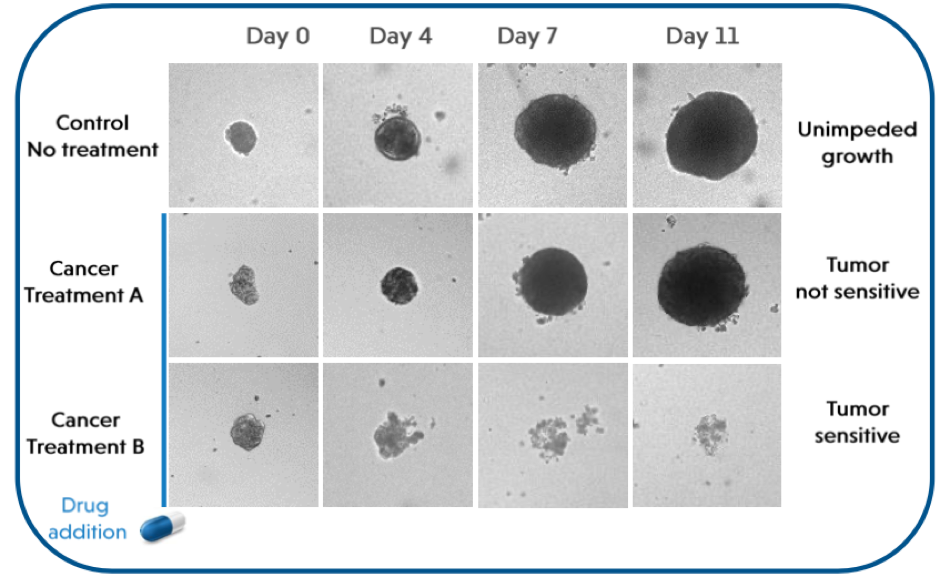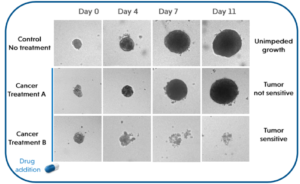 Med mycket på spel inom onkologiområdet har IndiTreat positionerat 2cureX som en pionjär inom FPM-fältet. Bolaget tror inte menar att FPM-tekniken helt kommer att ersätta GPM, men framhåller samtidigt att verktyg som IndiTreat kommer att utgöra en viktig referenspunkt för kommande innovationer inom FPM.
IndiTreat lanseras på ESMO
I en tidigare BioStock-artikel nämndes att 2cureX skulle presenterar IndiTreat på årets ESMO-konferens, den största cancerkonferensen i Europa. Vid en dedikerad virtuell utställning har 2cureX introducerat IndiTreat för deltagare sedan 14 september, något som kommer att fortgå till den 18 oktober. Via denna online-monter, som finns här, lanserar nu 2cureX officiellt världens första CE-märkta FMP-test samtidigt som man tillhandahåller djupgående förklaringar till hur verktyget fungerar och vilka cancerindikationer man för närvarande arbetar med.
Det långsiktiga målet är att kunna använda IndiTreat för de flesta solida cancerindikationerna, men vid ESMO lanserar 2cureX produkten för kolorektalcancer vilket sedan kommer följas av IndiTreat-tester även för äggstocks- och bukspottskörtelcancer.
BioStock kontaktade 2cureX vd Ole Thastrup för en kommentar om denna spännande händelse för FPM-bolaget.
Ole Thastrup, first of all, how does it feel, after years of hard work, to officially have IndiTreat on the market?
– It is with excitement and a bit of nervousness that we finally can offer a fully developed IndiTreat test to European patients. When we started the development back in 2006, it was very hard to get the attention from clinicians. In those days, there was a general consensus that genomic profiling was the only tool needed to make personalized treatment a reality. Today, we see a complete change – oncologists are looking for a functional technology like IndiTreat that can supplement genomics. It would have been too early to launch IndiTreat before – now the timing is right.
What makes the ESMO conference a good platform for showcasing your products?
 – ESMO is the biggest cancer conference in Europe with 25,000 participants covering all areas of cancer therapy. This is the place where new treatment modalities and technologies are presented. We hope that our intensive participation (https://esmo.2curex.com/) will provide a large number of contacts, meetings and discussions with peers in the field, and thereby strengthen the awareness and potential of IndiTreat in daily clinical practice.
IndiTreat is being launched as the colorectal cancer test, closely followed by the ovarian cancer test, and the pancreatic cancer test. Can you tell us a bit about the background that led to this decision?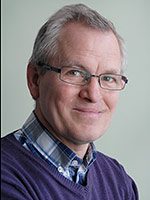 – Each of these cancers have their own challenges and treatment modalities. When 2cureX is launching an IndiTreat test, it is not just the test itself; along with the test comes a comprehensive clinical understanding where we have panels of treatment options that we have tested on a large number of patients in the different disease categories. Importantly, we therefore provide the treating oncologist with not only the results from the specific patient, but along with that a panel of reference patients. We thereby become a clinical partner with the oncologist. 
Do you expect more IndiTreat products to become available in the future?
– Yes, we have already communicated that we will move into breast cancer.
With the official launch behind you, what will you do to make sure the products attract the customers it is intended for?
– We are targeting a number of different customer groups like oncologists, IVD-distributors, patient advocacy groups and patients themselves. Seen from a marketing perspective, we have the advantage that the principle behind IndiTreat is easily understandable.
The work is not over for 2cureX. Where does your vision expand to in the long-term? 
– The work is definitely not over – it has in many ways just started. 2cureX's vision is to see IndiTreat as an indispensable tool for the oncologist to make individualized/personalized cancer treatment a reality. For this to come to pass we need to ease up stringent treatment guidelines. My hope is to see that future cancer treatments are not based on where the cancer originates from, but on how the cancer responds to the treatment itself.
Finally, how big of a role would you say that 2cureX's long history of strong entrepreneurial experience and a dedicated team have played in reaching this goal? 
– Team and partners are everything. The entrepreneurial spirit has been a key part of where we are today. The best of ideas amounts to nothing without a a dedicated team that stubbornly believes in the concept and that genuinely enjoys working together and having fun!
Innehållet i BioStocks nyheter och analyser är oberoende men BioStocks verksamhet är i viss mån finansierad av bolag i branschen. Detta inlägg avser ett bolag som BioStock erhållit finansiering från.
Prenumerera på BioStocks nyhetsbrev