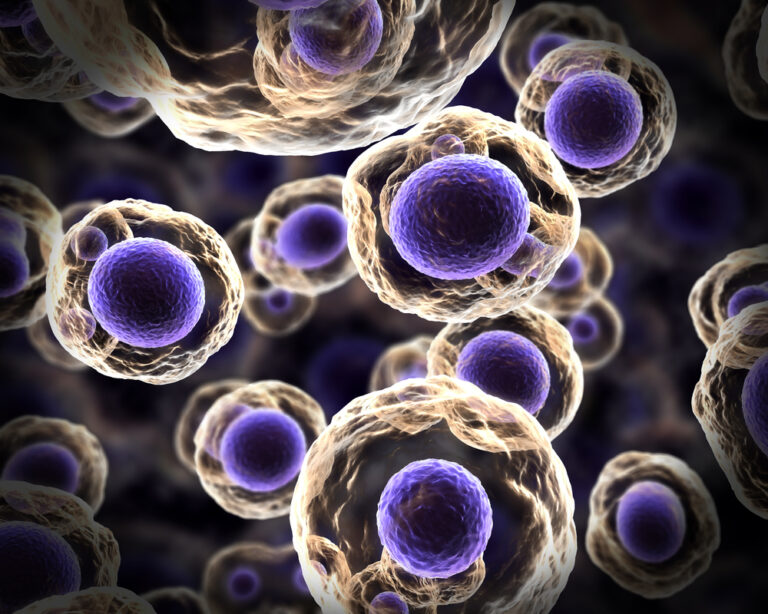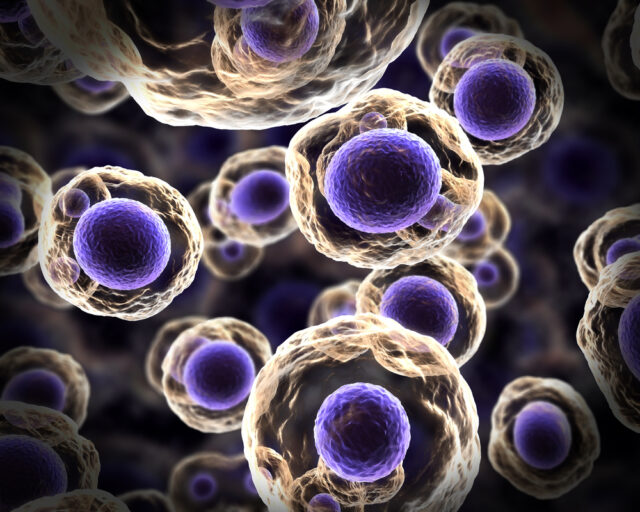 Fluicell i framkant av 3D-bioskrivning
Forskning inom, och utveckling av, läkemedel är extremt tidskrävande. För att underlätta processen har bioteknikbolag börjat utveckla nya verktyg som syftar till att hjälpa forskare att få bättre resultat till en lägre kostnad. Ett exempel är Fluicell, ett svenskt bolag som har en stark produktportfölj med potential att underlätta utvecklingsprocessen för forskarna. BioStock har talat med bolagets vd, Dr Victoire Viannay, för att få veta mer om Fluicells teknik.
Att ta fram nya och bättre behandlingar för patienter tar år, till och med decennier. Detta innebär att behandlingar som behövs når patienterna för sent, eller kanske inte alls. Det finns flera orsaker till den långa väntan (läs mer om detta i BioStocks artikelserie om läkemedelsutveckling), inte minst bristen på lämpliga verktyg som behövs för att påskynda upptäcktprocessen, det viktiga första steget i läkemedelsutvecklingen, samt omfattande klinisk utveckling.
Fluicell: grunderna

Som svar på den här utmaningen utvecklar ett antal bioteknikbolag nya sätt att effektivisera upptäcktprocessen för läkemedel. Ett av dessa bolag är Fluicell,baserat i Mölndal, strax söder om Göteborg. Bolaget är specialiserat på att utveckla mikrofluidiska forskningsverktyg som används för att studera biologiska processer i allt från enskilda celler till vävnader.
Fluicell grundades 2012 av företagets nuvarande CTO, Dr Gavin Jeffries, Dr Alar Ainla och professor Aldo Jesorka och bolaget är en spinoff från Chalmers tekniska högskola. Sedan april 2018 har Fluicell varit noterat på Nasdaq First North Growth Market.
Bolagets kärnkompetens är baserad på mikrofluidik – en teknik som gör att vätskor kan bete sig som fasta ämnen. Detta fenomen kan användas för att skapa unika och lättanvända biomedicinska forskningsprodukter. Bolaget har kommersialiserat en produktportfölj som består av verktyg möjliggör att studera enskilda celler, vilket är användbart främst inom läkemedelsutveckling och cellbiologi.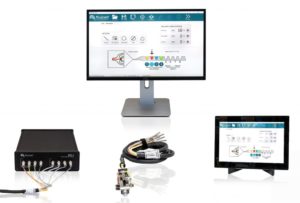 En stark produktportfölj
Fluicells verksamhet byggdes på BioPen, det första encelliga verktyget för vätskeadministration inom life science-sektorn. BioPen används nu av ledande universitet och nationella hälsolaboratorier världen över. Verktyget skapar ett unikt administrationssystem som riktar sig mot enskilda celler in vitro på ett specifikt och kontrollerat sätt. Metoden har en bred tillämpning inklusive onkologi, farmaceutisk FoU och klinisk utveckling.
En annan Fluicell-produkt, Dynaflow Resolve-systemet, anses av många vara den bästa plattformen för screening av sekundära jonkanaler på marknaden.
Systemet gör det möjligt att studera aktiviteten i vilken typ av cell som helst, vilket innebär att man bättre kan förstå cellernas beteende vilket underlättar läkemedelsutveckling som riktar sig mot specifika cellbeteenden.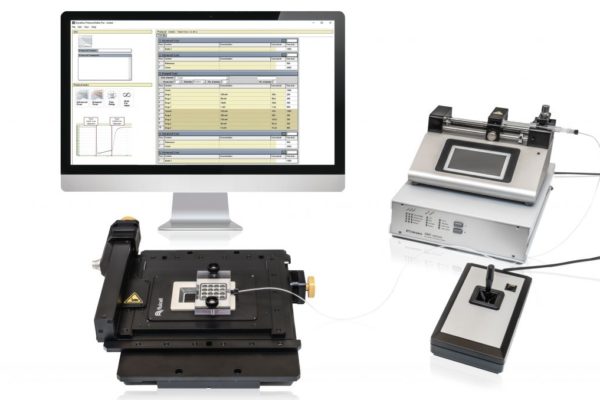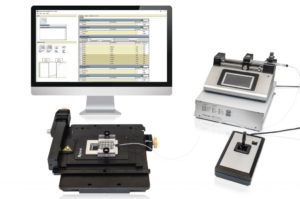 Dynaflow-plattformen, som lanserades 2004, är idag en etablerad produkt med globala stora läkemedels- och bioteknikföretag bland kunderna.
Bolagets senast lanserad, och på många sätt mest spännande, produkt är Biopixlar – en unik högupplöst 3D-cell-bioplattform. Produkten är en 3D-skrivare som använder mikrofluidik för att skapa komplexa vävnadsliknande strukturer genom att kontrollera positioneringen av enskilda celler.
3D-bioskrivning: ett spännande område
Biopixlar är ett helt nytt koncept utvecklat av Fluicell som har potential att få stor inverkan på framtidens läkemedelsutveckling. Det möjliggör skapandet av specifika cell- och vävnadstyper och efterföljande studier av deras beteende i verkliga scenarier. Detta innebär att människoliknande vävnader kan replikeras och sedan användas för att studera effekterna av vissa sjukdomar samt hur de beter sig när de introduceras till olika substanser, inklusive läkemedel.
Fluicell tillkännagav nyligen att den första Biopixlar-enhet har sålts till University of Canterbury på Nya Zeeland och därmed tog bolaget det första stora steget in på bioskrivarmarknaden. Försäljningen sammanföll med starten av ett nytt samarbete mellan Fluicell och det nya zealändska universitetet, som har kommit överens om att fungera som en demonstrationssite för Biopixlar. Samarbetet förväntas leda till att fler potentiella kunder får upp ögonen för den nya plattformen och kan samtidigt ge Fluicell viktiga insikter som kan användas i utvecklingen av nya produkter och tjänster.
Sammantaget är detta en enorm tillgång för bolaget eftersom Biopixlar adresserar en marknad värd cirka 1 BUSD med stor tillväxtpotential som uppskattats till mellan 17 och 26 procent årligen.
En global spelare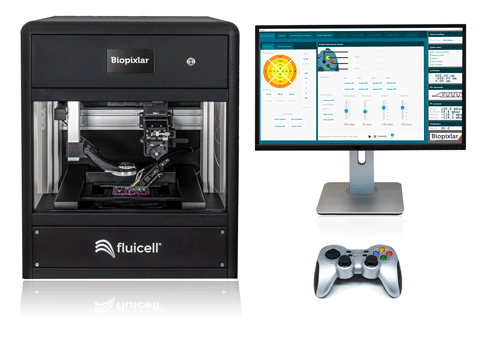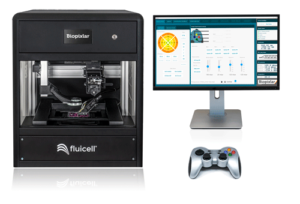 De viktigaste kunderna som Fluicell riktar sig till är prekliniska bioteknik- och läkemedelsbolag samt akademiska forskningslaboratorier. Detta då man tror att de egna produkterna kan förbättra läkemedelsupptäcktprocessen och därmed leda till snabbare läkemedelsutveckling – och just tidsaspekten för detta är en enorm utmaning inom life science-sektorn.
Sedan grundandet har Fluicell etablerat sig som en global aktör genom att nå kunder i flera länder, inklusive USA, EU, Israel, Storbritannien, Australien och nu även Nya Zeeland. Kundbasen för Fluicells fullständiga produktutbud inkluderar stora akademiska institutioner som universiteten i Oxford och Cambridge, stora forskningsanläggningar som NIH och stora läkemedelsbolag som Novartis.
Förtroende är nyckeln för Fluicell
Genom åren har Fluicell kunnat bygga upp ett starkt rykte som en pålitlig utvecklare av biotekniska enheter. Detta är uppenbart när man ser till den långa listan med vetenskapliga publikationer i framstående tidskrifter som Cell och Science där bolagets produkter använts. Sådana publikationer har konsoliderat förtroendet för Fluicell och spelar en viktig roll i bolagets marknadsföringsstrategi.
Förtroendet för bolagets stärks ytterligare av en mycket stark patentportfölj bestående av 14 godkända globala patent. Dessa skyddar inte bara bolagets teknologi utan också den metod som Fluicell använder. Därigenom säkras även framtida produkter som Fluicell kan komma att lansera.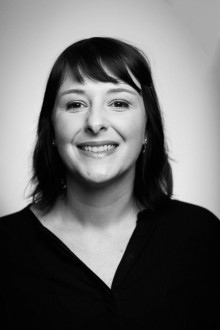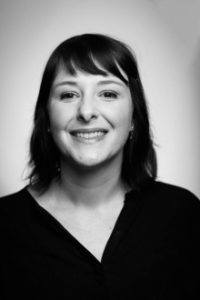 BioStock fick chansen att tala med Fluicells vd Victoire Viannay som berättade mer om bolaget och dess teknologiplattformar.
Victoire Viannay, in a nutshell, what is the idea behind Fluicell?
– Fluicell was founded in 2012 by three researchers from Chalmers, under the original name Avalance Biotech.
– The company was started to address a specific need: how do you study biological cells in a controlled way without taking them out of their natural environment? The solution was to create a microfluidic device capable of delivering compounds to only a very small part of the sample. The benefit of having the capacity to do localised solution delivery was particularly evident in biological research on the single-cell level. Deliver what you need, when you need it, where you need it to only the cells of your choosing.
You have several products on the market, what are their different purposes and target groups?
– We indeed have three products on the market: two of our own called BioPen and Biopixlar and a third one through an exclusive License agreement, called Dynaflow Resolve.
Basically, BioPen and Dynaflow are two complementary single-cell platforms, sharing a common focus on drug discovery and response testing.
– BioPen is an easy-to-use device that allows researchers to study the effects of drugs on individuals or groups of cells in a contamination-free manner. It is a very versatile platform, able to be integrated into almost any life science workflow. The BioPen was positioned to have its core audience within academia and research institutes due to its broad-ranging applications across life science and its flexible integration options. However, we see a lot of interest from other fields as well and we are convinced that the BioPen user-base will broaden substantially in the future. Recently, we have sold a BioPen to La Roche Hoffmann, which is opening up new opportunities within the pharmaceutical industry.
– The Dynaflow system is a well-established microfluidic technology, targeting secondary screening of ion channel responses. With an emphasis on safety and side effect probing, this platform enables precision screening of multiple compounds while consuming very little reagents.
– With its robustness and reliability, Dynaflow has an established stable user base within pharma and CROs who appreciate the high-quality data that Dynaflow delivers. We are planning to adapt the offer to fit academia as well.
– Last but not least, Biopixlar is a 3D single-cell bioprinting platform, which can be used by researchers in both academia and R&D. The purpose of Biopixlar is to produce biological tissues with single-cell detail, which enables a greater understanding of the mechanisms governing, for instance, cancer development. Biopixlar allows researchers to produce disease models with high biological relevance, which can lead to better identification of potential therapeutic targets.
How do your products distinguish themselves from the competition?
– For our first two products, we are the sole source provider, which means that we don't have any direct known competitors. This is an interesting position, as it means that we more or less can build our own market. It is both an opportunity and a challenge.
– With Biopixlar, on the other hand, we are entering into a field that is already developing quite a lot, but that is still very much in its infancy. A great difference between Biopixlar and competitive technologies is the ability to print tissues in standard culture media. This is a much more cell-friendly environment compared to printing directly in air and means that the cells stay alive after the printing process.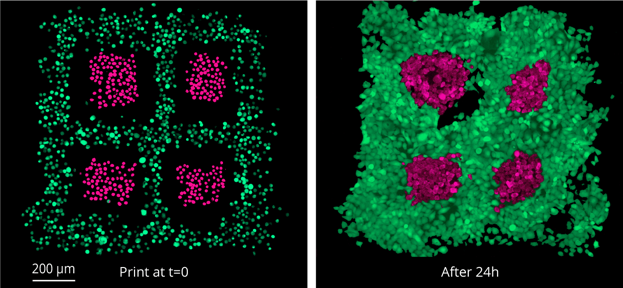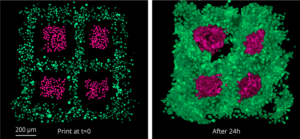 – The use of microfluidics is also important because it induces minimal mechanical stress on the cells during the bioprinting process, which is common with other techniques, such as extrusion bioprinting. Some cells, such as stem cells or neurons are very sensitive and should be handled carefully. For this type of cell, Biopixlar offers a great advantage compared to conventional techniques.
Sales of your products to clients involved in R&D and preclinical research are an important part of your business model. What are some of the other essential aspects of your model?
– We have a revenue model that is scalable. We sell our marketed products as platforms. The sales are handled directly or through distributors. This is a one-off revenue; we additionally have recurring revenues from the sale of consumable microfluidic chips. Launching Biopixlar is opening up new opportunities for Fluicell. We went from being a company selling smart tools to researchers, to having the potential of offering services and application support. Already last year, we have been performing CRO work for a biotech company using Biopixlar and we expect these kinds of services to increase in the future.
Fluicell relies heavily on scientific publications for its marketing and driving growth. What other activities are you relying on for the marketing of your products and raising awareness about the company in general?
– In order to create awareness of the products and the company in general, we have been increasing our marketing and communication efforts. In terms of reaching our clients, we are participating in selected conferences to meet directly with potential customers to create brand awareness. We greatly believe in building a strong relationship with our customers. A big part of this is providing fast and effective service and being open to specific requests from customers. Being a small company means that we have the opportunity to customize products and services to meet the customer's needs.
– We also focus on building a community here in Sweden by being close to academia and public actors and by participating in events in Sweden. I am very happy to see that more and more customers are reaching out to us directly to inquire about our products. It is a testament to the fact that we are becoming a recognized actor and that more and more people see the value in our technologies.
How has the market received Fluicell and your products so far?
– In my opinion, very positively. During the launch of Biopixlar, we have had very good media coverage worldwide which has been very beneficial for us. It seems that Biopixlar is intriguing a lot of researchers who have entered into contact with the sales team to understand the concept, and the feedback that we get is very positive.
– We often hear from researchers that they have tried bioprinters using bioink and they want to try an alternative solution since the ink is not always ideal for cells or for creating more precise biological tissues. It is clear that we are targeting a need among researchers that up to this point has not been met.
It seems you have some of the main ingredients for achieving long-term growth: a product portfolio with huge sales potential backed by strong IP protection. What will, in your opinion, be the key factors for Fluicell to keep the momentum in the long-term?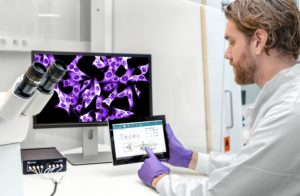 – A big part of the growth for Fluicell is to build on the capacity of our existing products in order to widen our customer base. For Biopixlar, we are just in the beginning. I think we will see many more potential applications going forward. For BioPen and Dynaflow, the path to growth is more about adapting the technologies to meet the needs and desires of new segments of customers. Taken together, we have a really great customer base, ranging from academic clients to pharmaceutical companies, which gives us a great position to adapt to what the respective market segment needs.
– Furthermore, with the Biopixlar launch in place, we are now capable of diverting resources towards developing the CRO branch of the company, something that will be an increasing part of our revenue going forward.
How much of this growth do you expect will come from Biopixlar alone?
– I would say a lot of our growth should come from the Biopixlar since BioPen and Dynaflow are more niche products. The Biopixlar family of products and services are important parts of reaching high value markets.
– The global bioprinting market is forecast to grow to 1.4 billion USD in 2024. Also, all our products are centred around single-cell manipulation and analysis. Recently, the Director of the NIH, Francis Collin, has ranked single-cell analysis as the most important innovation in the next decade for the healthcare industry. The global single-cell analysis market is projected to reach USD 5.6 billion by 2025. Since this is one of our core areas of expertise, we expect greatly increase in interest for our technologies in the near future.
– Finally, with Biopixlar, we are working on penetrating the regenerative medicine market. We see a huge potential for Biopixlar in this market, which is estimated to be worth approximately 40 BUSD.
Biopixlar, your newest product, is quite interesting, but the concept can be difficult to grasp. In short, what is Biopixlar?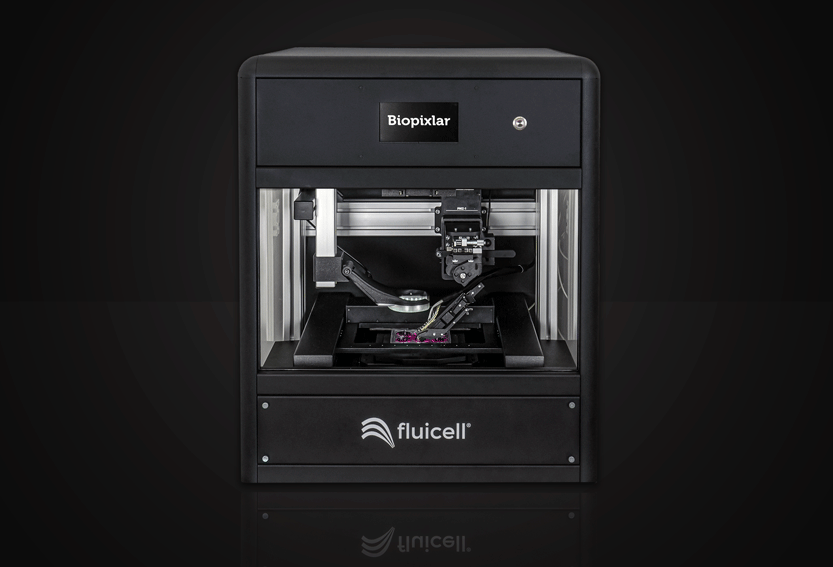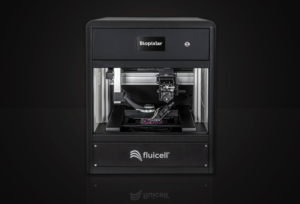 – The first question to answer is: what is bioprinting? Bioprinting as a concept grew out of additive manufacturing where 3D printing is used to build all kinds of new materials and components. By adding cells to this process, you basically get bioprinting. This is essentially how all conventional bioprinting techniques work. You mix cells with bioink and press this mixture through a thin nozzle into the shape that you desire. This is good for building larger shapes, but you have very little control of where the actual cells end up.
– Biopixlar challenges this common understanding of what bioprinting is by completely getting rid of bioink altogether and instead printing the cells with very high precision from the ground up. It is like building Lego, you put the final structure together, whether you want to model the structure of a liver or the composition of human skin, piece by piece. Or more precisely, cell by cell. This is very important in order to achieve a functional resemblance with the biological system that you try to mimic with your model.
– Since this is something completely new we strive to be as pedagogical as possible and answer as many questions about our technology as possible, either through our website or through other means of communication.
Would you consider it breakthrough technology and, if so, why?
– Yes, absolutely. We think that Biopixlar is quite different from the state of the art within this sector. Biopixlar represents a major step towards bioprinting of human disease models, handling small and scarce samples, while building tissues at high-resolution. The generation of more physiologically relevant disease models will lead to a future where the use of lab animals in drug development can be minimised at an early stage. This has the potential to address the increased demand to spare animal lives, but also to provide a broad spectrum of industries with an affordable and more accurate alternative to current disease models.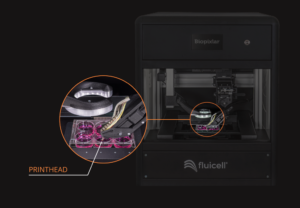 The first sale of Biopixlar was made in early March. What are the main implications of the sale and of the new collaboration with Canterbury University?
– When Dr Zhang reached out to us, he explained that he had a budget for another bioprinter but was rather keen on ours. In exchange for a reduced price which was corresponding to his budget, we decided to start a collaboration together. Biopixlar will be installed for research and educational purposes which means that Biopixlar will also be used in front of a lot of students each year. This is important because these students will soon be researchers themselves.
– Dr Zhang's lab will also become a demo-site which is a benefit for us since that part of the world is not easily accessible to us. The collaboration also includes sharing of all the findings, data, images etc. with us and the ability to use such material for development and marketing purposes.
When do you expect to be able to report a positive cashflow?
– As communicated in a PR in December, our goal is to be cash flow positive in 2021.
How do you expect a product like Biopixlar might change the dynamics of drug discovery and development?
– A continuously ageing population together with an increased understanding of human biology and health is leading to an increase desire for better patient treatments, with an emphasis on high patient value solutions such as tailored treatment strategies or personalised medicine approaches. To meet these expectations, novel biomedical technologies need to be developed and incorporated into current pharmaceutical and clinical workflows.
– Fluicell's revolutionary technology allows for direct use of patient derived material with efficient utilization of high value samples. As such, Biopixlar is well suited for integration into the development of personalised medicine approaches.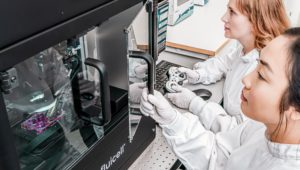 – An important step towards personalised medicine is the establishment of improved human disease models, for utilisation in the early stages of preclinical drug development. This does not only lead to a more efficient drug development process, but also contribute to reducing the need for animal testing. Animal testing has already been banned in the EU for cosmetics and toiletries – a trend that is spreading globally – and similar reduction in medical research is something that is actively pursued. Alternatives to animal testing are thus not only desirable but also in acute demand.
Will you continue to develop new and innovative products within your field?
– Yes, we will. We have to stay ahead and we know which direction to take. Our growth model is to organically grow the company through internal development schemes and connections with strategic partners. Opening new markets and new avenues of research, with the emphasis on health.
– Our company is built on innovation which is reflected in a strong IP portfolio. We already have good ideas for further development of Biopixlar, which, among other things, includes targeting the huge regenerative market. Although much interest has naturally been directed towards Biopixlar since its launch, we also see a lot of room for innovation and growth for both BioPen and Dynaflow, products that will continue to be central to our portfolio.
Finally, what is your long-term vision for Fluicell?
– We are ticking all the boxes for profitable long-term growth. We have put in place a strong foundation and we are very well situated to meet our vision of being the premier solution provider for single-cell technologies in the life sciences and to develop into a global market leader offering high standard services.
Innehållet i BioStocks nyheter och analyser är oberoende men BioStocks verksamhet är i viss mån finansierad av bolag i branschen. Detta inlägg avser ett bolag som BioStock erhållit finansiering från. 
Prenumerera på BioStocks nyhetsbrev