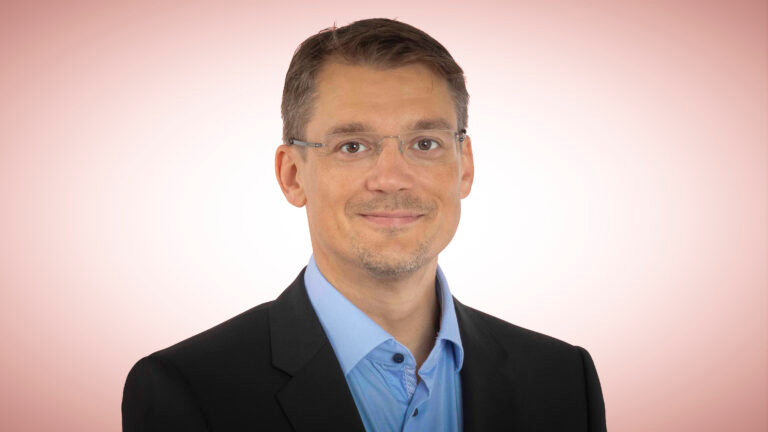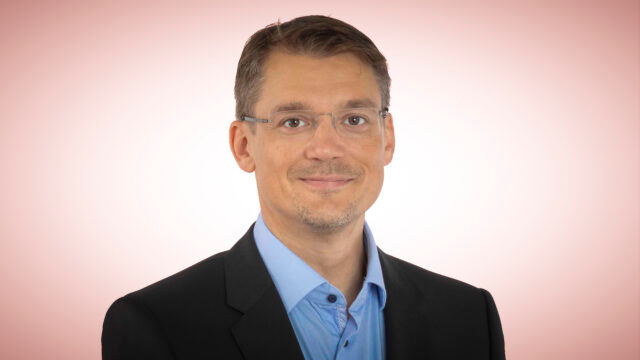 BiBB Founder's Quest to Transform Cancer Diagnostics
Early detection of cancer plays a key role in keeping death rates low. However, today's standard endoscopic biopsy techniques can be improved to optimise a patient's chances. Swedish med-tech BiBBInstruments is addressing this with its motor-driven biopsy device, EndoDrill. BioStock spoke with the company's Founder Dr Charles Walther to learn more about BiBBInstrument's story and what inspired him to develop a new type of endoscopic biopsy instrument.
Tissue imaging techniques have drastically improved over the last few decades. However, when it comes to cancer diagnostics, physicians still rely heavily on biopsies to confirm and/or stage a specific type of suspected cancer.
Nowadays, endoscopic ultrasound (EUS) is the standard means for diagnosis and staging of deeper and difficult-to-access tumours. For example, in the upper gastrointestinal tract down to the rectum, including the oesophagus, stomach, pancreas, bile ducts, gallbladder and adrenal glands. Samples are taken with a fine needle, either through fine needle aspiration (EUS-FNA, cytological sample) or biopsy (EUS-FNB, histological sample).
EUS is the fastest growing endoscopic procedure, especially in the US. However, the detection rate and the quality of samples from the devices currently used in the clinic still leaves a gap in diagnostic information. This is mainly due to the poor quality of the tissue sample, which is often fragmented and contaminated with blood.
BiBBInstruments is formed
This gap in cancer diagnostics motivated clinical pathologist Dr Charles Walther to develop a better biopsy technique – one based on core needle biopsy (CNB) instead of FNA or FNB. The innovation relies on a motorised drilling motion rather than a manual stabbing motion. This provides coherent samples, giving more information, faster. In fact, CNB is already the "gold standard" for non-endoscopic sampling of suspected breast and prostate cancers, which have 90 and 98 per cent survival, respectively.
In 2007, Dr Walther started the work that eventually lead to the founding of the Lund-based medical device company BiBBInstruments (BiBB) in 2013. This helped spearhead the development of EndoDrill, the world's first market approved motor-driven EUS-CNB device.
»BiBB was founded upon the vision to create a cancer biopsy instrument that would fill the need for better and more reliable cancer biopsies« — Dr Charles Walther, Founder of BiBBInstruments
EndoDrill fills the gap
Today, BiBB's biopsy instrument is part of a product family that includes three variants: EndoDrill GI, EndoDrill URO, and EndoDrill EBUS. EndoDrill GI is specific for diagnosing tumours in the upper part of the gastrointestinal tract, and it is the most advanced product variant in terms of development. EndoDrill URO, for diagnosing muscle-invasive bladder cancer (MIBC), is also in clinical evaluation. Meanwhile, EndoDrill EBUS is in late-stage development and is aimed at diagnosing lung cancer.
Regulatory achievements in 2023
Earlier this year, BiBB received 510(k) clearance from the US Food and Drug Administration (FDA) for EndoDrill GI. In an interview with BioStock, CEO Fredrik Lindblad talked about the importance of this decision.
The FDA clearance has taken up a lot of the media oxygen, and rightly so, since the decision opened the door to the world's largest market for endoscopic instruments. However, by the end of this year, BiBB also expects to obtain CE-marking according to the most recent EU regulation – MDR. This will cover all three product variants and give the company the go-ahead to commercialise EndoDrill in Europe.
Both of these milestones have cemented the company's position and opened doors for continued development and expansion.
»We believe we have a real opportunity to help patients and health care professionals with EndoDrill. At the end of the day that is what drives us«
Conversation with the Founder
BioStock was able to get in touch with Dr Charles Walther to learn more about the BiBB's journey and his vision for better cancer diagnostics.
Charles, this year marks the 10-year anniversary of BiBBInstruments as a company. However, the journey began long before. Could you briefly tell us the vision you had that led to the creation of BiBBInstruments?
– The vision was to create a cancer biopsy instrument that would fill the need for better and more reliable cancer biopsies. In my day to day practice it was really frustrating to see inadequate sample quality and knowing the significance of it for the patient with the uncertainty and further wait for a new and perhaps more complicated diagnostic procedure. This frustration drove me into research to find out what type of sample was the most informative and consequently help the patient the most. BiBB was then founded to reach that goal with better biopsies by combining health care, academia and industry. If successful, it would help patients, promote research and create a fruitful business. This was my vision and still is!
What were some of the struggles involved in taking your idea from academia to industry, and what were your main sources of inspiration and motivation?
– The first challenge was realising that going commercial was the most rational way to reach my vision and the most practical way to help patients. A company was needed to develop the instrument and making it commercially viable in order to reach patients. However, making that jump from academia to industry was a scary step to take because it was really out of my comfort zone. My parents were a great source of motivation during that transition – my father, now a retired professor of surgery, has a lot of experience in this field and he continues to inspire me with his knowledge; my mother, on the other hand, she gave me the courage to make that jump. In fact, the company is named after my mother, who's nickname was Bibbi.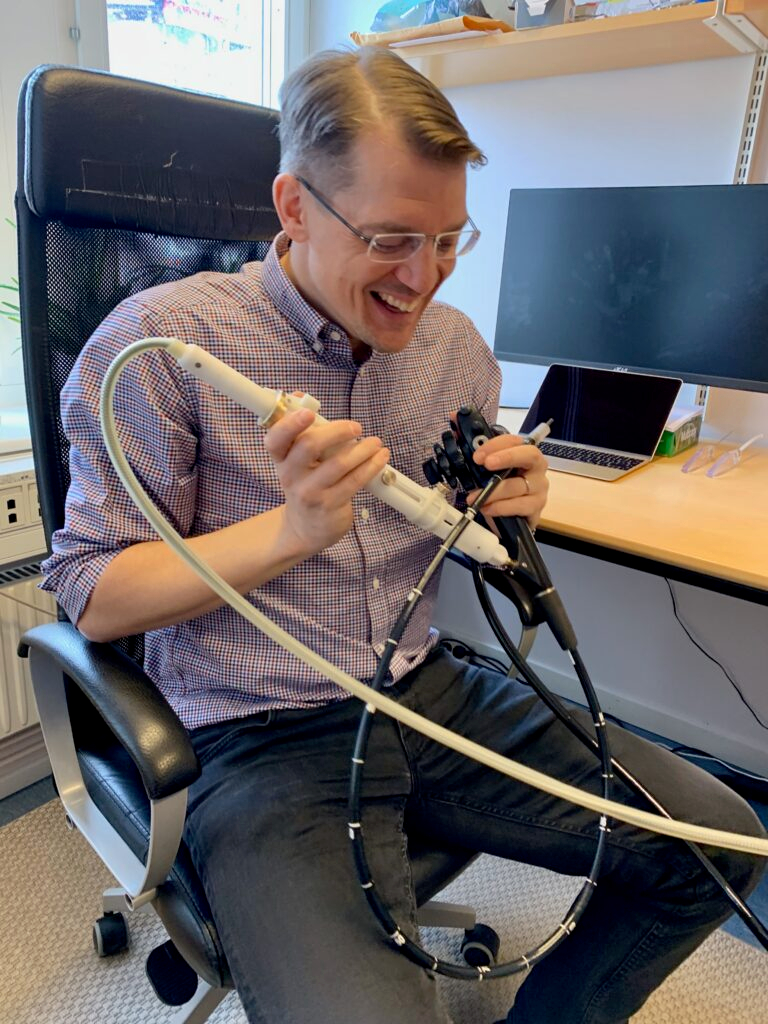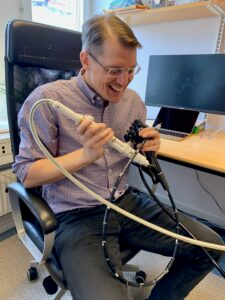 In the years since starting this venture, the endoscopy landscape has surely evolved, with other players also hoping to take a slice of the cancer diagnostics pie in the years to come. What is EndoDrill's strongest competitor at the moment?
– The main competitor is actually the current standard i.e., manual sampling needles offered by several of the world's largest med-tech companies. Our aim is to improve the diagnostic outcome and simplify for the health care professionals through our motorised drilling technology. We want to lift endoscopic diagnostics to the same level as seen in breast- and prostate cancer by delivering the same type of high quality biopsies and improving the user experience by making sampling easier and more consistent.
How important is it to stay humble as you get closer to commercialisation?
– Very important! Innovation means you are introducing something new to improve the lives of patients. Further, you need to make it a commercially viable product to reach many patients around the world. That is not an easy task and you face many challenges when working with innovation, health care and commercialisation. The whole process tests your endurance and makes you both humble and grateful.
What are the main challenges going forward, and is the company prepared to handle them?
– The main goal for all of us at BiBB is to expand clinical use of EndoDrill and respond quickly to the challenges we will face. For example continue supporting health care professionals and delivering high quality biopsies, which our initial study data have shown. We feel excited and ready for this next phase of our journey and take on the challenge.
Finally how confident are you that your vision will become a reality?
– We are confident and remain humble about the tasks that lies ahead of us. We know that EndoDrill has great potential as it delivers high quality tissue biopsies, but it has to prove itself in a larger context i.e., various physicians, geographic markets and clinical indications. If we succeed, the value created for patients and health care professionals transfers into a fruitful business and increased value for BiBB's owners. We believe we have a real opportunity to help patients and health care professionals with EndoDrill. At the end of the day that is what drives us.
The content of BioStock's news and analyses is independent but the work of BioStock is to a certain degree financed by life science companies. The above article concerns a company from which BioStock has received financing.
Prenumerera på BioStocks nyhetsbrev